Make These Better-For-You Brownies (Just 6 Ingredients!)
Ever heard of brownies that are actually nutritious? Well, these definitely are. Don't let black beans put you off — no one would ever be able to guess.
These gooey and fudgy brownies are healthy, delicious, and really satisfy your sugar cravings. (And contain only six ingredients!) I make a batch of these and keep them in the fridge all week to snack on in the afternoons.
They're packed with about 8 grams of protein per serving, making them the perfect pre-workout snack.
Protein-Packed Black Bean Brownies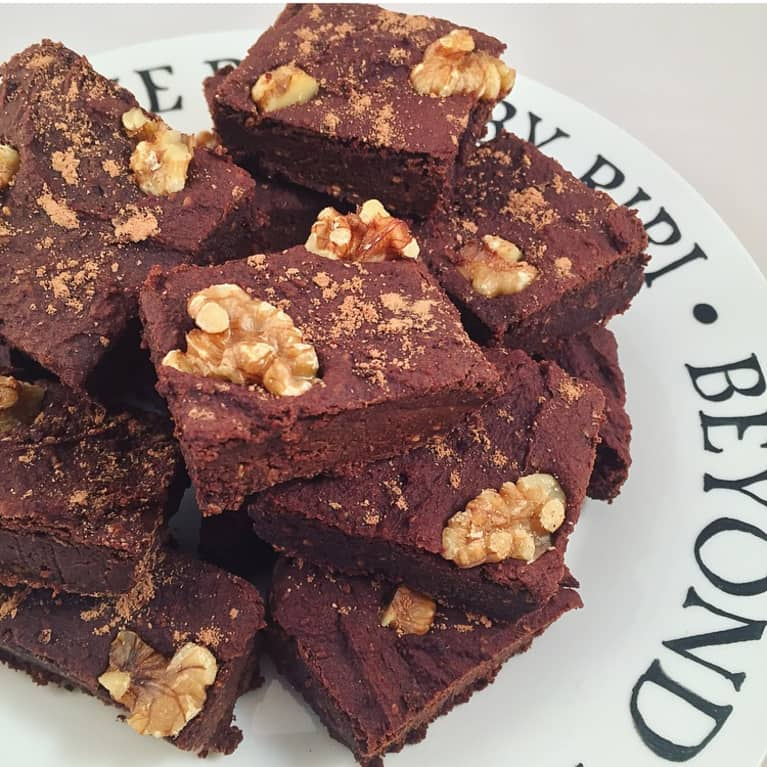 1½ cans cooked (unsalted) black beans, drained and rinsed
1¼ cup ground almonds
12 medjool dates*
4 tablespoons pure maple syrup
6 heaped tablespoons cacao powder
3 chia eggs **
Optional: chopped walnuts
Preheat the oven to 180°C/350°F. Place the drained beans and dates in a food processor and pulse a few times, then blend until smooth. Add the rest of the ingredients and process for another minute.
Line up a baking pan with parchment (I used an 8-inch-square cake pan) or grease it with coconut oil. Pour in the mixture and distribute evenly into the pan.
Sprinkle walnut pieces on top (if using) and bake for about 25 minutes until flaky on top but still gooey in the center (the brownies will firm up as they cool). Remove from oven and let cool for 15 minutes before cutting into squares.
Store in an air-tight container for up to a week in the fridge.
Notes:
*If the dates aren't soft enough, soak them in warm water for 10 minutes and discard the water before using them.
**Add 3 tablespoons of chia seeds to a cup with 9 tablespoons of water and let it sit in the fridge for 15 minutes until the chia seeds have absorbed the water and formed a gel-like consistency.
Recipe photo courtesy of the author