Super Simple Raw Pecan Brownies (Yesss!)
My husband, Cody, loves treats. To him, a baked good or an ice cream is more than sweet flavors. They embody the joy of food — a rush of excitement and comfort.
And that's important. Enjoying food is the fun part of eating. There's even evidence that when we enjoy our food and are less stressed, we absorb more of the nutrients.
The problem is that many desserts are made with processed grains and refined sweeteners. Not only are ingredients stripped of their nutrition, but the macro-nutrient balance often leads to an energy spike, and subsequent crash.
These pecan brownies are made with whole foods, and have a mix of carbs, proteins, and healthy fats. The chocolatey bars taste good, give sustained energy, and satisfy a sweet tooth.
We have them as a dessert, pre- or post-workout snack, or a midday energy boost.
Raw Pecan Brownies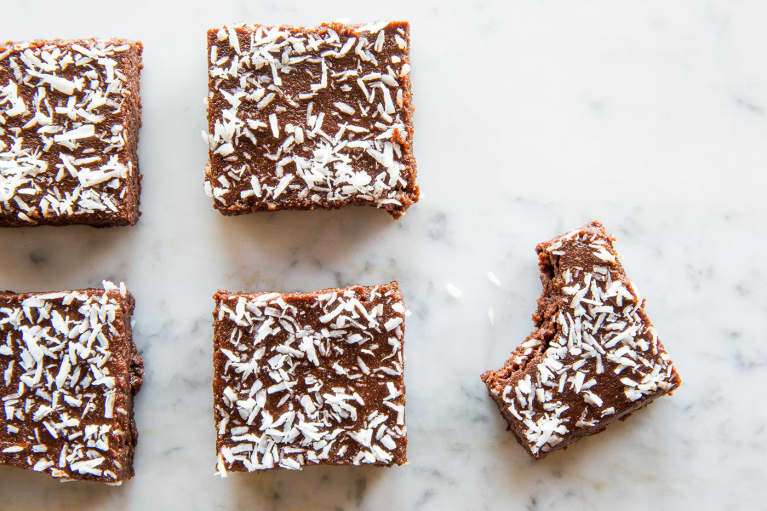 275g (about 2 cups) pecans
30g (⅓ cup) shredded coconut, plus more for topping
½ teaspoon cinnamon
½ teaspoon ground ginger
½ teaspoon ground vanilla
¼ teaspoon sea salt
½ cup cacao powder (heaping)
10 dates, pit removed
Preparation
1. Place pecans in a food processor and blend on high until finely ground. Add in the coconut and blend until mixed. Add in the spices and salt. Pulse to combine. Add in the cacao powder and blend until mixed.
2. Add the dates one at a time through the tube while food processor is running. The mix should turn from crumbly to a little bit gooey. When pressed, the mixture should stick together. If not, add dates one at a time until it holds together.
3. Press the mixture into an 8-inch-square dish (or whatever container you plan to use), and flatten with spatula or your hands. Place in the freezer or fridge until ready to serve. They're easiest to cut when they are cold.
Photo courtesy of the author