A Raw Vegan Chocolate Tart Recipe That Will Rock Your World
Who doesn't love biting into a decadent chocolate tart and finding out that it's vegan and raw?
Cacao powder and coconut oil work wonders in this simple-but-crowd-pleasing dessert that everyone can enjoy.
Choco-Coco Tart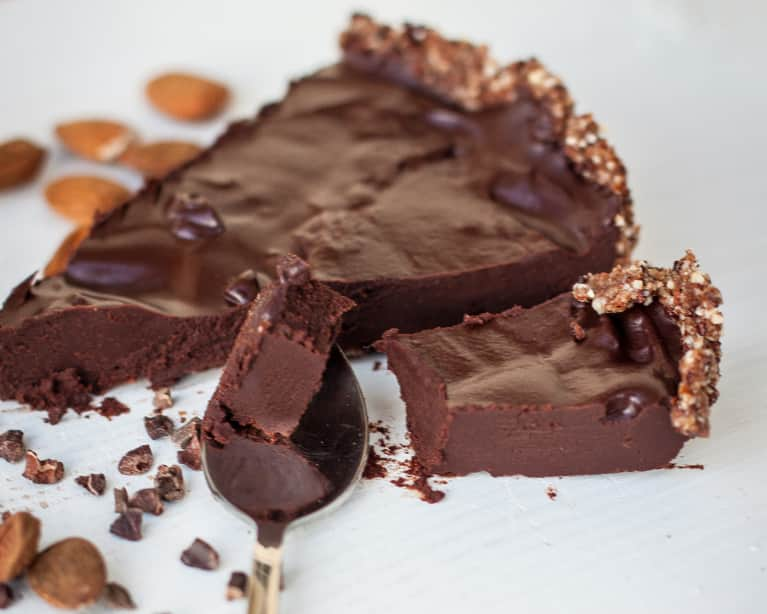 Serves 6
Ingredients for the crust
1/4 cup raw almonds
1/4 cup raw cashews
1/4 cup cacao nibs
2 tablespoons date paste
2 tablespoons coconut oil
1 pinch of salt
Ingredients for the filling
7 tablespoons raw cacao powder
7 tablespoons agave syrup
6 tablespoons coconut oil
1 pinch of salt
Preparation
1. For the crust, blend all ingredients until fine enough but with some texture.
2. Brush six 3-inch tartlet pans with coconut oil and spread the pie crust by pressing firmly. Refrigerate while you make the filling.
3. To make the filling, mix all the ingredients together and fill the tartlets. Keeps for 3 days in the fridge.
Photo and recipe courtesy of Deckopedia's Raw Food Food Beginner's Deck.