These energy bites are one of my favorite on-the-go treats — they're packed with protein, fiber, good fat and antioxidants. They also have mega metabolism boosting and blood sugar stabilizing properties from the cayenne and cinnamon.
They're paleo, raw, gluten-free and can be made vegan — and (oh yeah!) they taste amazing!
Smooth and sweet with a kick of spice, they're equally perfect as a:
Dessert (I often bring them to dinner parties, and even my non health-conscious friends devour them).
Afternoon pick me up.
Awesome travel snack (they're TSA friendly and keep perfectly at room temperature).
Mexican Hot Chocolate Energy Bites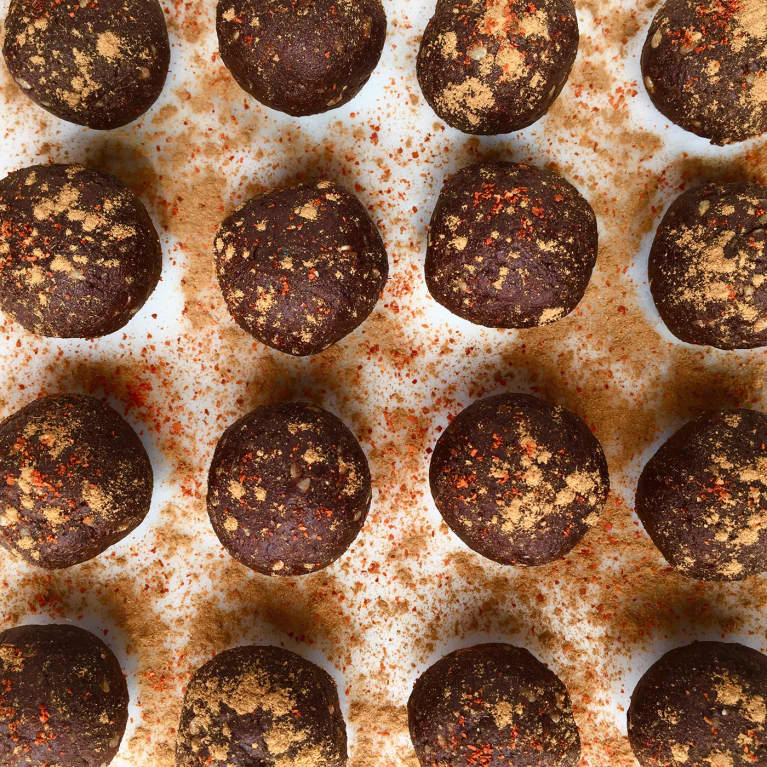 1 cup walnuts
1/4 cup pumpkin seeds
2 tablespoons sesame seeds
6 Medjool dates, pitted
1 teaspoon ghee or coconut oil
3 tablespoons cocoa powder
1 teaspoon cinnamon
1/2 teaspoon ginger
1/2 teaspoon vanilla powder
Generous pinch each of cayenne, black pepper and paprika
2 teaspoon maple syrup
Preparation
1. Blend walnuts, pumpkin seeds and sesame seeds until they begin to form a nut butter paste, then add in other ingredients and process until well combined.
2. Press into balls in the palm of your hand, then roll to finish. Top with additional cinnamon and cayenne if desired. They will keep for 4-5 days at room temperature.
Photo courtesy of the author