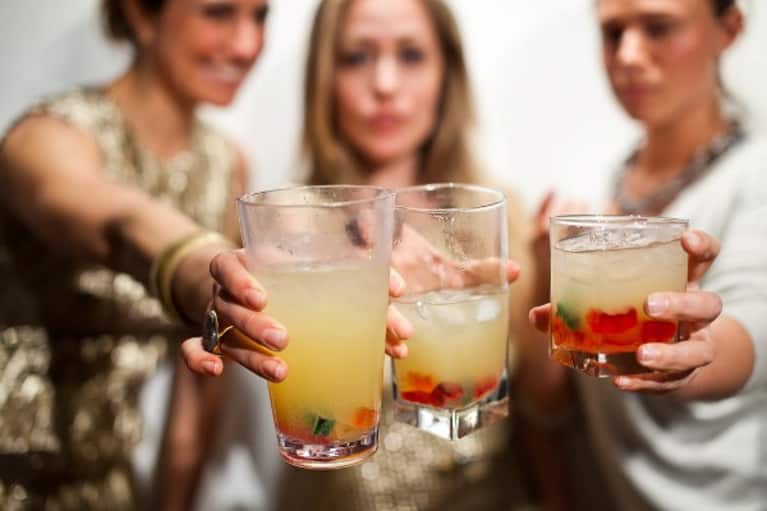 It might be that I only have two days left out of my 21 day cleanse, but I was day dreaming about an awesome cocktail introduced to me over the holiday break by a lovely yogi named Audra Rose Stanley. She placed this crayon inspired concoction into my hands only to realize it was a full posse of gummy bears at the bottom of my glass. Whimsical, vibrant and creative—but sugar filled gummy bears? Cry not! You can get fruit juice or agave sweetened gummy bears! Hallelujah.
I snagged up a bag of naturally sweet gummies and took to my kitchen to do my best at recreating it. Just be careful—you'll slurp it down fast wanting to get to our chewy friends, so don't drink and yoga in heels!
1/4 cup top shelf organic vodka (the more distilled, the less likely the hangover)!
1 cup Orangina
juice from half a lime
tall glass of ice
8-10 fruit juice or agave sweetened gummy bears (per glass)
Ice cubes to fill the glass
Place vodka, Orangina and lime juice into a tall glass and stir well (don't shake—you'll get fizz everywhere). Send the gummies to their watery grave and top with plenty of ice to keep them at the bottom. Slurp...I mean drink immediately. Enjoy each individual intoxicated gummy at the end.
photo via heirloom creative photography