So Cool + Hot Right Now Cucumber Salad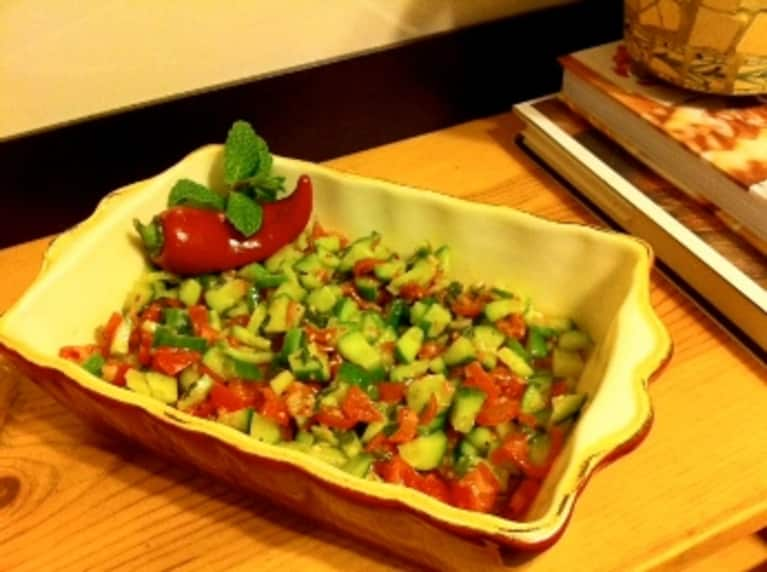 I'm on day two of a 21-day cleanse right now and just got back from Whole Foods (Whole Paycheck) $125 later ready for full-blown veggie warfare. My acupuncturist suggested a tomato-cucumber salad but I knew I'd want a little something special to go with it. I blended the hot kick of the red jalapeno with the refreshing element of the mint leaves to balance out the cooling properties of the Persian cucumber. It hardly made it off the kitchen counter to the serving table. Enjoy!
Ingredients:
3 Persian cucumbers, diced
12-15 grape tomatoes, diced
1/2 red jalapeno, de-seeded, minced
1 T fresh mint leaves, minced
1/2 shallot, minced
2 T extra virgin olive oil
1 T apple cider vinegar
fresh cracked pepper and sea salt to taste
Instructions:
Trim the ends of your cucumbers and cut in half lengthwise. Take each half and cut them lengthwise into quarters. Width wise, cut fine pieces until the entire cucumber is finely diced. Place into serving bowl. Take the same approach with the cherry tomatoes and add to bowl. In a mason jar mix olive oil, red jalapeno, mint leaves, shallots and vinegar. Mix well and pour over cucumber-tomato mixture. Spoon mixture until evenly coated and season to taste with sea salt and pepper.