Poached and Grilled Asian Salmon Tacos with Gorgeous Root Vegetable Slaw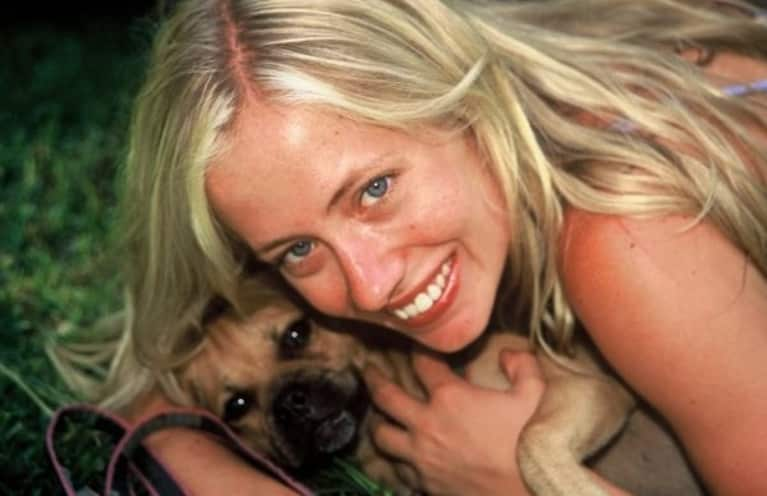 One of my favorite things to do in Los Angeles is take my dog, Ashi, for a hike in Malibu and then get cold beer and fish tacos at a great barefoot bar overlooking the ocean called Dukes. They take a traditional spin on the fish taco using grilled or fried mahi mahi. I had a friend do an unusual spin on this delicacy with salmon and my world got that much bigger. I did my best to blend the best of both worlds and even give you the option of poached or grilled, or hey—why choose when you can eat them both?! Surf's up!
For Fish:
1 lb wild caught salmon (I prefer King)
1 bottle inexpensive white white
1 T agave nectar
olive oil spray
sea salt and ground pepper to taste
For Slaw:
half head of purple cabbage
4-5 multi-colored carrots
2 yellow beets, peeled
1 large watermelon radish (radish variations will do if you can't find this)
Dressing:
2 T teriyaki sauce
2 t fresh grated ginger root
2 t wasabi
1.5 T tamari
1 cup Greek style yogurt
1 T sour cream
2 t rice wine vinegar
Everything else:
small bundle of cilantro
2 avocados
corn tortillas
2-3 limes, quartered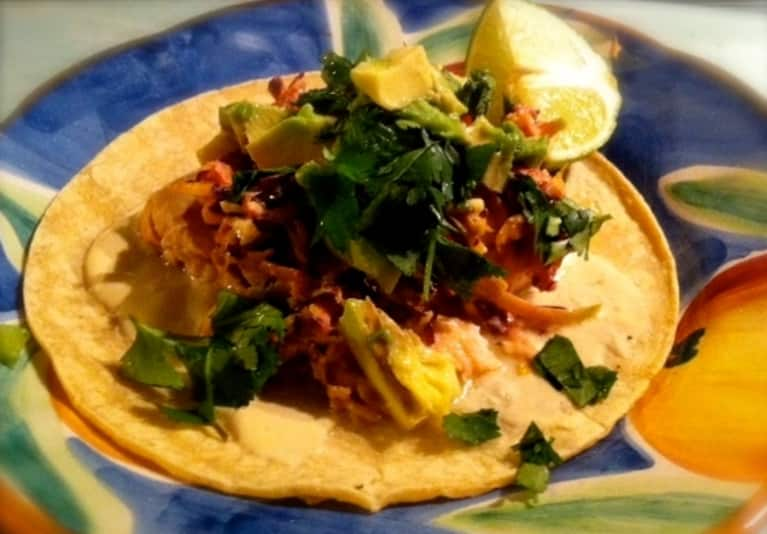 If you like your salmon poached:
Warm a large frying pan on low simmer with a whole bottle of cheap white wine. Place the salmon fillet into the wine bath and cook until it turns pale pink and flakes easily. Remove from the wine and set aside.
If you like your salmon grilled:
Heat a non-stick grill pan on medium-high heat and lightly dust with olive oil spray. Give your salmon fillet a nice massage with agave until it has a light coat over the entire body. Rub in a pinch of salt and pepper and place on the grill for roughly 4 minutes on each side or until cooked through. Remove from heat and set aside.
For dressing:
Place yogurt, sour cream, tamari, vinegar and teriyaki sauce into a large bowl and mix with a wooden spoon. Peel your ginger root (nice tip, use the head of a spoon to peel the skin—it comes right off) and grate into the bowl. If you're using wasabi powder, mix with a pinch of hot water and let sit for 5 minutes before adding to the mix. Mix all ingredients well.
For slaw:
Take your food processor and set it up with the fine shredding disc. Run all veg through to create a beautiful slaw: carrots, cabbage, beet and radish. Remove from food processor and place into a large bowl. There is a good amount of water in these root vegetables, so it might be nice to pat them down with a paper towel to remove excess moisture. Take 2/3 or the dressing and mix into your slaw. Reserve the extra dressing for tacos.
*if you don't own a food processor—go get one—run!
or
find a nice mixture of cabbage and if you can handle the knife work dice up your carrots and radish by hand
For everything else:
There is no such thing as too much cilantro in my world, so depending on how much you agree, roughly chop your bunch of cilantro and place in a serving bowl. De-pit your avocados and dice into a serving bowl. Warm your tortillas in the oven or stove top until toasty.
To serve:
Place a good dollop of dressing on your tortilla. Add relish, your choice of salmon, avocado and cilantro. A nice squeeze of fresh lime juice on top and if you're going big time, more sauce! Grab a bib. It's gonna get messy and delicious!