3 Plant-Based Lunches Toddlers Will Actually Love
One of the most frequent comments I receive about what I feed my kids is, "I can't believe your toddler eats that." The question has a hint of surprise and is usually followed by an inquiry into my methods.
It's really quite simple; our toddler eats exactly what we eat, and it just so happens we eat a lot of plants.
My two year old enjoys the same kinds of dishes, always heavily adorned with vegetables, as the entire family. Meals are a time to unwind and relax, even for our high-energy little one.
While dinner can linger on unhurried, lunch carries a bit more of a pragmatic tone. The morning has been filled with outdoor play, and my toddler comes in both tired and hungry. "Quick and nourishing" is our lunch's motto.
Below is a peek into three pint-size lunches my child enjoyed in mid-spring.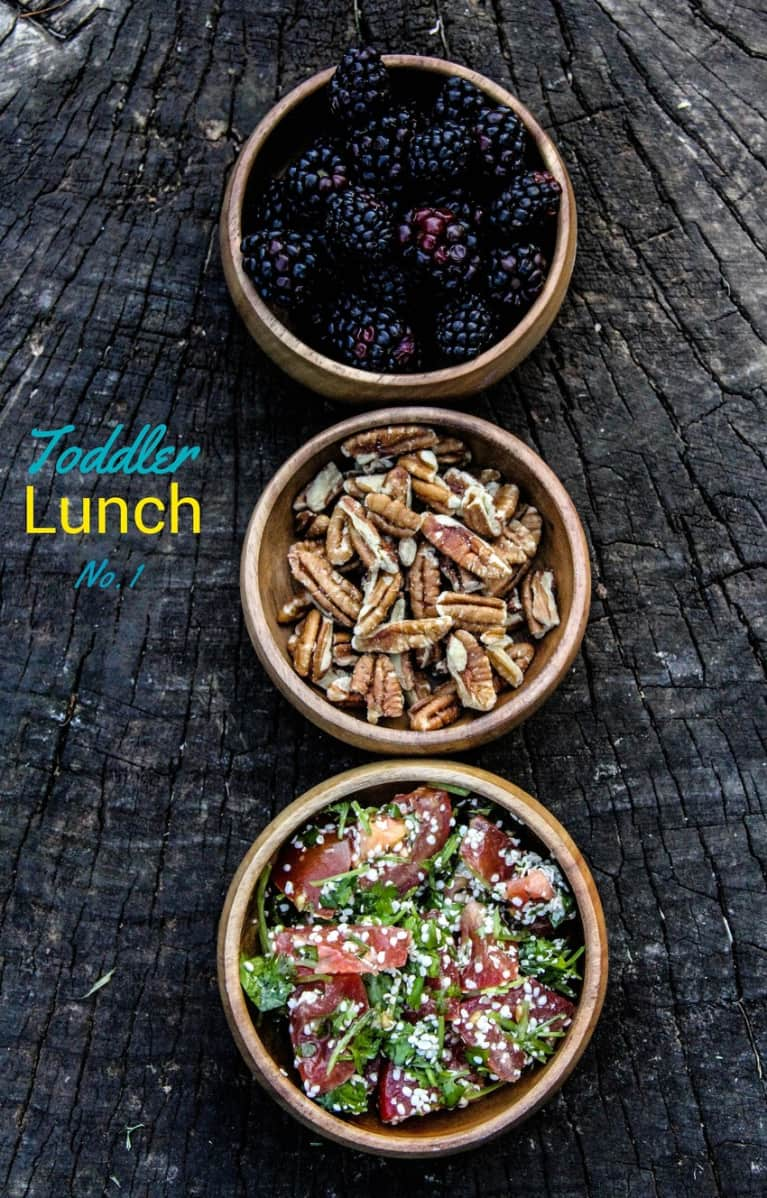 Tomato, Cilantro + Hemp Seed Salad Served With Pecans + Blackberries
Ingredients for the Salad
5 cherry tomatoes
1 tablespoon of hemp seeds
1 tablespoon of finely chopped cilantro
1 teaspoon of olive oil
½ teaspoon of lemon juice
salt to taste
Preparation
1. Chop the tomatoes in half or quarters depending on child's age and preference.
2. In a bowl, combine the tomatoes, hemp seeds and cilantro. Mix well.
3. Add the olive oil, lemon juice and salt to the rest of the ingredients and mix well.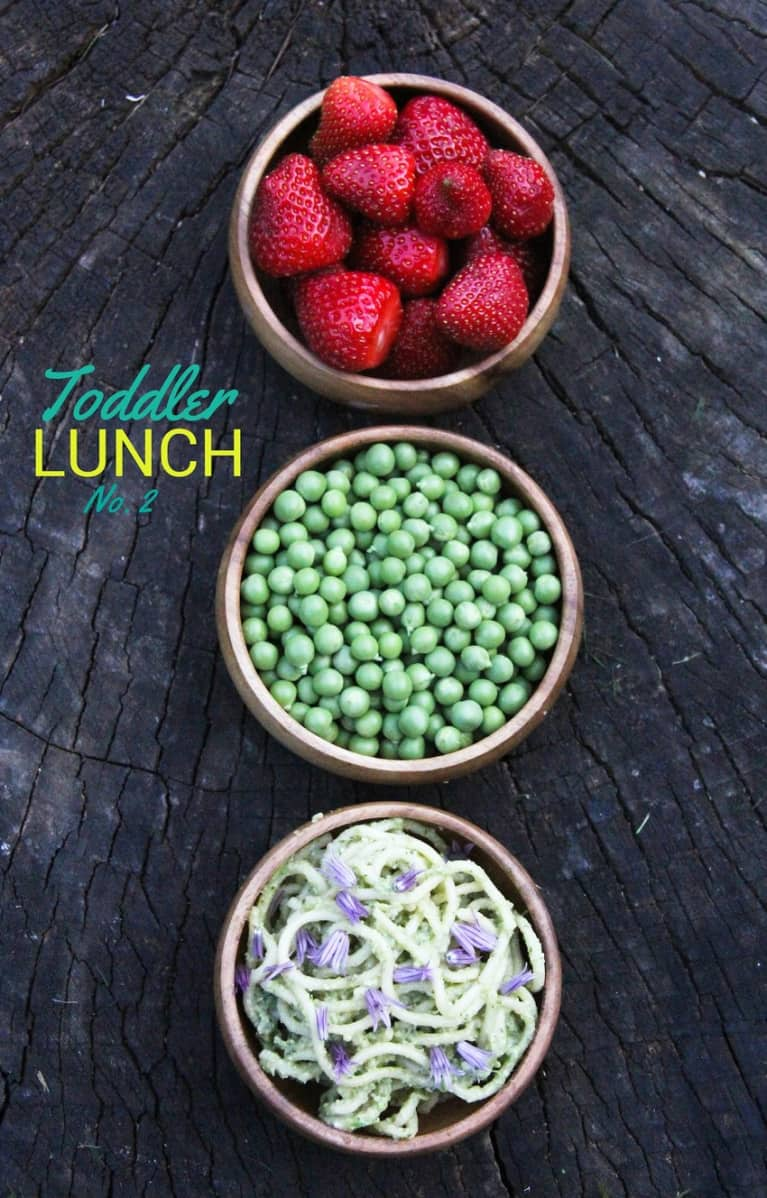 Pasta With Garlic Scape Pesto + Chive Flowers Served With English Peas + Strawberries
Ingredients for pesto
1 cup of chopped garlic scapes
¾ cup olive oil
½ cup grated Parmesan cheese
1/3 cup of pine nuts
1 tablespoon of lemon juice
salt to taste
1 chive flower
Preparation
Pulse all ingredients until smooth except the chive flower. Mix pesto over the pasta of your choice and garnish with the chive flower petals.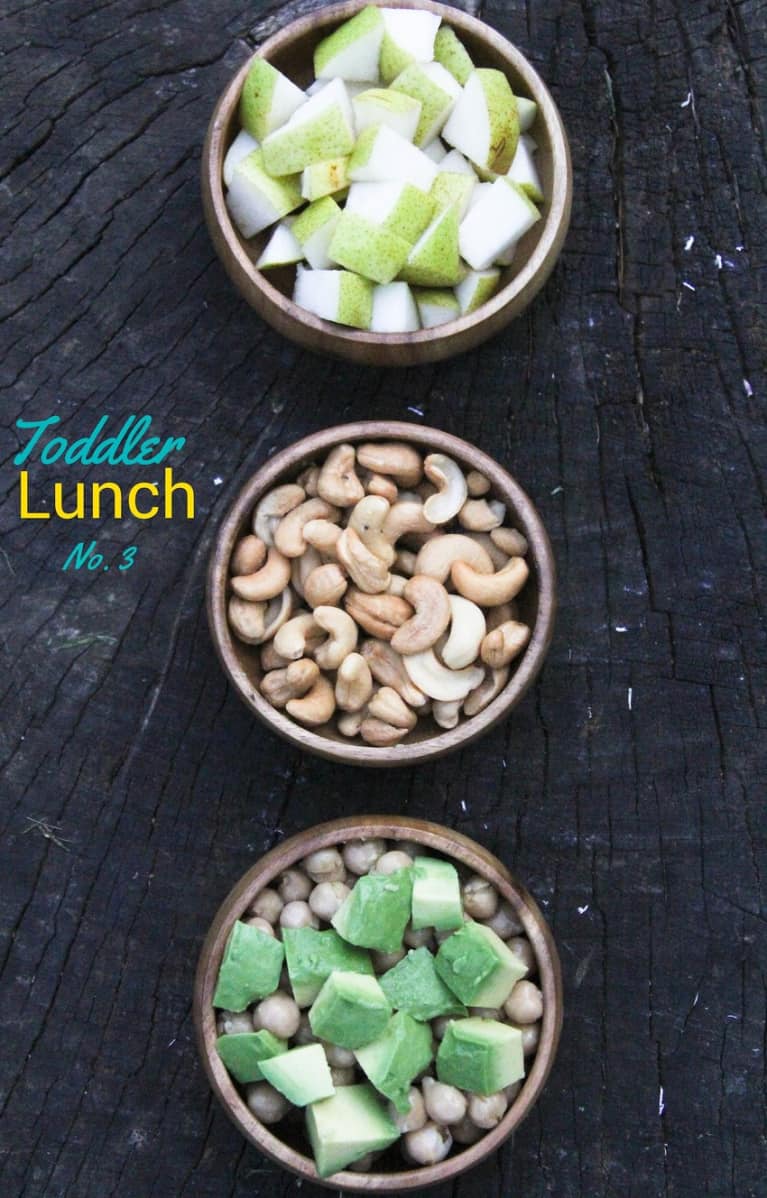 Chickpeas With Avocados, Cashews + Pears
Ingredients
1 can of chickpeas, drained.
1 avocado
1 teaspoon of olive oil
1 teaspoon of lemon juice
salt to taste
Preparation
1. Cube the avocado into small bite sized pieces
2. Combine with the chickpeas.
3. Add olive oil, lemon juice, and salt. Mix well.
Photos courtesy of the author