Chocolate Peanut Butter Muffins Sweetened Only With Honey + Bananas
Tradition tells us that chocolate and peanut butter go well together and that peanut butter and bananas go well together, but we rarely put them all together. The natural sweetness of bananas, the richness of chocolate, and the creamy nuttiness of peanut butter make this a combination you won't soon forget.
While these Chocolate Peanut Butter Banana Muffins aren't totally free of sugar, they are sweetened with bananas and honey only. Each muffin has about 1/2 tablespoon of honey and 1/4 of a banana, which is significantly less sugar than average store-bought muffins.
These little treats are great for a fruit and protein filled breakfast on-the-go, or as a tasty dessert.
Chocolate Peanut Butter Banana Muffins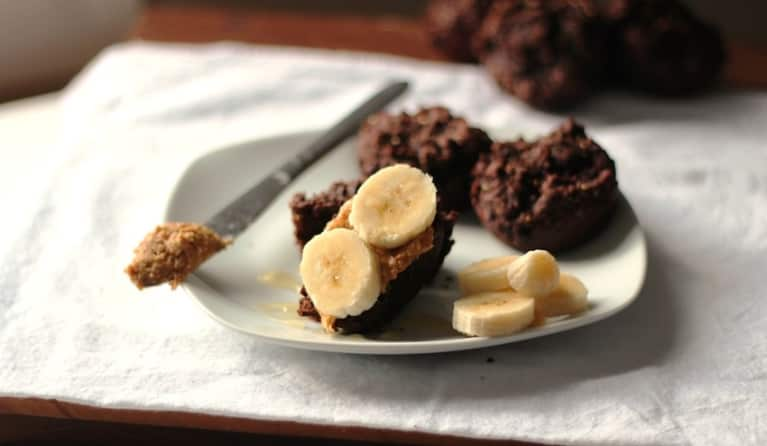 Makes 7-8 muffins
Ingredients
2 ripe bananas
1/2 cup peanut butter
1/4 cup honey
1 teaspoon vanilla extract
1/4 cup + 1 tablespoon cocoa powder
1/2 teaspoon baking soda
1/4 teaspoon salt
1/2 cup brown rice flour
coconut oil for greasing pan
Preparation
1. Preheat oven to 350ºF degrees. Using coconut oil, grease 7-8 slots of a muffin pan.
2. Peel bananas and mash in a large mixing bowl with a potato masher or fork. Add peanut butter, honey, and vanilla. Mash into bananas using fork. In a separate bowl combine cocoa powder, baking soda, salt and flour. Add dry mixture to banana mixture, using a fork to combine well.
3. Scoop batter into muffin pan, filling 3/4 of the way. Bake 12-15 minutes. Allow to cool slightly before eating.
Photo courtesy of the author