Overnight Oats With A Tropical Twist
mbg Contributor
By Osha Key
mbg Contributor
Osha Key is a transformation coach based in Southeast Asia. She received her bachelor's in economics from Kaunas University of Technology, and completed her advanced holistic nutritionist certification at the School of Natural Health Sciences.
This tropical overnight oat recipe is just perfect on busy mornings. Delicious mango and coconut flavours will make you feel like you are on a tropical beach.
This dish is sweetened with fruit (no refined sugar) and contains 11 grams of fiber per serving. So it will help keep your blood sugar levels stable and provide you with the energy you need.
Tropical Overnight Oats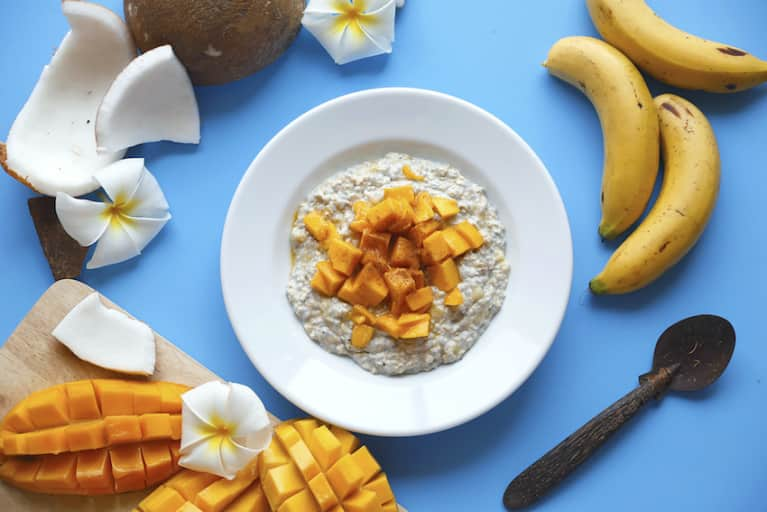 1 cup oat flakes
1 cup full fat coconut milk
1 cup water
2 tablespoons chia seeds
2 ripe bananas
1 mango
Dash of cinnamon
Preparation
1. The night before, put the oats, chia seeds, coconut milk and water into a glass jar (or your preferred container) and whisk well. Then mash banana with a fork and mix into the mixture. Close tightly with a lid and place in the fridge overnight.
2. In the morning cut up fresh mango and place over oats, sprinkle with cinnamon. You can serve it in bowls or eat it straight from the jar. Enjoy!
Note: instead of 1 cup of full fat coconut milk and 1 cup of water you can just use 2 cups of light coconut milk. Or if you like very rich and creamy consistency, you can just use full fat coconut milk all the way. But I personally find using 2 cups of full fat coconut milk too heavy for this recipe.
Photo courtesy of the author