Chocolate Beet Fudge Brownies (Gluten-Free + Dairy-Free)
These brownies are wonderfully decadent, moist and indulgent. High in fiber with a boost of antioxidants, they're the perfect healthy treat.
Chocolate + Beet Fudge Brownies (Gluten-Free + Dairy-Free)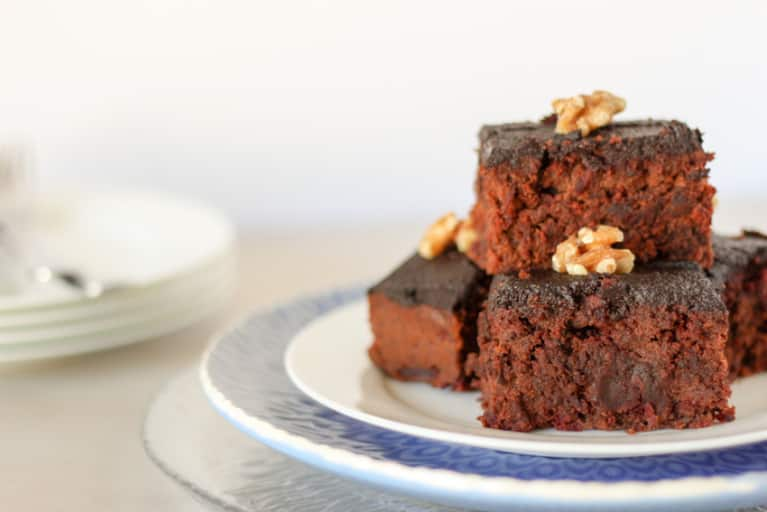 Makes 16 brownies
For the brownie
2 1/2 cups of brown rice flour
2 teaspoons baking powder
1/2 cup cacao powder
1/2 cup raw honey OR rice malt syrup
2 cups grated raw beets (approximately 2 large beets)
1 teaspoon vanilla powder
1 cup coconut oil, melted
1/2 cup rice milk OR almond milk
4 organic egg yolks
4 organic egg whites
7 ounces good quality 85% dark chocolate
1/2 cup coconut cream
2 tablespoons maple syrup
walnuts to decorate
Preparation
1. Preheat oven to 325°F. Grease a 1- inch cake pan and line with baking paper. Set aside
2. Sift together the flour, baking powder and cacao in a large bowl. Add beets, honey, vanilla, coconut oil, milk and egg yolks. Stir until well combined.
3. In a separate bowl, whisk the egg whites until forming stiff peaks. Fold egg whites into other mixture.
4. Pour into cake pan, distributing evenly and bake for 45 mins or until an inserted skewer comes out clean. Remove from oven and allow to cool.
5. For the frosting, melt chocolate in a small saucepan over low heat. Once melted remove from heat and whisk in coconut cream and maple syrup. Place in fridge for half hour to cool.
6. Spread frosting over brownie and cut into desired squares. Serve sprinkled with walnuts.
Photo courtesy of the author