Grain-Free, High-Fiber Breakfast Cookies
These soft and cakey cookies are something you can feel good about eating for breakfast. Lightly sweetened with honey and high in fiber from sweet potatoes and nuts, just one batch will provide grain-free, grab-and-go snacks for the week.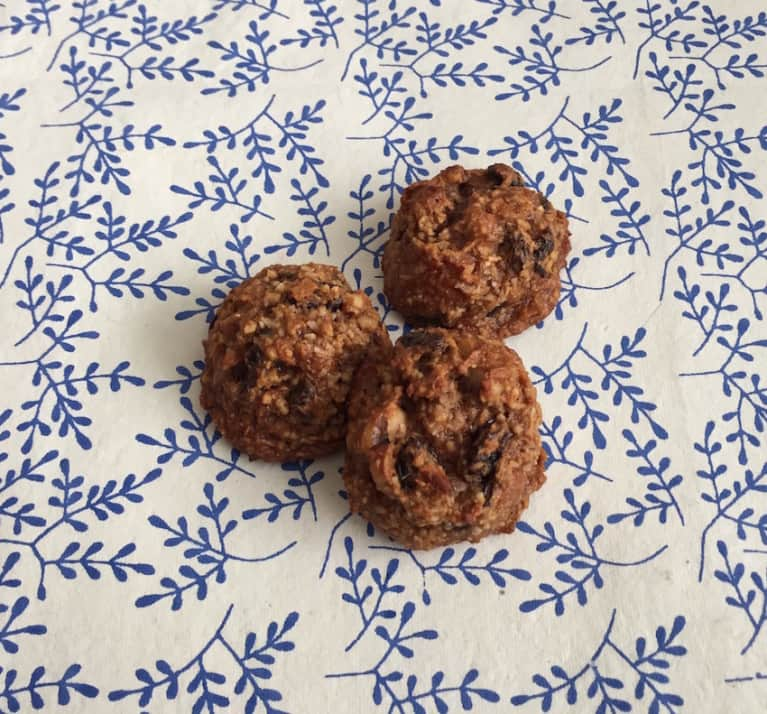 1 small sweet potato (approximately 7 ounces)
1/2 cup almond flour
1/4 cup honey
2 eggs
1/2 teaspoon vanilla extract
1/2 teaspoon baking soda
1 teaspoon cinnamon
1/2 teaspoon salt
3/4 cup shredded coconut
3/4 cup raisins
3/4 cup chopped walnuts
1. Preheat oven to 400ºF.
2. Line a rimmed baking sheet with parchment paper.
3. Wash and dry sweet potato. Pierce several times with tongs of a fork. Place sweet potato on lined baking sheet and bake for 45-50 minutes, until tender. Remove potato from oven and allow to cool.
4. Lower oven to 350ºF and line two baking sheets with parchment paper.
5. Remove skin from sweet potato. In a large bowl mash flesh of potato with a fork. Break up and large lumps with your hands.
6. Add all remaining ingredients to the bowl and mix well to form a dough. Using a tablespoon or small cookie scoop, drop rounded balls of dough onto the cookie sheets leaving 2-3 inches in between. Bake for 15-17 minutes. Remove from oven and allow to cool for 5 minutes before transferring to a cooling rack.
Photo courtesy of the author