Anti-Inflammatory Superfood Chia Pudding
Chia seeds join together with almond milk and superfoods in this recipe to give you a super easy, supercharged start to your day. Filled with anti-inflammatory omega-3s, vitamin C (hello, Baobab!) and fiber, it is a perfect way to get in essential nutrients with barely any kitchen cleanup. Whip this breakfast up the night before for a no-hassle morning!
Superfood Chia Pudding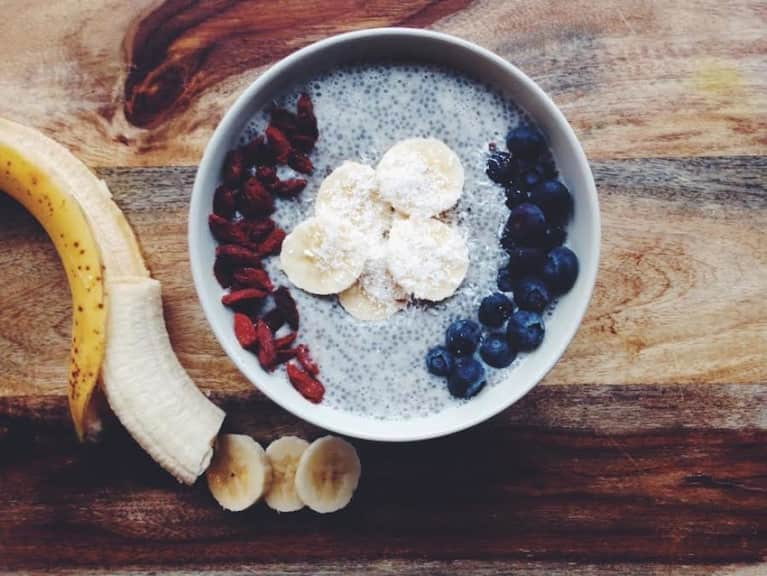 1 cup almond or coconut milk
1/4 cup chia seeds
1 teaspoon baobab powder
1/2 teaspoon maca powder
1 teaspoon lucuma powder
1-2 teaspoons vanilla extract
1 tablespoon raw honey or agave (optional)
1 teaspoon cinnamon
Preparation
1. Whisk milk and chia seeds in a bowl for one minute until chia seeds are evenly submerged throughout the milk. This is important because chia seeds can tend to clump together making for a not-so-smooth pudding in the morning.
2. Add in maca, lucuma, baobab, cinnamon, vanilla and honey. Whisk again for another 30 seconds to 1 minute.
3. Refrigerate for at least 1 hour or preferably overnight. You will know it is ready once the milk sways if you tip the bowl to the side.
4. Top with anything! This time we used banana, goji berries, coconut flakes and blueberries. Fresh fruit and nuts are great additions.
Photo courtesy of the author