Warm up with this satisfying vegan entrée, a healthy, vegetable-packed soup with a kick!
Fiesta Winter Minestrone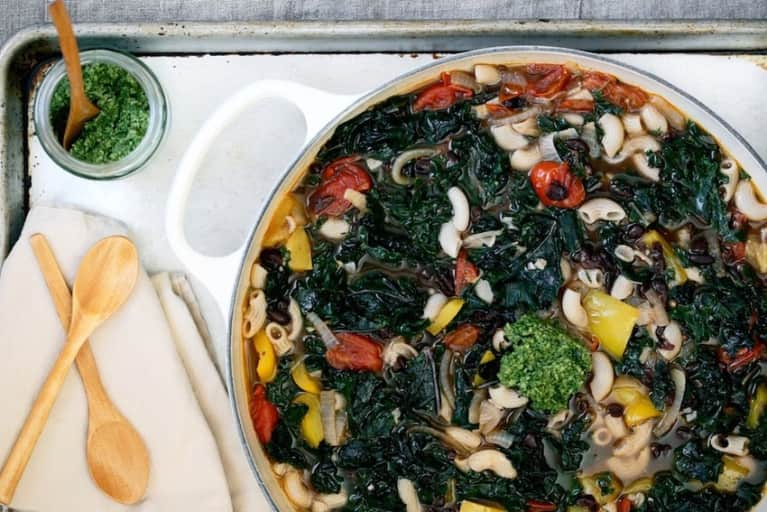 2 tablespoons extra-virgin olive oil or avocado oil
1 yellow pepper, seeded and chopped into 1-inch cubes
1 onion, chopped
1 pint grape or cherry tomatoes
2 cloves garlic, minced
2 teaspoons sea salt, more to taste
2 teaspoons ground cumin
2 teaspoons coriander seed
1 teaspoon smoked paprika
6 cups vegetable broth
3 cups cooked gluten-free brown rice macaroni or fusilli
1 (15 ounce) can black beans, drained and rinsed (about 2 cups cooked)
1/2 head purple or black kale, de-stemmed and torn into bite-sized pieces
pesto and chili flakes, for serving
Preparation
1. In a large pot, heat oil over medium. Add pepper, onion, tomatoes, garlic, salt, cumin, coriander, and paprika; sauté for 10 minutes. Lightly mash tomatoes with the back of a spoon until broken up. Add stock, cooked noodles, and beans. Bring to a boil, reduce to a simmer, cover, and cook for 15 minutes. Stir in kale and cook for an additional 5 to 10 minutes, or until wilted.
2. Serve with pesto and chili flakes.
Photo courtesy of the author