High-Protein Cricket Flour Cookies
In dozens of cultures, more than two billion people consume insects as viable parts of their daily diet. Citizens in Africa, Southeast Asia, and various Native American tribes, have a long-standing history with eating grubs, bees, beetles and crickets.
By the year 2050, the global population will reach 9 billion, and economists say there won't be nearly enough resources to feed all those people. Combined with harsher environmental conditions, we need to start thinking outside the "farm" about how we satisfy our protein needs. Crickets provide a sustainable source of protein, with little impact on the environment.
Crickets are extremely nutrient dense, packed with fiber, healthy fats, are protein dense, and contains valuable trace minerals like iron, calcium, and magnesium.
If you're ready to take the leap, make sure you're getting your crickets or cricket flour from reputable sources. Grabbing them out of your garden isn't wise, because many insects have traces of insecticides or pesticides on them. Look for companies that produce their crickets in facilities with guidelines that are edible for human consumption. I often buy mine on Amazon, and there is also a great company based out of San Francisco called Bitty Foods which sells high quality cricket flour as well.
Chocolate "Chirp" Cookies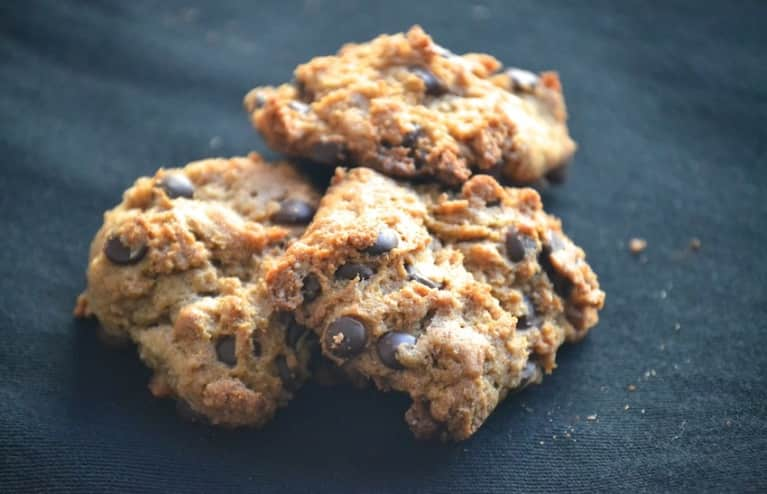 Makes about 2 dozen cookies
Ingredients
1 cup + 2 tablespoons of gluten-free all-purpose flour
½ teaspoon baking soda
½ teaspoon cinnamon
½ cup unsalted, dairy-free butter (Earth Balance is a great choice)
6 tablespoons organic sugar
6 tablespoons organic coconut palm sugar
½ teaspoon vanilla
1 egg (or flax egg)
½ cup allergy-free chocolate chips (I prefer the Enjoy Life brand)
¼ cup cricket flour
Preparation
1. Pre-heat oven to 375ºF. Mix butter, sugars and vanilla. Beat until creamy and smooth. Add eggs/flax eggs and all-purpose flour. Fold in cricket flour and chocolate chips.
2. Place teaspoon fulls of batter onto a greased baking sheet. Bake for 8-10 minutes. Place on cooling rack.
Photo courtesy of the author