Twice-Baked Sweet Potatoes With Vegan Artichoke Cream Sauce
These twice baked sweet potatoes are a healthy alternative to those buttery mashed potatoes and are incredibly filling. This recipe is a perfect side dish and is vegan, gluten-free and full of antioxidant and anti-inflammatory properties. High in beta carotene, vitamin A, and fiber, these wonderful veggies can actually help in controlling blood sugar.
The sweet potatoes are baked until soft, then combined with garlic, onion, sweet red peppers, kale and coconut milk and baked again! The tangy artichoke cilantro cream sauce and zesty radish is added for a nice finish.
Twice Baked Sweet Potatoes with Artichoke Cream Sauce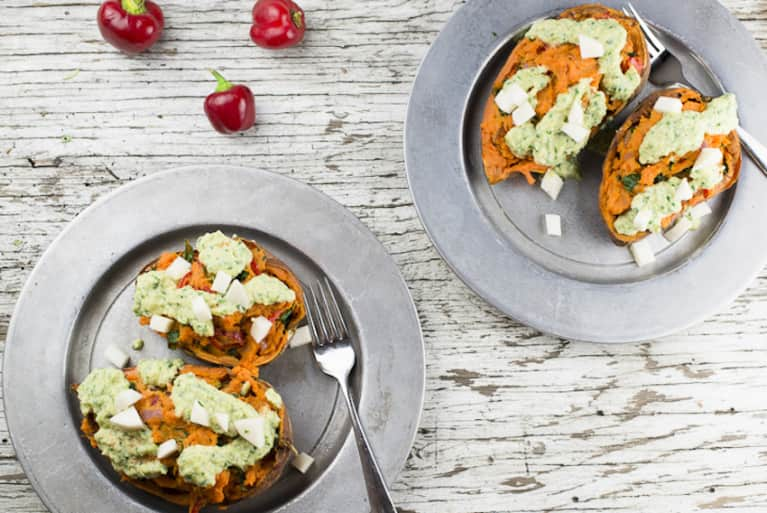 3 medium-sized sweet potatoes
1 tablespoon virgin organic coconut oil
3 cloves garlic
1 medium onion
2 tablespoons olive oil
2 cups small sweet red peppers (or 1 large red pepper)
handful of kale
1 can of organic coconut milk
salt and pepper
black radish for garnish (optional)
½ cup marinated artichoke hearts
⅓ coconut milk
1 tablespoon nutritional yeast
bunch of cilantro
1 garlic clove
juice of half lemon
water to thin out if needed
Preparation
1. Preheat oven to 400ºF.
2. Cut sweet potatoes in half and rub with coconut oil and place on baking sheet facing down, and bake until soft when pierced with fork (approximately 35 minutes, depending on the size of the potatoes)
3. In the meantime, mince garlic and chop onion and add to pan with olive oil, and sweat for 5 minutes on low-medium heat.
Chop peppers finely and add to pan, sautee for another 8-10 min or until peppers are slightly soft. Chop kale and add to pan for the last 2 min of cooking.
Take out potatoes from oven and let cool slightly.
Once cool enough to handle, scoop out potato flesh and place in large mixing bowl- make sure to leave about ¼ inch flesh around the skins.
Mash potatoes and add ⅓ cup coconut milk and stir well. Add salt and pepper and the sautéed veggies from the pan.
Scoop mixture back into potato skins and bake for another 8-10 minutes at 400 degrees.
To make the sauce, combine all ingredients and food processor and process until smooth (small chunks of artichoke will remain, this is fine.) Pour over potatoes and enjoy!
Photo courtesy of the author