Scrambled Tofu + Black Bean Burrito
Scrambled Tofu + Black Bean Burrito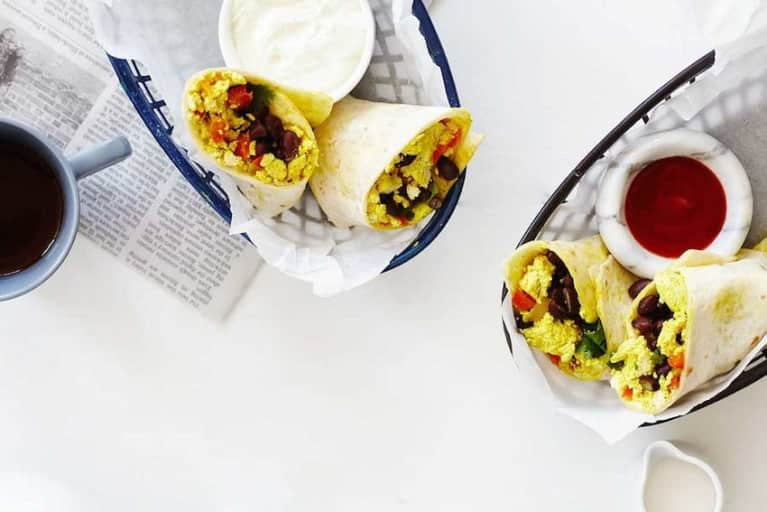 8 oz extra firm tofu (about half a block of a normal sized package), drained and crumbled
2 large tortillas
1/2 a small onion, chopped
1/2 a bell pepper, chopped
1 garlic clove, minced
1 teaspoon ground coriander
1 teaspoon turmeric
3 tablespoons olive oil
salt + pepper
1/2 a small can of black beans, drained and rinsed
handful of cilantro leaves, roughly chopped
1 tablespoon olive oil
juice of half a lime
salt + pepper
To serve
full fat strained yogurt (instead of sour cream)
hot sauce
Preparation
1. Place a large frying pan over medium-high heat and coat bottom of the pan with olive oil. Sauté the onions and peppers for about a minute or two until soft, translucent and fragrant. Add the garlic and cook for another minute until soft.
2. Add the crumbled tofu and herbs and mix to combine. Season with salt and pepper and sauté for a few minutes to incorporate. Add the black beans, mix and cook for another minute or so.
3. Remove the pan from the heat and add the cilantro and lime juice. Serve in the tortillas with toppings as desired.
Photography by Vanessa Rees
Recipes + Styling by Christina Liva