Toast Two Ways: Savory + Sweet
Toast Two Ways: Savory + Sweet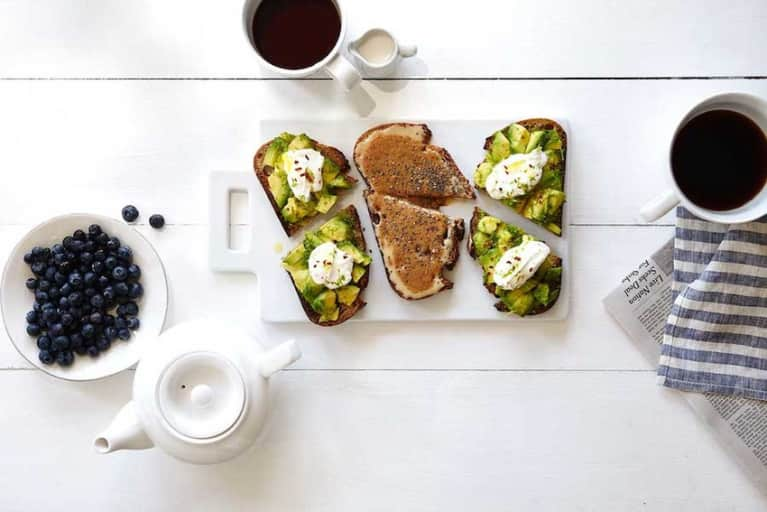 1. Avocado + Limed Yogurt Toast With Chili Oil
Serves 2
Ingredients
2 pieces of bread (whatever kind you like — Ezekiel, spelt, gluten-free, etc.)
1 avocado
1/2 lime
1 large scoop of yogurt
olive oil
red chili flakes
salt + pepper
Preparation
1. Toast the bread to your liking.
2. Slice the avocado open lengthwise. Carefully hit your blade into the pit to remove. Score the avocado length and crosswise and remove the flesh with a spoon, dividing it between the two pieces of toast. Using a fork, gently mash the avocado into the toast. Season with salt and pepper.
3. To make the limed yogurt: Place the yogurt in a bowl. Squeeze in the lime juice and zest the lime over top. Season with salt and pepper and mix to combine.
4. Top each piece of toast with the yogurt. Drizzle with olive oil and red chili flakes.
2. Raw Honey + Almond Butter Toast With Chia Seeds
Serves 2
Ingredients
2 pieces of bread (whatever kind you like — Ezekiel, spelt, gluten-free, etc.)
2 heaping tablespoons of raw honey
2 heading tablespoons almond butter (look for the brands with no added sugar)
1 tablespoon chia seeds
Preparation
1. Toast the bread to your liking.
2. Spread 1 tablespoon of raw honey over each piece of toast. Top with 1 tablespoon of almond butter. Sprinkle each with equal amounts of chia seeds.
Photography by Vanessa Rees
Recipes + Styling by Christina Liva