Broth-Poached Black Sesame Salmon + Bok Choy
Broth-Poached Black Sesame Salmon + Bok Choy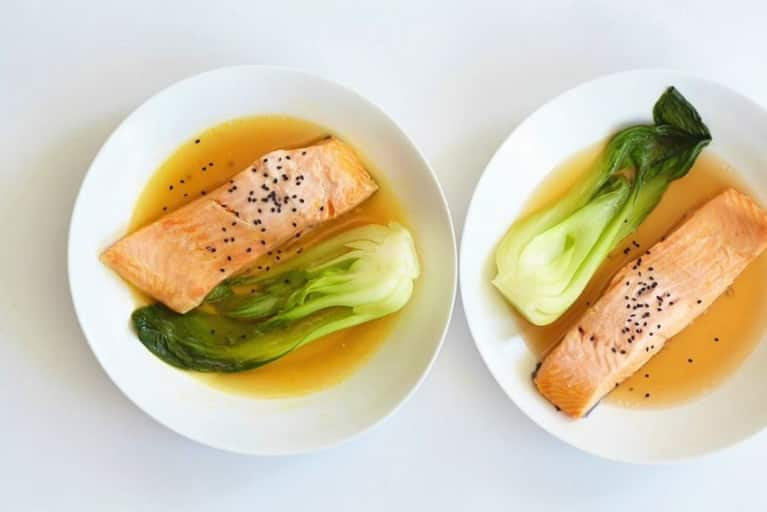 You can easily make this same recipe with chicken another night. Just poach a couple organic boneless, skinless breasts for about 15 minutes and leave in the broth covered for an extra 15 minutes to steam through.
Serves 2
Ingredients
2 quarter pound pieces of wild salmon
3 cups of seafood stock
1 lime, thinly sliced
10 whole black peppercorns
2 heads of bok choy
juice of 1 lime
salt + pepper
toasted black sesame seeds, to garnish
Preparation
1. Add the seafood stock, limes and peppercorns to a deep skillet or heavy pot over high heat and bring to a boil, then immediately reduce to a simmer. Cover and cook for about 5 minutes.
2. Season salmon with salt and pepper and gently lower into simmering liquid, making sure the filets are at least ¾ covered. Reduce heat to a very gentle simmer, cover the pan and cook for about 6 minutes, until salmon is opaque throughout (you should be able to flake it with a fork). Remove salmon from the liquid and set aside on a towel lined plate.
3. Turn heat up to medium so the broth is at a steady simmer. Drop in the bok choy and cook for about 3 minutes, until they are soft but not mushy (they should still have a good bite). Remove pieces from liquid.
4. Turn the heat up to medium high and continue to cook the broth for about 3 more minutes. Add the lime juice and turn off heat.
5. Divide the bok choy and salmon between to shallow bowls. Ladle about ¼ – ½ a cup of broth over each bowl. Garnish with black sesame seeds.
Photos by Vanessa Rees
Recipes + Styling by Christina Liva