Gluten- & Dairy-Free Pumpkin Bread
Although it's easy to find pumpkin flavored treats everywhere, it can be difficult to find healthy versions of your favorites. This pumpkin bread is wheat-, gluten-, and dairy-free and will satisfy your holiday pumpkin cravings. The walnuts and raisins provide some great texture while the glaze drizzle makes this bread a showstopper for holiday parties and family gatherings.
Festive Pumpkin Bread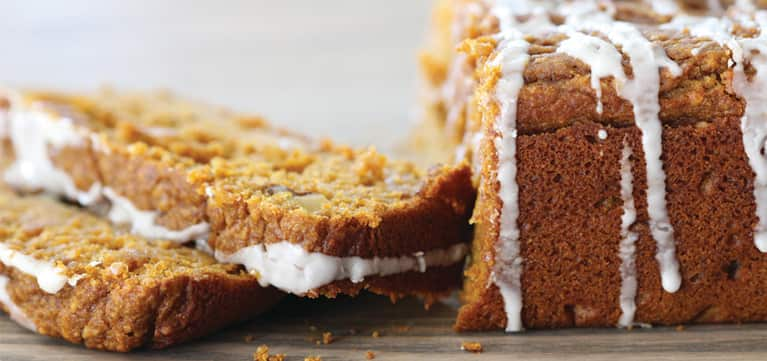 Serves 12
Bread Ingredients
1 ½ cups gluten-free oat flour
½ cup almond flour
1 cup coconut palm sugar
2 teaspoons pumpkin pie spice
1 teaspoon gluten-free baking powder
½ teaspoon baking soda
½ teaspoon sea salt
3 large eggs
1 can (15 ounces) pumpkin
3 tablespoons coconut oil, melted
¼ cup walnuts, chopped
¼ cup golden raisins
Glaze Ingredients (Optional)
½ cup powdered sugar
¼ teaspoon vanilla
2 tablespoons water
Pre-heat oven to 350°F. Line the bottom and short ends of an 8" x 4" loaf pan with parchment paper.
In a medium bowl, whisk together the oat flour, almond flour, coconut palm sugar, pumpkin pie spice, baking powder, baking soda and salt.
In a large bowl, whisk the eggs. Add the pumpkin and oil. Mix well. Add the dry ingredients to the egg mixture and stir gently to combine. Fold in the walnuts and raisins. Pour the batter into the pan. Bake for 50-60 minutes, or until wooden pick inserted in the center of the loaf comes out clean.
Let the bread cool in the pan on a rack for 10 minutes. Remove the bread from the pan and let cool completely.
For glaze, combine sugar, vanilla and water and whisk until smooth, drizzle on the loaf before slicing. Note: If you find the consistency of the glaze too thick or too thin, you can add more sugar or more water until you have your desired consistency.