Cauliflower, Coriander + Chickpea Quinoa Bowl With Cilantro Vinaigrette
Cauliflower, Coriander + Chickpea Quinoa Bowl With Cilantro Vinaigrette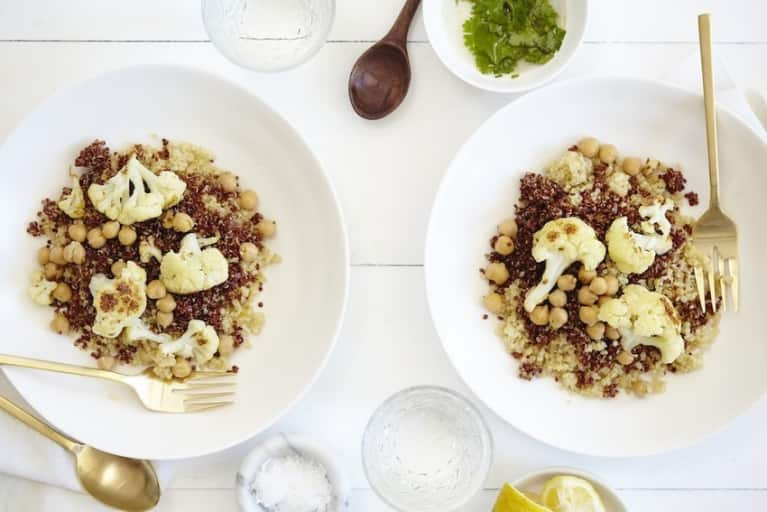 1 small head of cauliflower, broken up into bite-sized pieces
1 can (or 1.5 cups) cooked chickpeas, rinsed and drained
1 teaspoon coriander seeds
1 teaspoon cumin seeds
3 cups Perfect Fluffy Quinoa
olive oil
salt + pepper
For the Cilantro Vinaigrette
3 tablespoons of white balsamic vinegar
2 tablespoons of olive oil
1 teaspoon of Dijon mustard
handful of cilantro, roughly chopped
salt + pepper
Preparation
1. Grind the coriander and cumin seeds in a mortar and pestle.
2. In a large frying pan, add the ground up seeds over medium high heat until they become fragrant (about a minute). Add about 2-3 tablespoons of olive oil (enough to coat the bottom of the pan) and let heat, about 30 seconds. Add the cauliflower and season with salt and pepper. Cover the pan and let the cauliflower cook on medium heat for about 10 minutes (you don't want to stir it because you want the cauliflower to brown). Uncover the pan, give the cauliflower a stir and cook for another 5 minutes or so until the cauliflower is soft and slightly brown on all sides.
3. To make the dressing, add the vinegar and the mustard to a small mixing bowl. Slowly whisk in the olive oil until combined. Add the cilantro and season with salt and pepper.
4. Add one cup of Perfect Fluffy Quinoa to each bowl (or container). Divide the cauliflower among the bowls and drizzle with the dressing (or pack dressing in a separate container if you're taking it with you).
Photography by V.K. Rees
Recipes + Styling by Christina Liva