Labor Day Corn on the Barbie (BBQ!)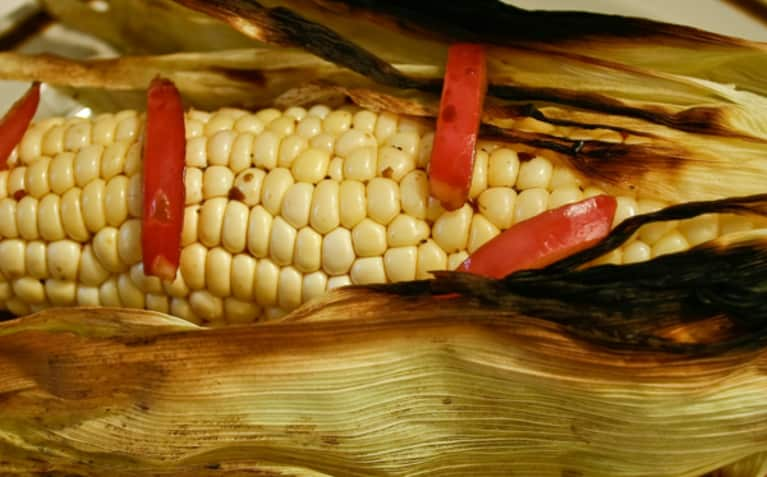 Labor Day inevitably means grilling out. So the question is how to stay healthy when your meal du jour is almost certainly coming off the grill. Corn on the cob is a great American tradition and actually tastes great when grilled. With this recipe you can infuse it with clean natural flavors during the grilling process so there's no need to slather it with butter before you eat it!
Labor Day Corn on the Barbie (BBQ!)
Ingredients:
4 ears of corn on the cob
1 red onion, cut into thin strips
2 cloves of garlic, finely minced
1 Tbs. red pepper flakes
1 cup pineapple juice
1 tsp. olive oil
1 tsp. black pepper
Instructions:
In a bowl combine pineapple juice, red pepper flakes, olive oil, garlic and black pepper. Stir until well mixed.
Peel back husks from the ears of corn without removing completely and remove hairs. Brush mixture from bowl onto the ears of corn until evenly covered. Begin pulling husks back up around the ears placing onion strips between the husk and the corn.
Set grill to medium. Place ears of corn (with husks now completely covering the kernels) on the grill. Cook for about 15 minutes, rotating regularly until husks are slightly blackened all around. Remove from grill and allow to cool slightly. Remove husks and discard along with onion strips.
Your corn on the cob should be delicious and ready to eat as is. No need for butter!
Other Labor Day BBQ suggestions:
Make your favorite potato salad recipe only replace the mayo with Nayonaise. It's all-natural, egg-free, vegan, and we bet no one will even notice!
Try grilling fillets of lightly marinated fish (salmon or swordfish works well) instead of the traditional burgers and dogs. You can even marinate using the same ingredients you used for the corn.