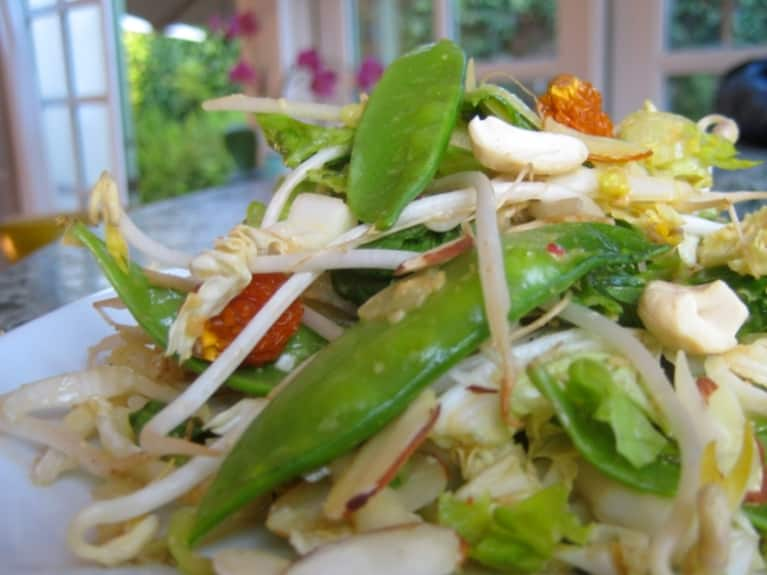 A healthy makeover of a chinese chicken salad, this fresh preparation offers substantial amounts of protein of the plant-based variety. The Nama Shoyu and mung beans helps establish a Chinese tone within the dish, and the addition of goldenberries adds a sweet/tart juxtaposition that literally explodes with flavor against the crisp greens.
INGREDIENTS:
(For the dressing):
1½ Tbsp yacon syrup, or agave nectar
2½ Tbsp Nama Shoyu, or soy sauce
1½ Tbsp apple cider vinegar
1 Tbsp + 1 tsp fresh ginger, grated
1 whole red jalapeño pepper, minced (with or without seeds)
¼ cup hemp oil or olive oil
¼ cup sesame seeds
2 Tbsp fresh squeezed orange juice
(For the salad):
4 cups chinese cabbage, shredded
6 cups romaine lettuce shredded
¼ cup scallions, white and green parts
1 cup snow peas
2 cups mung bean sprouts
¾ cup sliced or chopped almonds
1/2 cup goldenberries (substitute mandarin oranges if goldenberries are unavailable)
DIRECTIONS:
To make the dressing, combine all the dressing ingredients in a blender, blending until as creamy as possible. Set aside.
In a large bowl, chop and combine all salad ingredients. Toss with dressing just before serving.
Serves 4.