Vegan Kale & Lentil "Meatballs" With Cranberry Sauce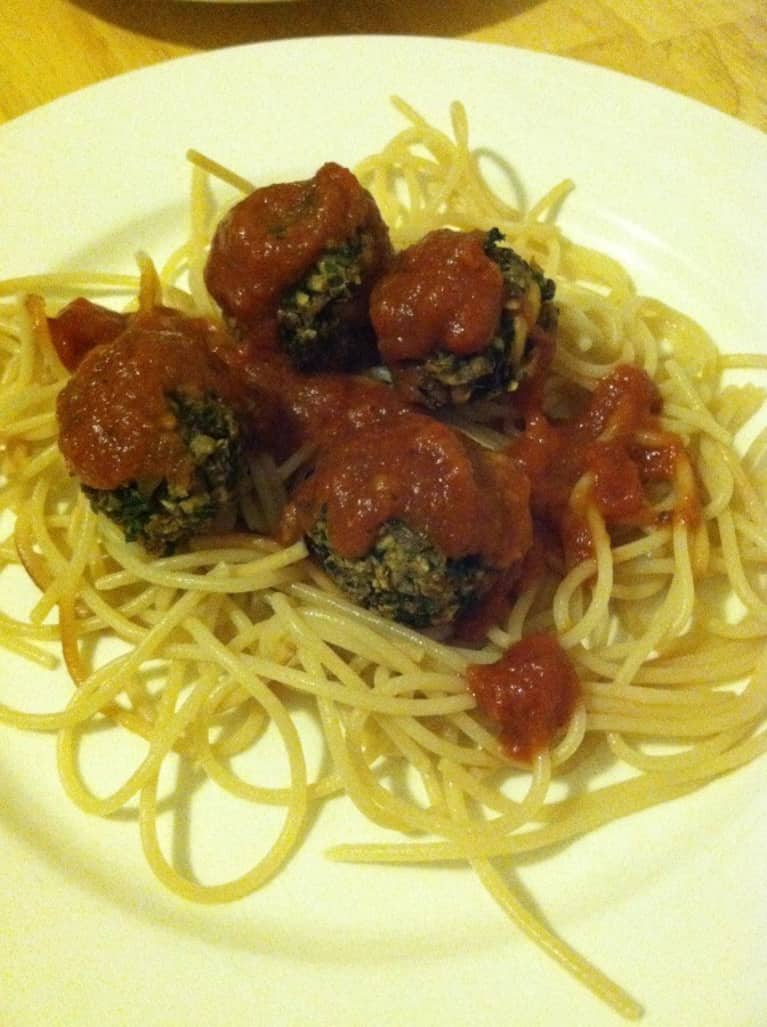 Lentils are a great source of protein, fiber and iron and who doesn't love meatballs? This vegan twist on meatballs is simple, quick and budget friendly. Serve with traditional spaghetti and sauce, enjoy over greens, or toss with fresh spaghetti squash!
Lentil and Kale "Meatballs" with Cranberry Sauce
½ cup lentils
2 cups of mushrooms, diced very small
4 cloves of garlic, minced
2 Tbsp. olive oil
1 cup of kale, cut very small
1 Tbsp. sherry
½ tsp. of rosemary
½ tsp. of thyme
salt and pepper to taste
1 Tbsp. waterflax paste (2 Tbsp. flax + 3 Tbsp. water)
½ cup of oat flour
Prep Time: 10 min
Cook Time: 45 min
Preheat the oven to 350 degrees Fahrenheit.
Cook the lentils in 3 cups of water, adding more water if they dry out. (The lentils are done when fork-tender.) When done, drain and mash with a potato masher, or the bottom of a drinking glass, until the lentils form a paste. NOTE: It's OK to have some unmashed pieces of lentils in the mix.
Saute the mushrooms, and garlic in the olive oil until the water is cooked off, about 8-9 minutes.
Add the kale, herbs and sherry. Cook until the kale is wilted, adding salt and pepper to taste.
Remove from heat and stir in the mashed lentils and water and mix well.
Create the flax paste by stirring the flax and water together for 10 seconds and adding it immediately to the lentil and kale mixture.
Add the oat flour and mix well, adding an extra tablespoon of water if the mixture is too dry. NOTE: The mixture should be moist, but firm enough to form into small balls.
Form the "meatballs" by packing the mixture firmly in your hands.
Place parchment paper (or a cooling rack) on top of a baking sheet and cook your "meatballs" for 15 minutes, then flip and cook for an additional 15 minutes. Remove from the oven and serve!