Shredded Brussels Sprout Salad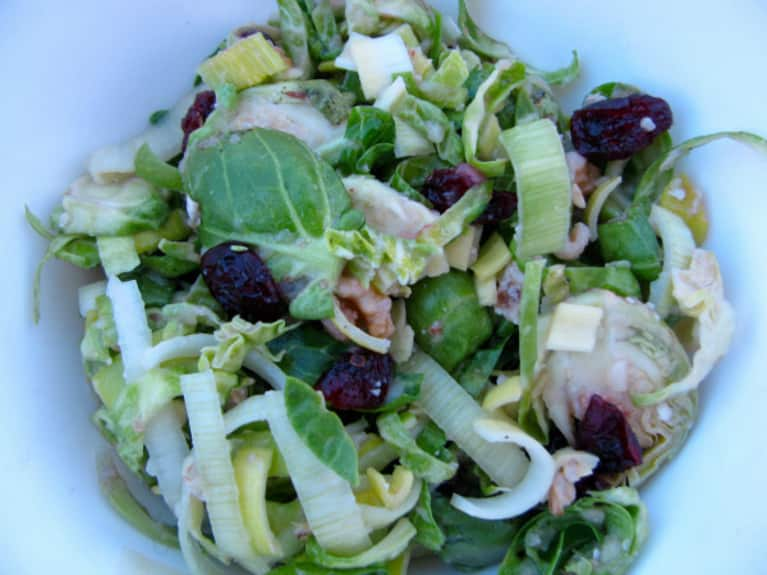 Need a last minute Thanksgiving side dish? My shredded brussels sprouts salad is a complement to any Thanksgiving meal.
It uses fresh seasonal ingredients and can be made in 10 minutes—perfect when you're rushing around Thanksgiving morning!
Plus, it's so good for you. Brussels sprouts are loaded with vitamins and nutrients like vitamins A, C, and K, as well as folate, manganese, and fiber. It's a healthy dish that's full of flavor. Put some green on your Thanksgiving table this year and give this a try!
Shredded Brussels Sprout Salad
Prep time: 10 minutes
Cook time: You can either serve raw or heat in a large skillet for 3 to 5 minutes to warm it up a bit—it's delicious both ways!
Ingredients
1 stalk fresh brussels sprouts (approximately 4 cups)
2 leeks, white and light green parts only
2 small apples, peeled if not organic
1/4 cup unsweetened dried cranberries
1/4 cup raw walnuts
1/2 lemon (or 2 Tablespoons lemon juice)
2 Tablespoons apple cider vinegar
2 Tablespoons olive oil
2 teaspoons raw honey, local if possible
Sea salt and pepper to taste (I used a pinch of each, less than 1/8 teaspoon)
Directions
Start off by putting the vinegar, olive oil, honey, salt, and pepper into a small mixing bowl. Stir to combine.
Juice the lemon and add it to the mixture. Stir and set aside.
Using a cutting board and sharp knife, cut your brussels sprouts and leeks into small strips.
Place all the strips into a large colander, separating their layers as you go, then wash the strips. It's best to wash them after cutting them because both leeks and brussels sprouts can collect dirt in their layers.
After washing the sprouts and leeks, place them in a large bowl and set aside.Using a cheese grater, on the largest grate setting, shred your apples. (Note: You could also do this with the brussels sprouts, but I find it difficult to do when they're small.)
Add the apples to the large bowl and immediately pour the dressing onto the veggie mixture. Using your hands, massage the veggie mixture between your fingers making sure to evenly coat the veggies. Do this for about two minutes.
It will help break down the veggies and make them easier to digest, similar to a rubbed kale salad. Place the walnuts in a plastic bag. Using a mallet or the blunt side of a meat tenderizer, mash until the walnuts are in small pieces. Add the walnuts and the cranberries to the salad. You can either serve raw, or warm in a large skillet over low heat for 3 to 5 minutes, just enough to give the salad a little heat (which is nice to do on a cold night!).