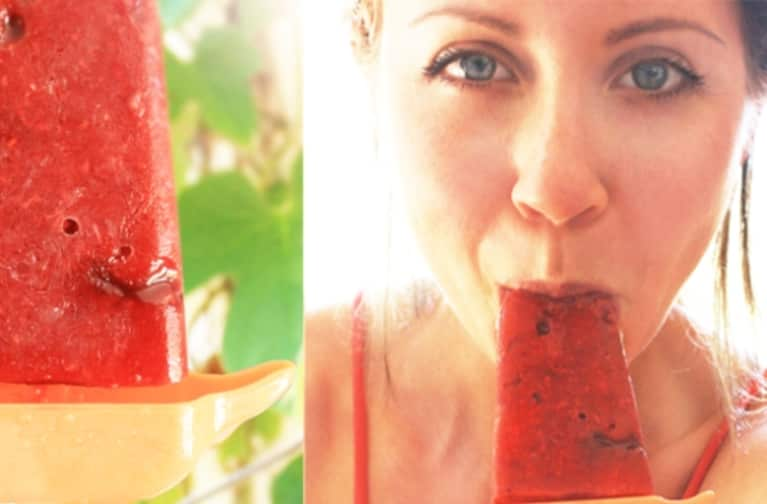 These Red Raspberry Popsicles are enhanced by date syrup that's added just before freezing so it stays in tight little flavor pockets throughout the popsicle. Heaven brought to you by your freezer, and an ideal summertime treat. Here's how to make them:
Stevia (as used below) is fickle from brand to brand in terms of sweetness — making it nearly impossible to dictate measurements — yet remains a wonderful way to cut down on sugars. In this recipe, stevia extends the sweetness of the fruit sugars from date syrup and raspberries without adding a single extra calorie. If you're not a fan of stevia, use another natural sweetener like palm sugar, or even additional date syrup.
INGREDIENTS
½ cup unsweetened almond milk
½ tsp vanilla extract
1 cup frozen raspberries
white stevia powder (or liquid), to taste
2 Tbsp date syrup
DIRECTIONS:
Get popsicle vessels ready – use either a plastic popsicle mold or kit, or small cups with sticks. Recipe makes about 10-12 oz of mixture – servings will vary depending on size of molds used.
In a medium bowl, stir together the almond milk and vanilla. Add the frozen raspberries, and use a fork to "mash" them into the liquid – the milk will begin to freeze into a slush around the raspberries, which is the objective. Mix until chunky, but not blended.
Add a tiny, tiny dash of stevia and mix well. Taste the mixture and add more stevia if needed, mixing after each addition. The overall taste should be quite sweet, as freezing will bring the sweetness flavor profile down a notch.
Drizzle the date syrup into the mixture. Stir once or twice ONLY – just enough to incorporate the syrup into the raspberry mix, but allowing large date syrup swirls to remain.
Carefully spoon the mixture into popsicle molds. Freeze for 3 hours or until mixture is completely frozen through. Thaw for a minute or two just before serving.