Make Today A Fun Day With This Guacamole!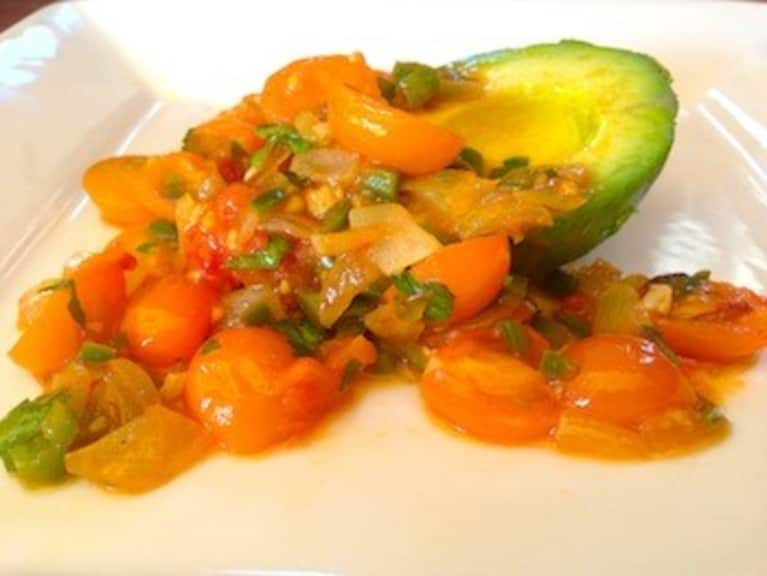 I saw a recipe recently which used the avocado as a cup for a bean salad. I loved the avocado as a cup idea, so I decided that since the summer was over anyway, I'd take the ingredients in a typical guacamole — tomatoes, onions, peppers — and do a quick sauté with them.
This dish literally cooks in 5 minutes and is perfect to make now, with tomatoes being harvested.
This is a great go-to recipe because it's intensely flavorful, super nutritious and so easy anyone can make it.
Ingredients (serves two):
1 avocado, cut in half, pit removed
1 cup of cherry or grape tomatoes, cut in half
1/2 cup sweet onion, finely chopped
1 large garlic clove, finely chopped
2 tablespoons extra virgin olive oil
Pinch of red pepper flakes
Juice from 1/2 lemon
5 or 6 fresh basil leaves, slivered
Season with sea salt and pepper
Directions:
Place a medium fry pan over medium heat, add oil and heat for about a minute.
Add onions and cook for about 3 minutes or just until they begin to soften.
Add the garlic and pepper flakes, cook for about 30 seconds and add the tomatoes.
Raise the heat a bit and cook for about a minute or so, or just until the tomatoes begin to soften.
Remove from the heat, season, squeeze in the lemon juice, stir and distribute the contents over each of the avocados.
Garnish with slivered basil and serve.