Gluten-Free Recipe: Crunchy Toffee Butter Cups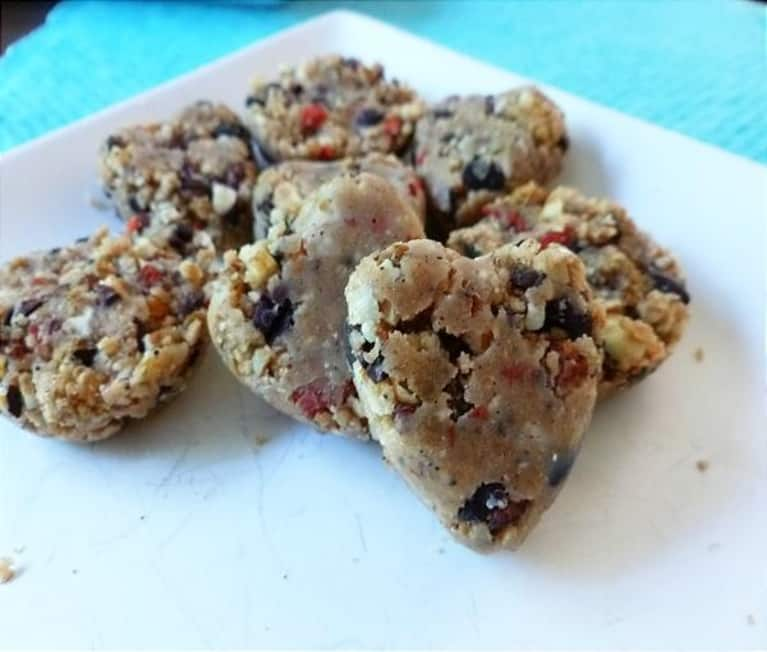 I've always loved the taste of toffee! However, since transitioning to a plant-based diet more than three years ago, I haven't had anything like it due to all the processed, artificial and sugary substances that most toffee on the market is comprised of.
Lately, I've become infatuated with a superfood called lucuma. Lucuma is considered a healthy alternative sweetener because it lends a sweet taste to recipes but is very low in sugar. This low-glycemic sweetener contains many nutrients, including beta-carotene, iron, zinc, vitamin B3, calcium and protein. Lucuma is gluten-free and a great source of antioxidants, fiber, carbohydrates, vitamins and minerals necessary for bodily functions and of benefit to the immune system. Check out my Strawberry Cream Chia Pudding recipe which includes lucuma as well.
Recently, one day in the kitchen, I was creating and playing around with lucuma and some fresh homemade coconut butter. I was adding a little bit of this and a little bit of that and upon tasting, I was AMAZED that this superfood batter tasted like TOFFEE.
I love sneaking superfoods into decadent food items, so I know I'm getting a nutritional powerhouse at the same time as satisfying my sweet tooth. These amazing treats are perfect for giving you that old-fashioned, sweet toffee taste!
Ingredients:
4 Tablespoons lucuma
2 Tablespoons maple syrup
2 Tablespoons coconut butter/coconut manna
1/2 tsp. vanilla bean powder or 1/4 tsp. vanilla extract
1/4 cup + 1 tablespoon melted coconut oil
4 tablespoons raw cacao nibs
2 Tablespoons goji berries
3 tablespoons mulberries
Full handful chopped cashews
Directions:
In a bowl, whisk together the lucuma, syrup, coconut butter, and vanilla.
Add the coconut oil and whisk again. Whisk quickly or make sure the oil is warm to make sure the mixture doesn't start firming.
Add the dry items (cacao nibs, goji berries, mulberries and cashews). If you don't have some of these items, substitute what you do have (ex. raisins, your choice of nuts, etc.).
Spoon the mixture into mini silicone cups, ice cube trays or silicone molds (they pop out easier) and chill in the fridge or freezer until firm. Keep refrigerated until eating, but believe me, they won't last long. Enjoy!