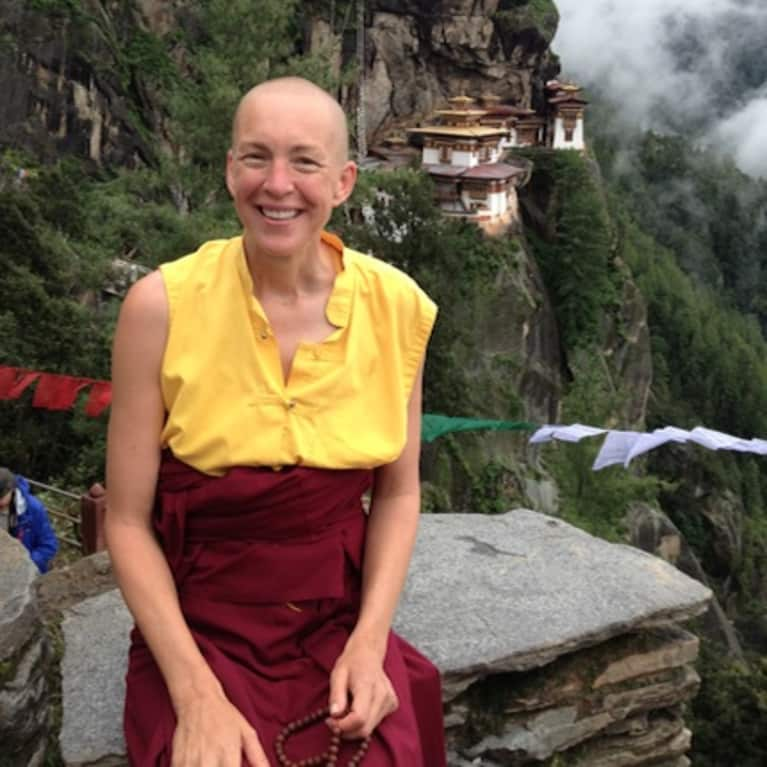 Emma Slade
Emma was born in Kent and was educated at universities in Cambridge and London. She had an exciting international career in finance, which she committed to with mental drive and a tasteful selection of suits. But a deep-seated desire to inquire into the deeper aspects of what it is to be a human being was brought to the surface following a life-changing visit to Jakarta, Indonesia.
She resigned from her financial career and began traveling and exploring yoga and meditation. Since then she has taught yoga and meditation for over 15 years and continued to deepen a lifelong interest in Buddhism.
Her interest in what lies at the roots of yoga and meditation strengthened after meeting a Buddhist Lama on her first visit to Bhutan in 2011. This crucial chance meeting led to her studying Buddhism with this Lama and, eventually, led to her ordination in Bhutan as a Buddhist nun. She was named Pema Deki, which means "blissful lotus"—a title she is doing her best to live up to!
In 2015 she set up the U.K. charity Opening Your Heart to Bhutan to help children in Bhutan. She continues to travel to Bhutan frequently to manage these charity projects and continue her Buddhist studies.
Her first book, Set Free, detailing her inspirational story, was published in April 2017. Proceeds from the book will be donated to the charity. The book can be found on Amazon U.K. and in bookshops and is in the process of being translated into a number of other languages. Her TedX Talk on her story has been watched by thousands of people, and she continues to contribute with insight and humor to many international publications and events.