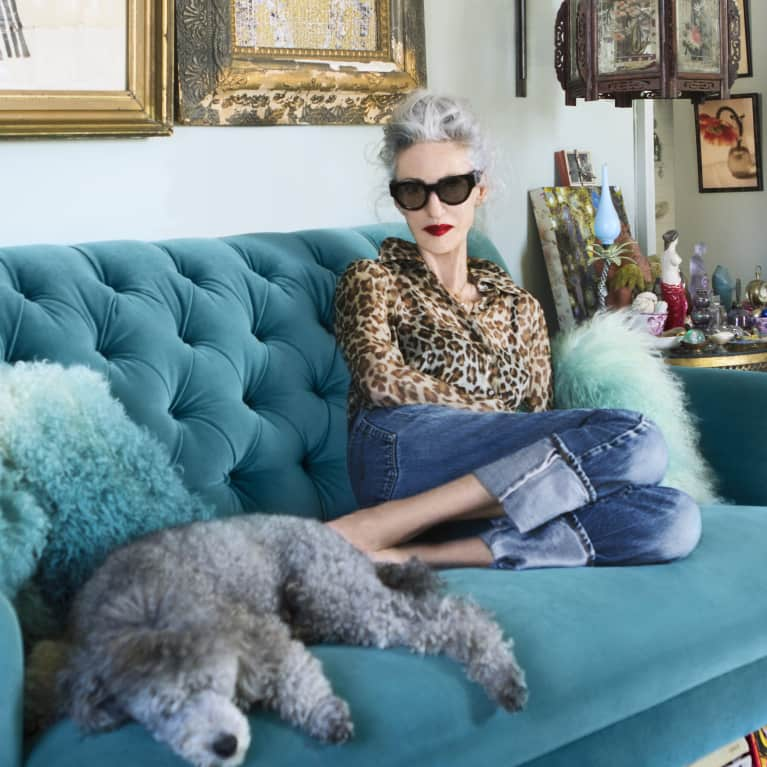 Linda Rodin
In her sixties today, Linda Rodin is the model of spare elegance. She says of herself, "I really don't spend too much time getting ready! I like to be out the door in no time." It's this natural, devil-may-care brand of beauty that won her modeling jobs when she moved to Italy to study at age eighteen. That was in the Mod Sixties, when Rodin wowed all with her Twiggy eyelashes, over-the-knee boots, maxi coat, and five-inch skirt "That was more like a handkerchief."
Returning to New York in the Seventies, Rodin ran a successful boutique, perhaps one of the first "concept" stores in New York's Soho. She had stints as a stylist at Henri Bendel in the Gerri Stutz days, and then as a fashion editor at Harper's Bazaar. Eventually, she became a freelance stylist— acknowledged as one of the best in the business.
Rodin has dressed the most gorgeous and charismatic women in the world; from Laetitia Casta, Madonna and Halle Berry to supermodels Gisele Bundchen and Adriana Lima.
Despite access to ultra-exclusive skincare lines in this heady milieu, Rodin became disillusioned with their anti-aging claims and complicated regimens.
"What I longed for was something far simpler—products for the here-and-now, that caress the skin noticeably and without any delay. Nothing out there did quite that." So she brought her style smarts, her instinct for beauty, and her demand for perfection to the skincare arena. After experimenting with essential oils in her bathroom for nearly two years, Rodin put the finishing touches on her first dream elixir, the original RODIN olio lusso face oil, in 2007. (The name—which translates as luxury oil —is in honor of the easygoing Italian beauty that has long inspired Linda's own style). The models and makeup artists she worked with tried and loved it, and soon RODIN olio lusso was selling to a cult following at a few select stores. Magazine coverage and an international buzz followed.
As venues worldwide began selling RODIN olio lusso, customers began asking, is there more? Yes, the RODIN olio lusso collection is growing—each new item containing a similar, near-magical blend of essential oils, starting with a body oil, then a hair oil (a collaboration with renowned hair stylist Bob Recine), and most recently a lip balm, hand –body cream, perfume, scented candle and a facial cleansing powder launching June 2013.
In a New York Times profile of Linda, the design editor Jeffrey W. Miller, had this to say "About Linda, about any person with real style … they make you look at the world in a different way …. and rethink everything. They know how to create tension." And tension, he added, "is what creates beauty."