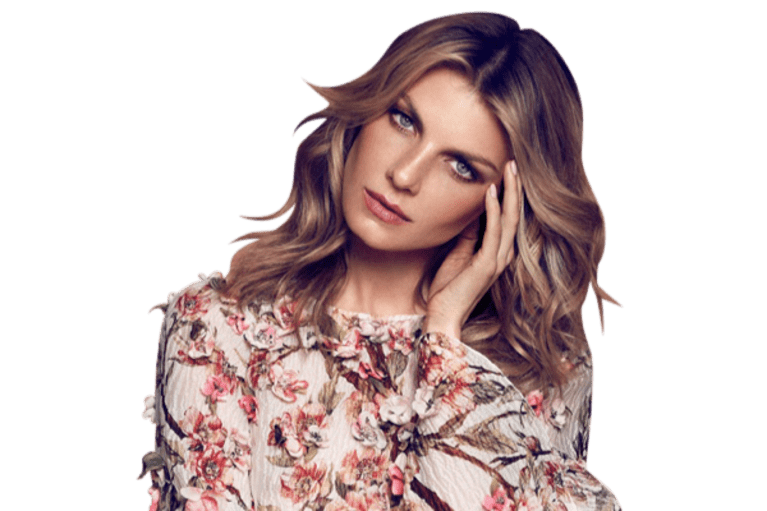 Angela Lindvall
Supermodel, Actress & Eco Warrior
Angela Lindvall is renowned for her creative versatility: she brings that quality to her professional life as a model, actress and TV host, as well as to her private life as a student and, more recently, teacher of kundalini yoga, avid environmentalist, wellness advocate, and mother.
In recent years, Lindvall embarked on a journey of self-discovery, one prompted by a set of life challenges as well as the need to realign her professional priorities with her personal philosophy and beliefs. Since the age of 15, she has studied voraciously in a variety of subjects, from psychology and religion to mythology and metaphysics, become a yogi and created a small, sustainable farm in her own back yard. An outspoken, longtime environmentalist, Lindvall tends this garden with her two young sons in order to teach them about the symbiosis we have with our planet. Her appreciation for her surroundings and neighborly community naturally led her to explore self-care and wellness. "Working in fashion, with such incredibly talented people, is always an inspiration," she notes. "My dream is to further develop my ability for creative expression, and to use that to uplift and inspire others in a way that is not directly about me." For Lindvall, well-being is necessarily a global conversation about finding solutions. "Self-care implies not only caring for yourself physically and spiritually, it means taking care of the world we live in," she observes. "In that sense, self-care is probably the most important thing we can do for ourselves and for our planet." In that spirit, Lindvall has designed her home as a small eco-sanctuary that she makes available for occasional health and well-being retreats.
Articles
Q&A
What is your wellness philosophy?
I believe we have the capability to tap into an infinite reserve of life force energy. Through our daily choices in thought, action, what we put in our bodies, who we relate with, how we communicate, and what we do with our time—we either raise our energy or deplete it. I believe we have the ability to shape our lives whereby creating peace, harmony, and well being through these choices. Or on the contrary, we feel depleted and struggle with life's challenges.
What brought you into wellness?
I was always and advocate for the well-being of our planet and healing. Through my personal experience of birth and death, I realized that peace begins In me. If I don't make choices that impact my own well-being and those closest to me, there is no hope for healing the planet.
What does You. We. All. mean to you?
We are all in this together. Collectively, we shape the world. Having compassion for others for what it is to truly be human. We are all more similar than we think. We all experience struggles. By being responsible for our own energy and aware of others, we have the ability to have an impact on the larger whole.
What empowers you?
Tapping into source energy on a daily basis. Calling on angels to support me, asking for guidance from my highest self, prayer, meditation, and connecting with nature through hiking and gardening.
What's your favorite ritual?
Climbing to the top of a spot near my house called Eagle Rock in Topanga. It overlooks a beautiful canyon. You can see over all directions of Los Angels from the valley, to Downtown, and all the way to Malibu. I like to go up there to sit in gratitude meditation, chant, and pray. When I come down from there and start my day, I always feel so elevated.