People Who Make Hardly Any Trash Share Their Green Secrets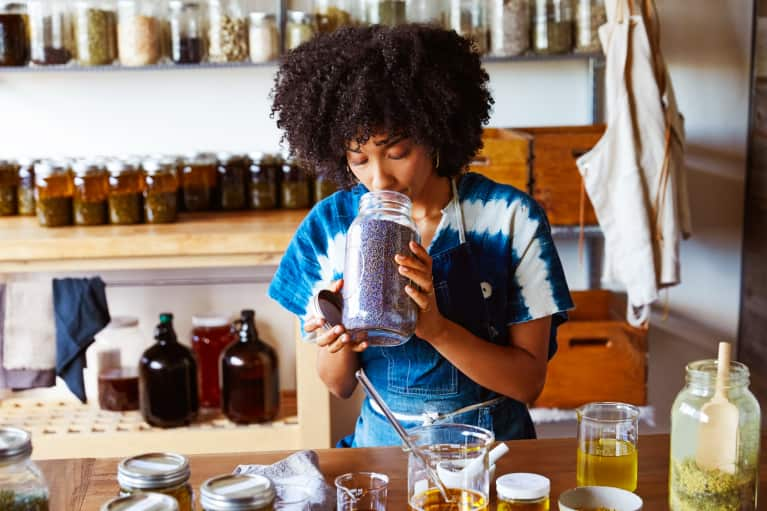 Our editors have independently chosen the products listed on this page. If you purchase something mentioned in this article, we may
earn a small commission
.
As we noted in our 2018 wellness trends report, it's becoming increasingly clear that our everyday actions affect the health of our planet and we can't stay complacent for much longer. One way to become a more responsible consumer is to take a cue from the "zero-waste" crowd. Tiny Mason jars filled with a week's, month's, or even year's worth of trash are now prized beacons in the sustainability movement, and influencers like Lauren Singer, who fits four years' worth of trash into one small jar, are proving that living with less waste can ultimately lead to more fulfillment, happiness, and spare cash.
Keeping tabs on your trash is a simple, tangible way to monitor your environmental impact, and while you may not be able to ditch your garbage can overnight, there are plenty of things you can do to keep it under control. Here, people who have managed to drastically reduce their waste share their secrets to success.
For Singer, a zero-waste lifestyle started with a slight mental shift. "It was more about my attitude and taking responsibility for my impact on the planet," she tells mbg. "Instead of passing blame on all other people, politicians, and businesses, which is so easy to do in today's political climate, I said, 'What is it that I'm doing in my everyday life? What am I supporting?' Asking myself that question helped me adjust my actions and support what I did care about, which was environmental sustainability."
Once she identified that there was room for improvement in her everyday routine, she eased into a new way of living without driving herself crazy. "It's important to be gentle on yourself and remember that every step you take towards having a positive impact is positive. It's okay to be a human."
Dubbed "The Priestess of Waste-Free Living" by the New York Times, Bea Johnson has been making zero-waste living aspirational since 2008. Her book, Zero Waste Home: The Ultimate Guide to Simplifying Your Life by Reducing Your Waste, has been translated into over a dozen languages, and the minimalist home she shares with her husband and two kids has been featured in news and style outlets around the world (including mindbodygreen, of course). So how does her family of four stay waste-free year after year? They say no. A lot.
"The most important thing one can do to stop waste and clutter from entering their home is to simply say no! Think before accepting something that is handed out to you. Turn down flyers, freebies, party favors, business cards, single-use plastics, and fight junk mail," Johnson tells mbg. "Accepting these things only creates a demand to make more. They are a waste of resources, and once they are brought into our home, they add to the clutter and require effort to dispose of them later. Try saying no: You'll be amazed by how much stuff you'll be able to stop from coming in."
Once you get used to turning down unnecessary items, you can start to establish some new shopping habits. According to Katelin Leblond, the zero-waste blogger behind PAREdown, it's all about going to stores with a few zero-waste essentials in hand—and having fun with it. She writes about her family's trash-free grocery routine in saying, "I now go to the grocery store armed with reusable totes, bulk bags, and a large container or two for meat and bakery items. I buy unpackaged produce, dried goods from bulk bins, and loose items that would otherwise go to waste, like single bananas. My children get involved by making a game out of finding the pieces of produce without stickers."
If you're already stocking up on loose fruits, vegetables, and bulk bin items like beans and pastas, the next step could be getting a little crafty at home. In her piece on how to reduce shopping waste, sustainable business owner Sacha Dunn adds that growing a few herbs of your own can save a lot of plastic and food waste in the long run. "Instead of spending money on plastic-packed herbs—that you only ever use half of anyway—grow your own on your windowsill." Even if you don't have a green thumb, plants like mint, thyme, and rosemary are all great low-maintenance options to start with.
Recycle and compost what's left.
Keep your trash can light by reading up on the recycling rules in your area (some of them might surprise you!) and looking into services like TerraCycle. Their boxes allow you to send in items that usually aren't recyclable, like toothbrushes, batteries, and drink pouches, where they can be reused or turned into new items.
Kathryn Kellogg of Going Zero Waste says that she really started to see a difference in her trash once she started composting organic waste. "My husband and I weren't throwing away much to begin with, but we consistently noticed we were tossing organics. On average 50 percent of household waste is organic matter that could be composted. Composting is also one of the best things you can do for the environment! Almost 20 percent of methane emissions in the U.S. come from organics in landfills unable to completely decompose."
These zero-waste essentials make it easy to avoid trash when you're out and about, so throw a few in your bag.