3 Easy Ways To Get HIIT Benefits Without Working Out
mbg Contributor
By Caroline Muggia
mbg Contributor
Caroline Muggia is a writer, environmental advocate, and registered yoga teacher (E-RYT) with a B.A. in Environmental Studies & Psychology from Middlebury College.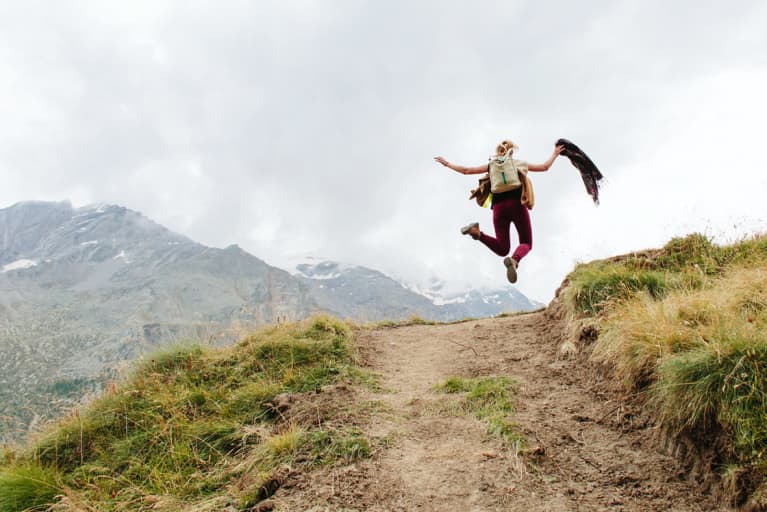 February 25, 2019 — 22:37 PM
Sick of spending money and time on exercise? Look no further than what you're already doing: Scientists have found we may be able to get the health benefits of HIIT workouts in everyday activities.
The British Journal of Sports Medicine reports that everyday activities like carrying your shopping bags up a few flights of stairs or running to catch the train could have health benefits similar to high-intensity interval training, better known as HIIT.
Their analysis suggests that the benefits of HIIT, such as improved heart health and increased weight loss, are due to short bursts of high-intensity movement and may be found in common activities.
You may be wondering which of your errands could be classified as high-intensity interval movement? Well, it turns out things like hurrying to cross the street can be classified as what they call high-intensity incidental physical activity.
"The length of each incidental physical activity bout can vary from a 'short and sweet' few seconds, such as climbing a few flights of stairs three to four times a day to several minutes or even hours of active commuting, housework, or shopping," explained the researchers.
So there's a good chance your daily routine already has short spontaneous periods of high-intensity incidental physical activity, and it helps to know they do make a difference for your health.
The report suggests that increasing these brief intervals throughout your day can only contribute positively to your health, so it can't hurt to add a few more into the mix.
There's always that split second when we decide: elevator or stairs? If you're looking to cop some HIIT-level benefits, you may want to start taking the stairs. The report found that walking up the stairs for one minute was one of the exercises correlated with the highest metabolic rate.
Whether you're on your way to work, heading out to grocery, or walking the dog, consider a brisker pace as only two minutes of speed walking was associated with a higher metabolic rate.
You're probably thinking please no! We understand. The last thing we want to do is make getting from place to place harder, but you may be more inclined after as this report suggests only two minutes of walking uphill to the bus could raise your metabolic rate and your chance of some serious health benefits.
If we can squeeze in some exercise with major benefits on the way home from work, we'll definitely consider picking up the pace. Who's with us?