5 Ways To Make Sure Your Makeup Bag Isn't Filled With Bacteria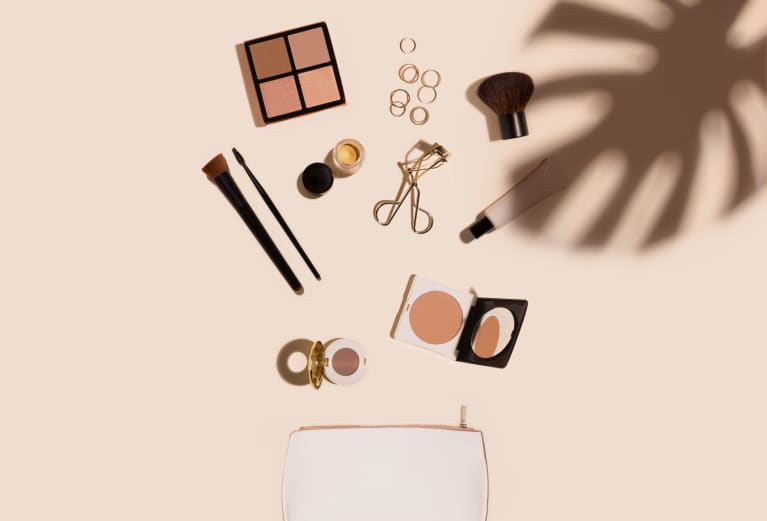 December 3, 2019 — 20:22 PM
We're always talking about the importance of clean, safe beauty products here at mindbodygreen. Turns out we should be concerned about clean products in more ways than one. A new study from the Journal of Applied Microbiology found that a majority of opened and in-use makeup products are contaminated with bacteria, including potentially dangerous strains like E. coli and Staphylococci. This brings new meaning to the idea of dirty cosmetics.
The study, which was conducted by researchers from Aston University in the U.K., looked at nearly 500 individual makeup items—including blending sponges, lipstick, glosses, mascara, and eyeliners. They found that a shocking nine out of 10 were contaminated, which can lead to ailments like skin infections (such as contact dermatitis) or even blood poisoning.
Here, some of the key findings so you can clean up your act at home:
1. Sponges are the worst offenders.
Out of the five product categories mentioned above, beauty sponges were the dirtiest—from bacterial to fungal contamination. Since these are fast-absorbing and tend to stay damp longer, they are a natural breeding ground for bacteria and other microbes, the study notes. If this is a real concern for you, consider going for a fingers-only routine.
2. Lip glosses, however, weren't far behind.
These had the highest rate of enterobacteriaceae (a strain of microbe that salmonella falls under) and then trailed behind sponges in the other markers. Similar to the above, moisture levels likely contribute to higher rates of contamination.
"Cosmetics with high water content are at a risk of supporting microbial growth following in-use contamination," the study states. Consider waterless products and cosmetics, which are rapidly gaining popularity due to their more sustainable formulations.
3. Most of us need to practice better product hygiene.
One of the more interesting findings showed that approximately 93% of users never cleaned their sponges. And 64% continued to use products after dropping them on the floor (which, according to the research, was most often on the bathroom floor).
"Consumers' poor hygiene practices when it comes to using make-up, especially beauty blenders, is very worrying when you consider that we found bacteria such as E. coli—which is linked with faecal contamination—breeding on the products we tested," says lead researcher Amreen Bashir, Ph.D. "More needs to be done to help educate consumers and the make-up industry about the need to wash beauty blenders regularly and dry them thoroughly."
If you need a refresher on cleaning your makeup applicators—brushes and sponges included—read our guide here.
4. We don't want to recommend being wasteful, but you might need to toss your products.
In the study, they referenced that 97% of participants have admitted to using makeup products after their expiration date. Of this, mascara was the most commonly cited. As a refresher: Products should have their listed expiration date on packaging. Simply look for the jar with a number listed next to or in it: That date signifies how long you have after opening the product until it goes "bad." For example, a jar with "6M" means you have six months to use up the item. When in doubt? Toss it.
5. Store your products in a cleaner environment.
Given this study has to do with E. coli contamination, it brings to mind past studies that show how flushing toilets spreads airborne contamination across the restroom. This study doesn't address it specifically, but given how this study address how many women store and apply makeup in the bathroom (around one-third, they found), there's some relevance. Consider storing your products outside of the restroom, or inside a clean cabinet so they're not exposed. At the very least, don't leave your products open and on the counter.