Your Foolproof Guide To Never Getting Sick Over The Holidays Again
mbg Health Contributor
By Gretchen Lidicker, M.S.
mbg Health Contributor
Gretchen Lidicker earned her master's degree in physiology with a focus on alternative medicine from Georgetown University. She is the author of "CBD Oil Everyday Secrets" and "Magnesium Everyday Secrets."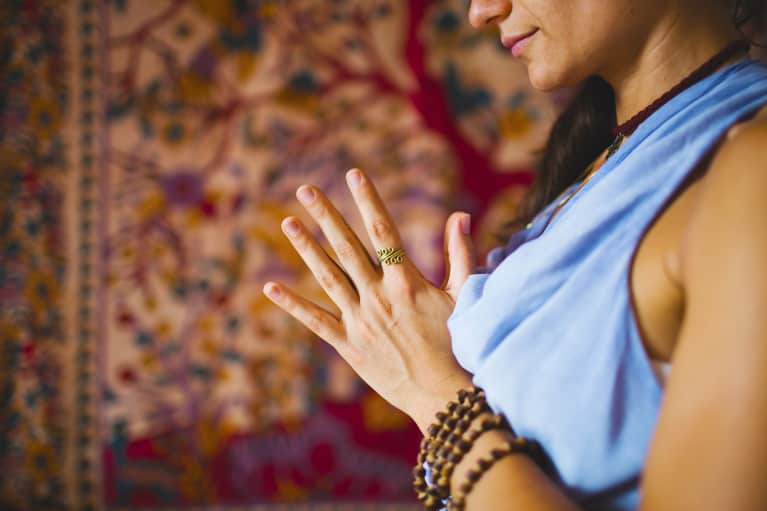 December 19, 2017 — 10:25 AM
There's nothing worse than being sick over the holidays. Because although they're meant to be relaxing, no one can deny that they also come with a lot of obligations and long to-do lists. Spending time with family and traveling can leave you tired and lacking energy, and snacking on sugar and other inflammatory foods can leave your immune system in a vulnerable place. This time of year, you're much more likely to feel that little tickle in your throat that marks the start of a pesky cold.
The good news is that there's a lot you can do to safeguard your immune system this month to give yourself the best chance of being healthy, vibrant, and filled with energy for the rest of 2017. Try one (or more!) of these health-editor-approved tips to supercharge your immune system naturally:
Add garlic to all your meals.
Garlic is famous for its strong antimicrobial properties, making it the perfect thing to add to your daily routine throughout the holidays. In fact, studies have shown that it's 100 times more effective at fighting common causes of intestinal illness than two commonly prescribed antibiotics. Chop up a raw garlic clove and add it to your hummus, salad dressing, or soup. Or if you're feeling extra brave just put some chopped garlic in a spoon, pour some olive oil on top, take it straight. Go crazy! It's super inexpensive.
Keep up with your daily meditation routine.
Stress, especially when it's chronic, can really pull the rug out from under your immune system. That's why the holidays are not the time to be skipping your daily meditation or whatever mindfulness practice helps you keep your head on straight. In fact, the holidays might just be the time to step it up a notch and add an extra session to your day. Your immune system will thank you!
Check your vitamin D levels.
Vitamin D interacts with the immune cells in our body in important ways and a deficiency in this important vitamin is actually linked to more infections and even autoimmune disease. Luckily, some sunlight every day can help boost your levels and there are a ton of foods that are also high in vitamin D. Start with salmon, cod liver oil, and organic eggs.
Sweat it out in an infrared sauna.
With the colder months upon us, it's likely we'll all be spending a lot more time indoors. Sadly, indoor air isn't exactly great for our health. To combat this, it's important to be moving our body and sweating regularly. If a nice run on the treadmill isn't an option, a few infrared sauna sessions might be the perfect solution. Research suggests seating it out in a sauna can improve the health of our protective white blood cells. Not to mention, the hotter temperatures make it harder for germs to hang around in our bodies.
Bone broth is a staple in any great winter wellness regime. It's warm, delicious, and full of minerals and collagen—which is great for healing leaky gut and other digestive issues. Remember, your gut is where 70 percent of your immune system resides, so we can't be neglecting it this time of year!
Sleep, sleep, and more sleep.