Your Filters Clean Your Home — But How Do You Clean Your Filters?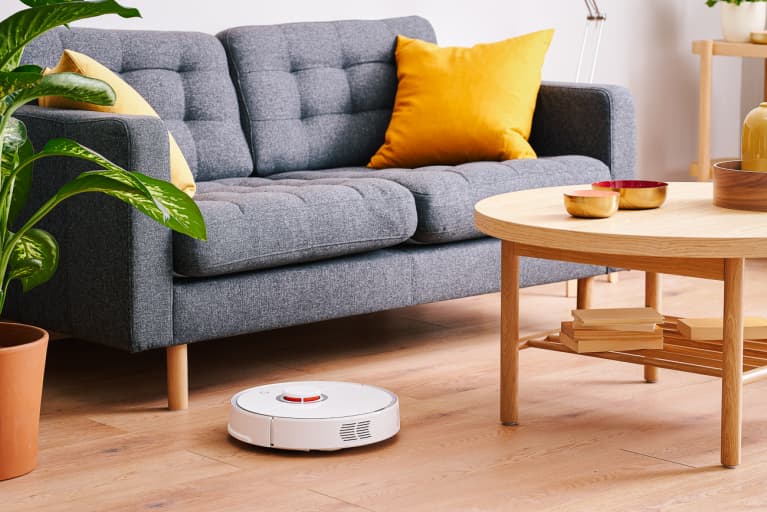 Even if you're someone who prides yourself on cleanliness and organization, there are probably aspects of the home you may overlook. We're talking the filters we use every day. But how do we know which filters need cleaning and how to do it?
We consulted Melissa Maker, green cleaning expert and founder of Clean My Space, to learn how to properly clean common household filters.
If you've never cleaned your water filter, don't worry, you're not doing anything wrong. Water filters can't be cleaned, according to Maker; they just need to be changed according to your device's recommended interval. Brita suggests swapping them about every two months or after you've gone through 40 gallons of water.
If you remove your filter and notice buildup inside the container, Maker suggests rinsing with water, a clean cloth, and possibly vinegar, before replacing with a new filter.
Window air-conditioning units should be cleaned at the beginning and end of every season. Not only does this process ensure that you're breathing clean air, but it also reduces the amount of energy required to generate that airflow.
To start, unplug your unit and remove the vent with the dull edge of a knife. Run the vent under warm, soapy water. If you notice mold, Maker recommends making a solution with 1 cup of vinegar per 20 drops of tea tree oil. Spray and scrub trouble spots, and then rinse and leave to dry.
Once the vent is fully dried, Maker recommends vacuuming coils with the brush attachment to remove any remaining buildup and then loosening hardened dirt with a dry toothbrush. Hopefully your next energy bill will be a little lower.
Humidifiers should be cleaned at a basic level each week and more thoroughly each month. For weekly cleanings, Maker says to disassemble all parts, clean with soapy water, and allow each component to dry before piecing it back together.
For monthly cleanings, soak the plastic pieces in vinegar overnight. For pieces that shouldn't be immersed, drape them in a vinegar-soaked cloth and allow them to sit. Scrub any remaining stains in the morning and rinse completely. Leave to dry, then reassemble.
If you're wondering why your rug seems to be collecting more and more hair despite your regular Sunday cleanings, you probably need to clean or replace the filter. According to Maker, each vacuum company will have different instructions on how to do this.
"If the filter is washable and it looks consistently grayish," she said, "it needs a cleaning." Luckily, the process for removable filters is super simple. Just remove and rinse the piece under cold water, and leave it to dry for at least 24 hours. Do not replace the filter until it is 100% dry.
You know those fans above your stove that keep the smoke alarm from going off? Well, turns out, they also have filters in need of cleaning.
Since overhead exhaust vents collect grease, soaking them in enzyme solutions is a great natural way to break it down. If you don't have a concentrated enzyme cleanser, using equal parts vinegar and dish soap might also be effective. Just "make sure to test in a small corner first," Maker said, "to be sure this method won't damage the finish of the filter."
The latter method would require 20 to 30 minutes of scrubbing with a gentle brush and then a quick rinse off.
If you're like me, you've had the same hairdryer since middle school and are now terrified to look inside the vent. Though this method is a bit meticulous, it's more important than you'd think. When dust and debris clog the filter, air can't be properly ventilated, and the internal temperature will rise. In extreme cases, this can cause the hairdryer to catch on fire (yikes)! And in more minor cases can lead to split ends.
To prevent this, Maker says to take a pair of tweezers and pluck out any dust clogging the vent.
Like most cleaning projects, this list might feel overwhelming, but start small. Assign yourself one filter each day of the week, and plan out the next cleaning on your calendar so you can stay on top of them. And while you're at it, it might be time to clean those AirPods.