Your 9-Step Guide To Recharging This Holiday Season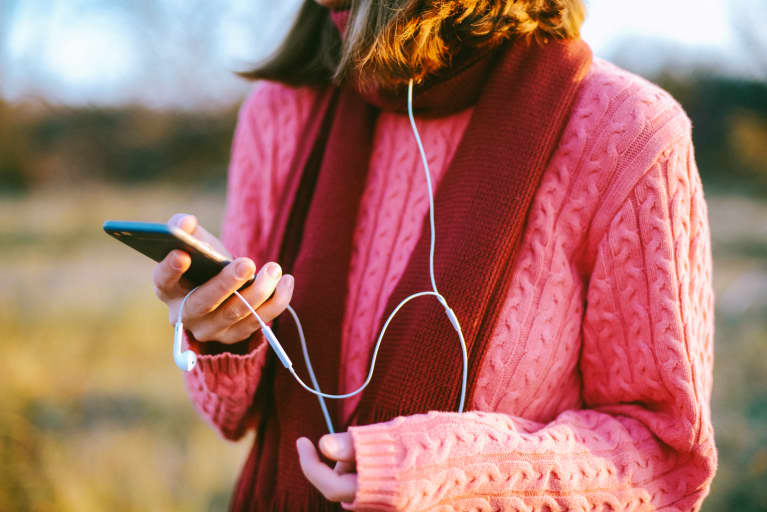 When it comes to managing stress levels, getting a handle on your digital life is crucial 365 days a year (e.g., no, you shouldn't be spooning your cellphone at night lest you miss an Instagram notification).
During the holiday season, however, it's even more important.
When you're baking cookies and bugging out over budgeting and shipping gifts, how you handle your relationship to technology could be what determines whether you sink (into a tangle of malfunctioning lights) or swim (happily in a sea of fireside hygge and joyful vibes).
Ready to make sure you land on the latter this year? Check out the tips I've curated while attempting my own balance and learning what really sticks. Some will help you manage the tech you use daily in smarter, saner ways; some will encourage you to unplug for more human holiday connection; and a few even help you tap technology as a tool for stress relief.
1. Turn. Off. Notifications.
Ask yourself this: Do you really need to hear an anxiety-inducing chime every time CNN posts a new story about what's going on at the White House? Is it absolutely necessary to know immediately that someone has liked the photo of your Frenchie wearing a Santa hat? Turn off the alerts so your phone has less of a hold over you. Then, set aside a few minutes every few hours or so to do a check-in.
2. Do an Instagram detox.
The holiday season is a time to focus on and appreciate the things and people in your life that you're grateful for, not to obsess over why your challah bread does not look nearly as photogenic as a food blogger's who used the same hashtag. In fact, research studies show comparing ourselves to others we perceive as being "better" than us—aka living an Insta-perfect life—might lead to damaging feelings like envy, regret, and low self-esteem. Even insta-celebrities love taking a break once in a while.
Like, in a newspaper. You know, made of paper? Picking up a physical paper or a magazine often feels less stressful than listening to heated TV news debates and won't lead to clicking through to 17 other articles you really don't need to be reading.
4. Unsubscribe from promotional emails.
The onslaught of marketing emails is pretty overwhelming these days. Cyber Monday's over, so take a Marie Kondo approach to your inbox and do a deep clean. Services like Unroll.me make it easy to opt out of lots of them at once, and fewer companies yelling at you to shop-shop-shop will mean less anxiety and more money in your pocket.
5. Go for a walk in the cold.
In a 2014 study, participants who walked in a forest (compared to a city center) experienced a relaxation of their nervous systems and a decrease in bad moods and anxiety. Another study published the same year showed visits as short as 15 minutes to a park or forest resulted in significant stress relief. In other words, get outside and soak up the (totally free) benefits nature provides.
Scents are pretty powerful and can cue your body to relax and unwind. Aromatherapy is a great way to take advantage of this, either by simply dabbing essential oils on your wrists and breathing in the smell or by investing in a diffuser. For stress relief, research shows lavender and lemon (or yuzu, a similar Japanese citrus fruit), are both pretty powerful.
7. Write handwritten cards.
Emails are great, but they also remind us of work. (Ugh!) They're also not as personal. Writing out personal messages to the ones you love can be a soothing process for you and is super lovely for the person on the receiving end.
8. Reach out to someone you've ghosted.
All right, time to deal with your ghosts of Christmas past. Even with good intentions, we often let our busy lives disrupt our IRL relationships. Resist the urge to text or Facebook message, and make a phone call...to set up an in-person reconnect! After all, the strength of social relationships has been shown to be the strongest indicator of overall happiness.
No time for meditation? The simple act of deep breathing is also really effective when it comes to calming your body down and putting you in a different headspace. Apps like Breathe Deep and Paced Breathing can help you get started.
These are especially helpful for the holidays, when we're revisiting family ties, childhood homes, and sometimes the unpleasant memories or connections that surface. No matter your circumstances, resist the urge to bury yourself in your phone—heed these techniques, pick up a journal, do some breathwork, and of course, make time for self-care. You'll emerge with a refreshed outlook.
Is it time for a social media detox? Here's how to tell.