Want To Lessen Your Carbon Footprint? Consider This Simple Diet Change
mbg Contributor
By Caroline Muggia
mbg Contributor
Caroline Muggia is a writer, environmental advocate, and registered yoga teacher (E-RYT) with a B.A. in Environmental Studies & Psychology from Middlebury College.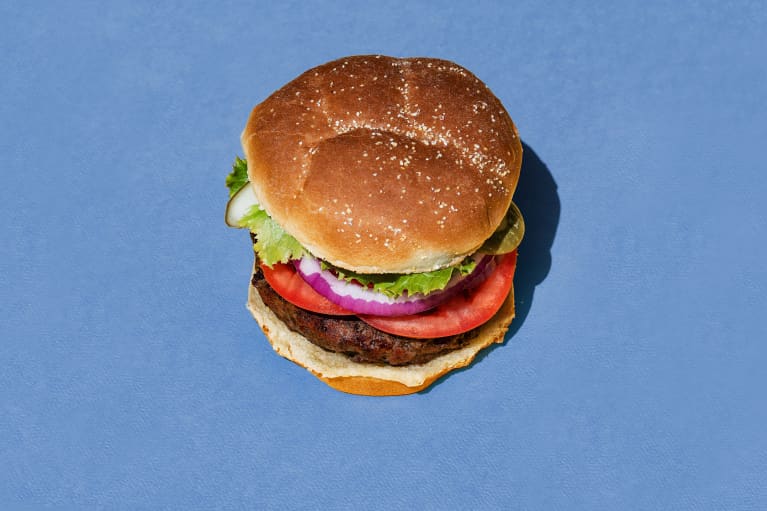 When it comes to climate change, greenhouse gas emissions play a significant role in the changes we're seeing globally, such as rising ocean temperatures and more natural disasters and extreme weather. While the largest contributors to greenhouse gas emissions in the U.S. are transportation, electricity, and industrial production, food production contributes to about 9 percent of total carbon emissions.
Certain agriculture management practices, cattle poop, and the production of rice, for example, all release greenhouse gas. It's a little tough to wrap our heads around the fact that our daily food choices contribute to the carbon footprint in the U.S. and globally. But it's clear they do, according to a new study that found by substituting one food daily we may be able to cut our carbon footprint from diet in half.
The new study, presented at the American Society for Nutrition annual meeting, looked at the diets of thousands of people in the U.S. and had people report what they had eaten over 24 hours. They found that the food with the highest negative effect on the environment was cuts of beef and that 20 percent of participants had eaten this carbon-emitting food.
Interested in how a different type of meat would affect the carbon footprint, the researchers used a simulation and replaced the beef with a poultry product like broiled chicken or ground turkey. They did this one time for each person that had eaten the beef in the last 24-hours.
"Our simulation showed that you don't have to give up animal products to improve your carbon footprint," said lead study author Diego Rose, Ph.D., professor, and director of nutrition at Tulane University. "Just one food substitution brought close to a 50% reduction, on average, in a person's carbon footprint."
Can you imagine if thousands or millions of meat eaters made this switch? We often hear about the benefits of a plant-based diet for our health and the environment (which there are tons!), but for many, keeping animal protein in their diet is more realistic based on their lifestyle or health needs. This study highlights a more environmentally friendly option for those who still would like to eat animal protein but want to lower their carbon footprint.
Besides opting for lower-carbon foods, you can also try to reduce food waste by only buying or ordering what you can eat. Food waste is yet another contributor to our carbon footprint, so if you do find yourself with leftovers, save them for later or make sure to compost.