This Acupressure Hack Can Ease Forehead Lines & All You Need Is A Makeup Brush (Really!)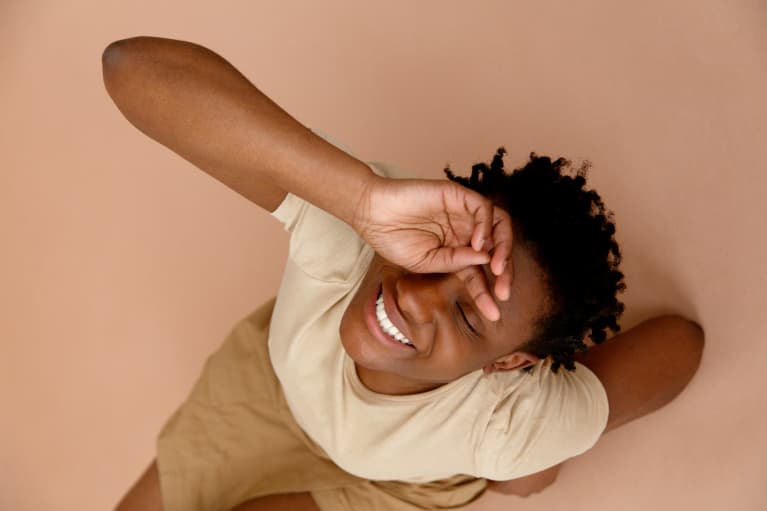 Our editors have independently chosen the products listed on this page. If you purchase something mentioned in this article, we may
earn a small commission
.
When it comes to at-home acupressure tools, rollers and gua shas typically receive most of the fanfare. And while many of those sculptors include smaller curves to reach any delicate crevices, sometimes it takes a bit more precision to stimulate the tiniest of areas (and see targeted results). That's why many estheticians and acupuncturists will grab an acupressure "pen" or "wand"—a thin, handheld tool that allows them to pinpoint certain areas for a deep trigger-point massage.
Don't have a wand on hand? Not to fret: According to esthetician Lianna Medina, founder of Valentina's Elixirs, you don't necessarily need a professional tool to lend similar results. All you need, she explains in a recent TikTok video, is a small makeup brush.
How to use a makeup brush as an acupressure tool.
"You can use a round-tip small brush," she reveals in the video. (We're thinking a thin eyeliner brush works best.) That way, the tip can stimulate those tiny pressure points in the most delicate areas of your face. Not only is it incredibly self-soothing, but you can actually release tension in your face and support circulation (similar to how a gua sha tool can lift and tone—only it's at pinpoint precision).
For this quick acupressure how-to, Medina demonstrates a forehead-toning move: She slides the tip of the makeup brush across her forehead with small, circular strokes. After massaging both sides, she then moves the brush along the brow bone—again, stimulating the area with small, circular motions. "Stay longer on tender, crunchy spots," the video reads. (Yes, you may notice some crunching and crackling under the slight pressure. This is a good thing; it means you're breaking up the fluid in those spots.)
According to Medina, the little technique can help ease up frown lines on the forehead. Plus, she notes, it's "very relaxing."
While you don't need any tools for acupressure, per se (your own fingers work just as well!), it can be helpful to have a precise tool to pinpoint those hard-to-reach areas. So, the next time you're in the market for a self-massage, snag a makeup brush along with your gua sha. The versatile tool can provide a relaxing, feel-good sensation while toning and draining those delicate areas of your face—with a lit-from-within glow, you might even render the other end of the brush unnecessary.