Jet-Setting Yogis Name The No. 1 Place They've Ever Practiced
mbg Sustainability Editor
By Emma Loewe
mbg Sustainability Editor
Emma is the Sustainability Editor at mindbodygreen and the author of "The Spirit Almanac: A Modern Guide To Ancient Self Care."
Wellness travel is a booming industry: It's grown 6.8 percent between 2013 and 2015 and is expected to bring in $563 billion globally before the year's end. Gone are the days of treating vacation like an excuse to stop exercising and fall off the healthy eating bandwagon. The modern traveler is on the hunt for trips that will enhance their physical and mental well-being, not press pause on it.
Today's crop of jet-setting yogis epitomize this trend. Many of them set aside time and money to travel around the world in search of the perfect backdrop for their practice—a place to root them in their bodies and connect them to the land. Here's a peek at the tropical islands, faraway beaches, and even bustling cities where some of today's top yogis say they find the most respite: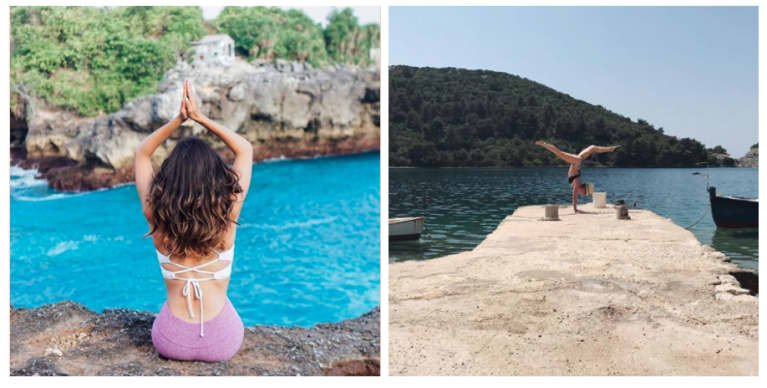 Hands down, my favorite place I ever practiced yoga was in northern Nicaragua back in 2015. I did my yoga teacher training there for a month, and our yoga space was outdoors, literally steps away from the ocean. We didn't practice to music; The waves were all we needed. I had no service for the month I was there, and I borrowed the internet for probably a total of 20 minutes out of the entire 30 days. It. Felt. Amazing. Take me back.
My personal practice on the beaches of a few Greek islands (Kalymnos, Santorini, and Paros) and on the deck of a sweet guesthouse on the small Croatian island of Koloçep were just what I needed after long days of exploring new places. Greece and Croatia also provided the perfect seaside energy for getting in tune with my physical and mental Self. Asana by a body of water, especially the ocean, is tremendously soothing. It is pretty incredible to intuitively move the body in ways that feel good in that particular moment. I highly recommend practicing yoga outdoors whenever possible, as it helps us notice the vibrational connection between our Selves and the planet.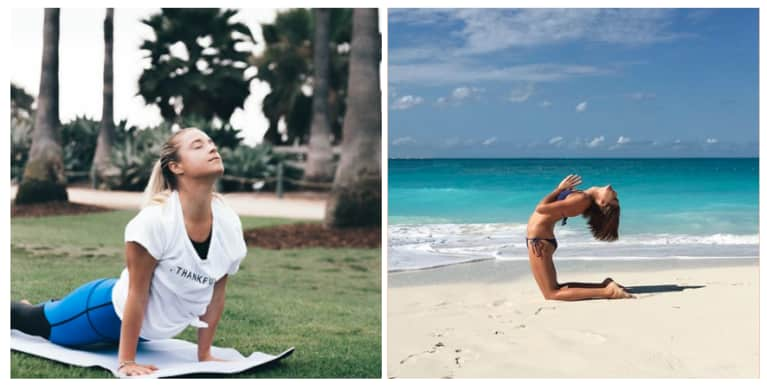 This may seem like an obvious destination for yoga, but Tulum tops my list. It has endless beaches to handstand, down-dog, and roll around on, and inspiration absorbs Mother Nature everywhere you turn. Between its healing ceremonies, Mayan traditions, and delicious, tropical fruits, it is also a place of unparalleled nourishment. Your yoga "studio" becomes anywhere you stop, drop, breathe, and choose an element of nature to inspire your practice. ¡Vamos a Tulum!
One of my favorite places I have ever been is Bora Bora. The waters are bluer than anything you've ever seen, the people are incredibly nice, and waking up in an overwater bungalow every day is completely unbeatable. I loved practicing with the sound of the calm waters every morning and even got to create some cool yoga videos while I was there with some of the island's local fitness instructors. If you're looking for a truly blissful and relaxing place to vacation...Bora Bora is where it's at!
—Jordan Younger of the Balanced Blonde and Soul on Fire
I love practicing yoga when I'm surrounded by nature...
My favorite destination for yoga in the world is New York City. It's amazing to practice in Costa Rica, Italy, Brazil, Uruguay, Cuba, etc., but I will always return to my "yoga home" of NYC. I think, generally speaking, the students and the teachers hold the bar really high, and because life is intense in NYC, they appreciate and respect the practice on a very elevated level.
Some of my fondest travel memories come from when I was practicing on the deck of my room in Little Cayman. It was so tranquil and truly made me feel like the only thing that mattered was me and my practice.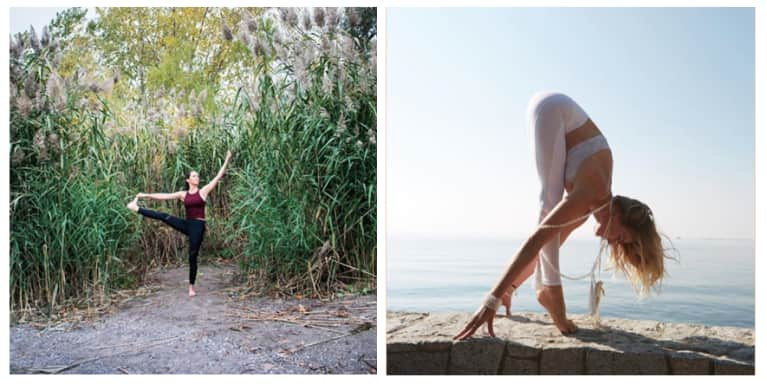 I love practicing yoga when I'm surrounded by nature, so I am incredibly grateful when I get to practice at any destination where nature is at the forefront. If I had to choose a place to call my absolute favorite, it's Dharamsala, India. I did my yoga teacher training there, so it will always hold a special place in my heart. Set in the countryside at the base of the Himalayan mountain range, Dharamsala translates to 'dwelling of spirituality' and I can tell you, it holds true to its name. This place has so much magic, from the towering pines, to the fresh mountain air, to the colorful prayer flags, to the sacred chants that can be heard in the early morning hours. Not only is it an incredibly beautiful and peaceful place to roll out your yoga mat and go through a flow, but being in India lets you soak in all that yoga has to offer (asana, meditation, pranayama, yamas and niyamas, ect). It is the birthplace of yoga, after all.
My favorite place to practice yoga would have to be Croatia! I went there on a fun vacation five years ago, was supposed to stay for a week, and ended up staying for almost three. It's one of the most beautifully unique countries I've ever seen.
My favorite destination for yoga is Nosara, a gorgeous mecca in Costa Rica. I took a month-long soul sabbatical there (hello, Eat, Pray, Love) and fell in love with the surfing, beautiful fresh produce, and of course, yoga! On most days, I'd be sweating jewels in a vigorous morning flow at Bodhi Tree Hotel and then after a mid-day surf session, would come back again for a blissful restorative class. The teachers here are some of the most talented in the world, with attentive alignment, creative sequencing and loving adjustments. I loved my journey there so much that I decided to come back and teach a few classes of my own!
For more active travel inspo—from a biking tour of Amsterdam to a hiking trip in the Swiss Alps—check out mbg's Travel Diaries series.