The 2 Yoga Poses That Make Embracing Change A Whole Lot Easier
Registered Yoga Teacher
By Sejal Shah
Registered Yoga Teacher
Sejal Shah is E-RYT® 500, YACEP® through Sri Sri School of Yoga and Yoga Alliance and is recognized as an expert in all four educational categories of Yoga Alliance.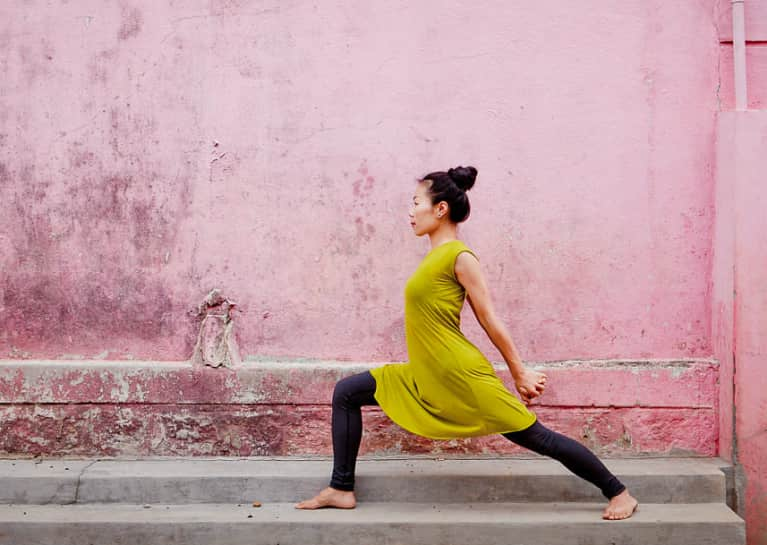 Fall is a time of change, and many of us resist it. Ironically, it is only through change that we can truly grow, so change is for the most part positive. That being said, it is important that during this phase of switching and alteration to stay grounded and change internally by adopting a healthy mindset.
The season of fall teaches us life-transforming lessons of acceptance, balance, letting go, and surrender to adopt in the difficult time of change. Dealing with an unsettling transition may not be easy, but there are ways to keep your sanity intact—and to turn the challenges into opportunities for growth. Interestingly, our yoga practice is an amazing tool for helping us embrace these lessons and adopt a healthy mental attitude. Here's how.
1. Accept the change and acknowledge its impermanence.
Every autumn we revel in the beauty of the fall colors. The changing fall foliage leaves us wonder-struck, reminding us that change is the nature of life and that change is beautiful. Being open to change makes the transition look elegant and magnificent. Essentially, it means being open to the surprises of nature and the universal plan throughout our lives and therefore open to change. It also means having faith that some supreme power always protects us in all the transitions of life. That power is not here to punish us but to strengthen us, and there will always be more blessed dimensions of the divine for us to explore and discover.
In order to embrace this change, practice the breath of joy, which teaches us to embrace all the changes happily and with a smile. This breath energizes our bodies and uplifts our spirit. Another breath commonly used in yoga, Kapalbhati (skull-shining breath), helps to cleanse and purify the entire system of the body by releasing all the stored unwanted toxins, be they chemical or emotional. This fall, take to your mat and practice these techniques.
2. Balance darkness with light.
On the autumnal equinox, day and night are of equal length. This signals the need to balance light and darkness within us. Far too often, we fear the dark and embrace the light. Being in balance and open to light as well as dark is yoga. Not only is light a welcome part of life, but we also must gratefully acknowledge the darkness as a place of silent nurturance, reflection, and slow and steady growth.
3. Practice tree pose and warrior poses.
The winds of change blow strong in the fall, but if we can learn to be steady and well-grounded like a tree and also sway with the wind without resisting it, we will be resilient like warriors. While tree pose teaches us to find the right balance between steadiness and swaying, the warrior poses teach us to be ready for everything. What gives strength to the tree against the wind is its roots.
While pursuing our dreams, challenging times may come. But if you remain rooted in basic human values, they will provide the necessary support and strength to sail through the difficult times.
The equal division of day and night also reflects autumn's lesson to balance between two energies: the invitation to relinquish and to harvest. Autumn is a season that invites us to consider releasing and surrendering what no longer serves us or what gets in the way of being present to the sacredness of each moment.
As we all know, the green color of the leaves is due to a pigment called chlorophyll. As the trees begin to pull energy inward for the coming hibernation of winter, the chlorophyll in the leaves breaks down, and the vibrant shades we witness in autumn are the tree's true colors.
As we watch leaves changing shades and then fluttering to the ground in the fall, we are reminded that nature's cycles are mirrored in our lives. This fall, take an extra moment in your yoga practice to show gratitude and surrender and let go of all of these to harvest our infinite nature of joy and bliss, peace and love.
Want to spend more time outdoors this fall? Here are the 25 best fall hikes in the United States.