Mom On The Go? These Are The Only 3 Yoga Poses You Need
Written by
Kristin McGee, RYT-500
Kristin McGee is a celebrity yoga + pilates instructor and ACE certified personal trainer. She has been featured in over 100 yoga and pilates videos and graduated from NYU's Tisch School of the Arts.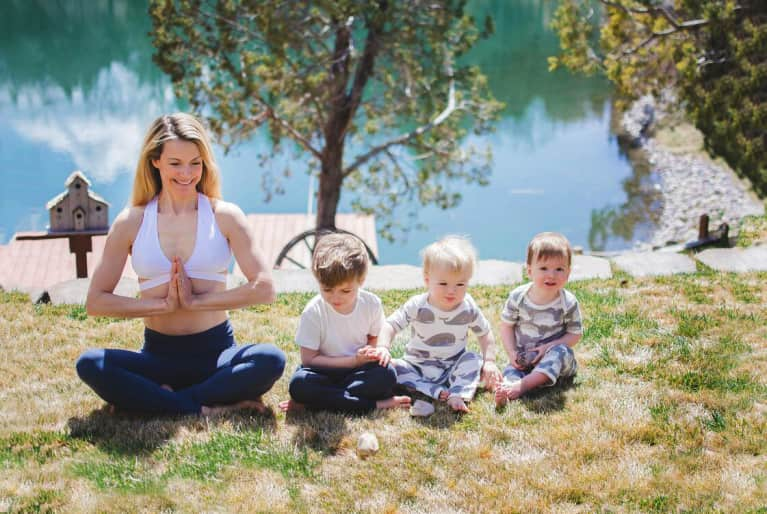 If you're a mom, yoga can seem like the last thing you want or are able to do, but seriously, the practice and these poses will make a world of difference in how you feel and manage your day and mood. While motherhood can be one of the most rewarding and wonderful experiences, it also presents its series of challenges. It can be easy to prioritize everything and everyone else before yourself as a mother, but if you can make an effort to stay lighthearted and treat your body well, the ups and downs of motherhood may come with more ease, allowing you to stay present to fully experience all the moments of being a mom.
Even though I am a mother, yoga and Pilates instructor, and mommy blogger, it can be difficult for me to instill and practice a sense of balance. Whether it's tending to my three boys (a toddler and two 15-month-old twins) or managing my work life, there are days when I feel like I am just barely managing and other days when I feel like I am thriving. The great equalizer? My yoga practice, which helps to keep me sane, organized, fit, healthy, and happy.
On the days I've hit my mat, stretched my body, and listened to my breath, I find I am so much more productive and positive. I stay organized and in the moment. As moms it's so easy to become frazzled or short-fused. Yoga helps even things out and helps you stay balanced. When I find time for myself, I find I'm a much better mother as well; I have the energy to keep up with my kids and practice all-around patience.
The best part about yoga is that it's portable and doable anywhere at any time. As a mom, you really need to be creative about how and when you can work out or move. Since yoga is a full-body activity, it utilizes all your muscles while quieting your busy mind—super important for me to help combat "baby brain." The concentration and few minutes of focused breathing and movement that yoga offers is a lifesaver. I even found yoga to be most beneficial postpartum as I was transitioning back into my mind, body, and practice.
Here are my top three go-to moves to stretch out sore muscles and stay focused, calm, and centered: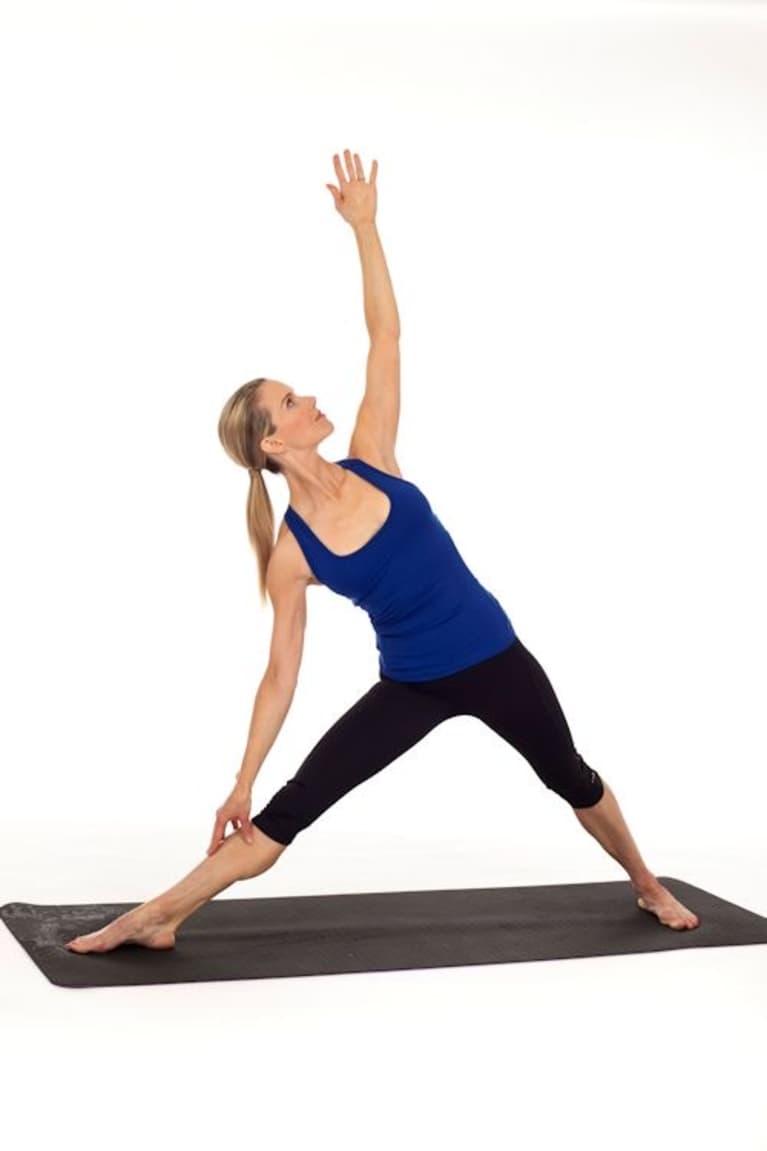 Triangle is a great pose for stretching out the sides of the waist, elongating the spine, and opening up space for more breath. Triangle also tones the legs and pelvic floor (especially important for moms) as well as the torso, abs, back, and arms. I also like triangle because it lifts my spirits each time I do it. The joy of stretching the sides after being compressed or carrying babies and gear, plus the added oxygen boost, is a huge pick-me-up for moms.
Step leg's length apart and turn your right foot forward 90 degrees and your left foot forward 45 degrees.
With straight legs, hinge toward your right side as far as you can go before placing your hand on your right foot, ankle, shin, or below the knee.
Hold for 5 to 8 breaths, come up to stand, and and switch sides.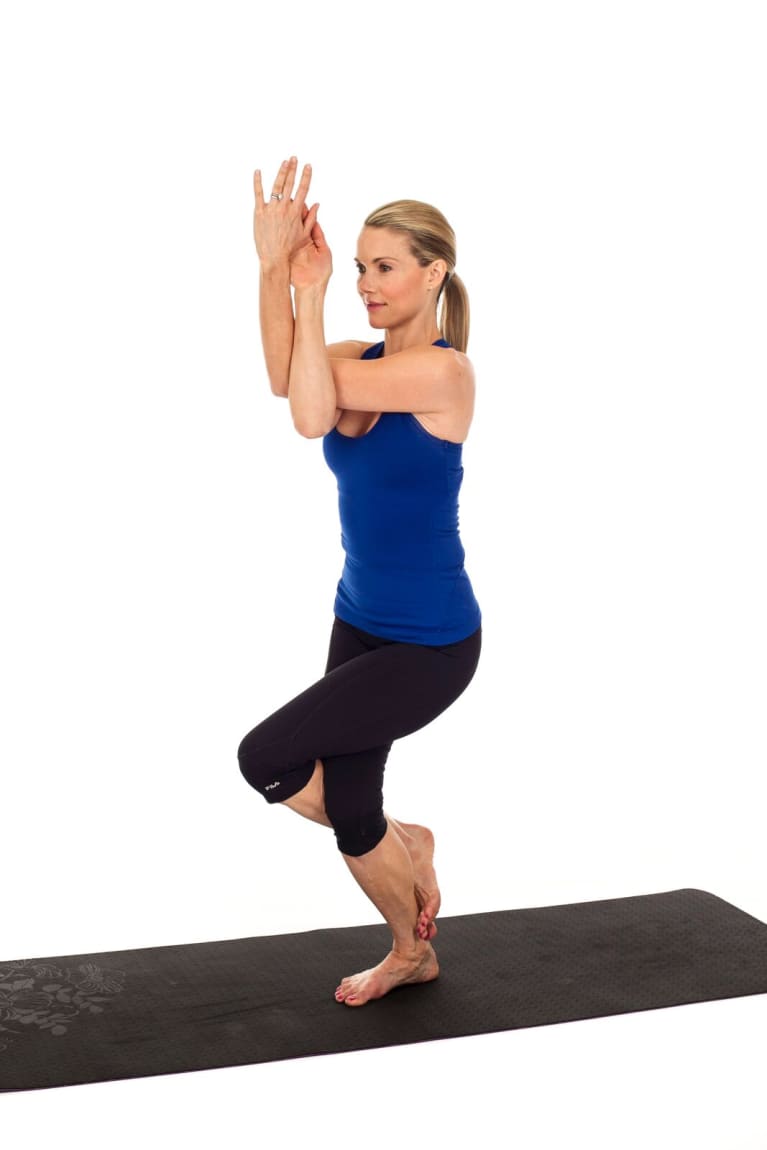 Eagle is a lifesaver for focus and concentration. Eagle pose feels like you're wrapping up into yourself and letting go of the outside world for a second. You can really home in on what is most important and set your gaze and eagle-eyed focus—not to mention it really relieves tight shoulders and stiff necks. Eagle is also great for the legs, inner thighs, and pelvic floor muscles.
Stand with feet together and bend your knees enough to pick up the right leg and cross it high over the left thigh.
Wrap the foot behind the left calf or place it on the floor just outside the calf.
Take your arms and wrap the left arm under the right, double cross at the elbows, and press the palms together (back of palms if they don't reach).
Scoop in the abs and come forward, gazing down the fingers. Hold for 5 to 8 breaths and switch sides.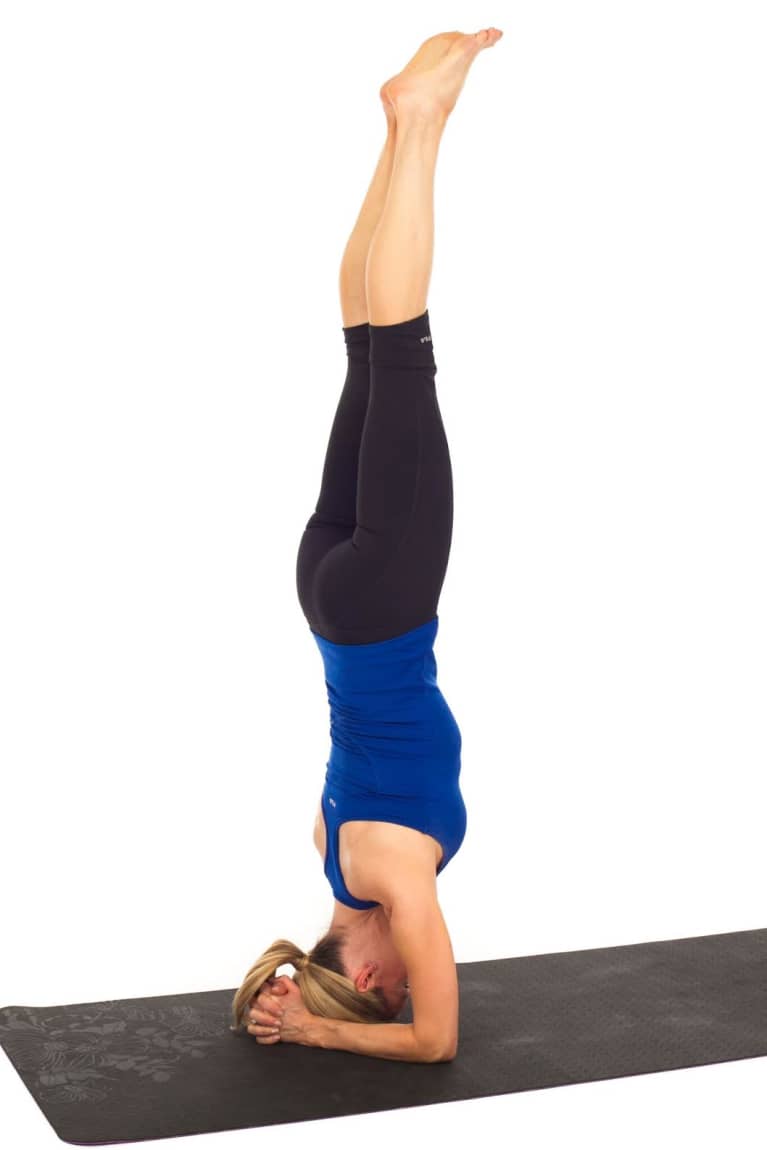 Going upside down is truly one of my favorite ways to recover as a mother. If you can't do a full headstand, downward-facing dog can give you similar benefits. Letting the blood flow to the brain really helps to re-energize you and make you feel in charge again. Headstand also requires a lot of upper-body strength and core support, which helps you feel strong and capable as a mom. You'll raise your heart rate, strengthen your entire body, and experience some serenity in headstand pose. I can't help but feel lighter and more lighthearted after going upside down.
Come down onto your shins and place your elbows on the floor with your hands clasped.
Place the crown of your head at your wrist creases, and press firmly down into your elbows and forearms. Walk your feet in as close as you can.
When you can't go any farther, bend your knees into your armpits and slowly lift the legs up to the ceiling from this egg shape.
Hold as long as you feel comfortable and can keep the weight supported in your upper body (not too much pressure on the head). Even just coming into the egg shape can be enough for you to reap all of the benefits of this pose.