Yoga Every Day, Everywhere, For Everyone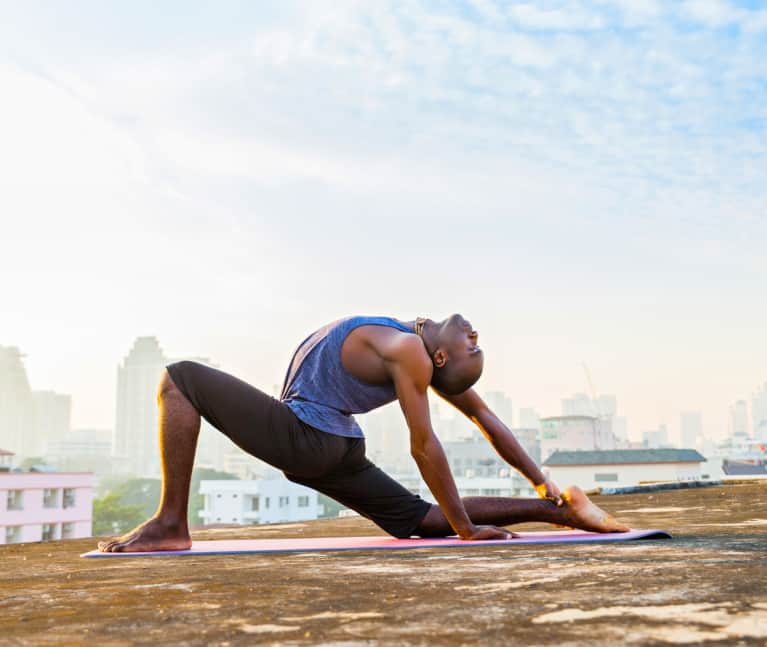 Our editors have independently chosen the products listed on this page. If you purchase something mentioned in this article, we may
earn a small commission
.
Mindfulness filters into everything we do in the wellness world. On a personal level, it starts with an internal monologue. Asking questions like "Why am I doing this?" or "Is this the best decision to make?" and changing your course of action as a result is mindfulness at play. It's interesting to look at the self-help books of yesteryear and compare them to mindfulness today. While "self-help" as a concept hasn't gone away, it's been reinvented as self-improvement, and mindfulness is a great place to start and a great path to take. Being mindful is one of the central themes of living a meaningful life. Being mindful, in the philosophy of yoga, is simply being aware.
When we are aware, we are conscious of what is happening in our surroundings. It sounds so simple, but in practice it's more complex. We can see from a broader point of view instead of viewing life through a narrow lens of the past or future. Becoming mindful and aware gives us the ability to recognize patterns, rhythms, and habits, and with practice, we can decide whether those habits are truly serving us. The idea is that being more aware can help us make informed decisions in our lives, which will hopefully invite us into a life that is happier and more relaxed because it is a life of our choosing. Across the board, we all want to be happy and free. The Sanskrit mantra "Lokah Samastah Sukhino Bhavantu" is a popular yogic phrase that expresses happiness and freedom for everyone. How can each of us be happy and free?
Managing stress with mindful yoga techniques.
Everyone faces stress whether it's from our careers, personal lives, or the many layers in-between. Yoga teaches mindfulness as a way of living that elevates us above trivial and unnecessary distractions. Mindfulness allows us to concentrate on what is most important and takes the focus away from the nuisance and stressors of daily life.
Mindfulness also offers a grounding in reality, in the present, and in what's important. Focusing on what ignites your passions and makes you feel fulfilled is healthy! Immersing ourselves in our lives and keeping a healthy detachment from the results of our actions is the real benefit of a mindfulness practice. In an achievement-based world, though, it's too easy to taste success, become addicted or entranced, and want more…whether it's something as small as likes on social media or as major as climbing the corporate ladder. When we are flying high from our successes, of course we enjoy the thrill of it. But eventually those feelings will plateau and we realize our true priorities and passion. We don't want to be empty, alone, or broken at the top. Mindfulness keeps us afloat in a world full of distractions. Each and every one of us possesses the ability to transcend the stress and drama and can sit steadily in the comfort of our yoga practice.
We are all familiar with the shapes and contortions in yoga known as asana or yoga postures. Most yoga classes in the West are vinyasa-based, which focus on teaching a sequence of poses that aim to warm up, strengthen, lengthen, stretch, and wind down the body. The postures, when arranged in a specific way, can shift how we think and feel, almost as if by magic! But is it magic? We think it's part magic. What we can all agree upon is, if you commit to it, it works.
Pranayama is a yogic practice you can do anywhere, anytime.
Some of yoga's most powerful and best kept "secrets" are pranayama and meditation. Pranayama is generally considered to be a set of breathing techniques in which we explore the flexibility and range of the breath. In pranayama, we use inhales and exhales as well as the retention of the breath (Note: If you're pregnant, you should never retain your breath). Changing our breath signature can shift our mood in as little as three minutes. If you are upset, try on Sama Vritti, also known as square breathing.
Square breathing exercise (Sama Vritti) how-to:
Breathe in for a four count, hold the breath for a four count, exhale for a four count, and hold the exhale retention out for a four count. Each step is equal in length, hence the name "square breathing." This pranayama can be used to calm us down and can even help clarify the mind. We always hear, "Take a breath." Well, let's take a few more with a rhythm that is known in yoga to induce relaxation and clarity.
Meditation is another practice you can take on the road.
With all of the new research backing up the benefits of meditation, it's growing rapidly. However, with this growth often comes a misunderstanding of what meditation really is. Many people will say it's sitting still and not thinking. It certainly looks like that from the outside, but sitting is an inside job.
Meditation is sustained concentration over any period of time. Try to focus on something without changing your thought to another thought for 30 seconds. Did you notice that after about five seconds the mind wanders off? This is completely normal. "What about my laundry? What will I have for dinner? I feel ridiculous right now trying to do this and read an article!" The mind is like a wild monkey jumping around from branch to branch (often called the "monkey mind"—the mind that needs to keep doing. We want to calm the monkey mind down. Ultimately, a calm mind allows for more insight and understanding to process. Hopefully, with practice, we can understand and accept situations and problems from a place free of judgmental thoughts. Meditation can be seated in stillness or it can also be active. Try a walking meditation if you don't want to do the famously difficult seated meditation. Have you ever heard, "I'm going to take a walk to clear my head?" As it turns out, walking to clear the mind is a yogic act. Take a walk and focus on your breath. Don't fixate on what happened a few moments ago or what will happen tomorrow. Just walk feeling every step and breath you take. Sustain this for a while, and eventually you have walked a mile. That problem is no longer at the front of your mind, and the distress may have subsided, even a little bit. Maybe the stress has lost its hold on you, or maybe you can even laugh it off. Being in this state, in present moment awareness, gives us the tools to cope with an ever-distracting reality.
Applying these simple tools into our everyday life can enhance this mindfulness we are seeking. We want to seek an objective perspective. Step out of the situation you are in, and instead of being the victim, think that you are a witness. Invite yourself into this point of view. Try to think, "This is not happening to me, this is happening for me." As events happen, pull out of the situation and watch yourself respond or react in those circumstances. Sometimes it helps to imagine you are watching a television show or movie. You are now the main character of that story. Watch yourself act and respond as the main character. Turn on the commentary in your mind. Let it run free! "Was that smart? I would never do that! Why is he acting that way? Why is he still allowing that to happen?" Be objective and listen to the wild responses that you say. From this place, how can you make your "real life" better? These are more steps toward mindfulness and are cultivated in yoga class. They heighten attention through concentration, meditation, and asana movements.
How to develop a personal yoga practice.
Taking group yoga classes is a quick way to create change in our mind and body. We arrive to class and have an experience through working out, breathing, and relaxing. Perhaps, a little meditation is sprinkled in there as well. This can easily become our weekly routine if all the conditions are set up optimally. However, when we have to travel for work or leisure, that routine is broken up. How are we supposed to keep our sense of calm if we are not in our predesigned spaces with music and an instructor? We must start to build our own practice. Some of us who are able hire a private instructor to come with us along our trips or hire teachers on location. That is always an option. Another option is deepening your practice and remembering some of the key elements you connect with from class. Start with what you enjoy first, then start challenging yourself with things that are not so fun or easy. Begin by remembering three to five poses that you feel good about and practice them on your own, safely, of course. Don't attempt a handstand in the middle of your hotel room or on an airplane! But keep a few poses in your memory that you can do at the beach, the office, or any location.
My favorite home practice poses are: downward-facing dog, crow pose, tree pose, bridge pose, and seated forward fold. Try some of these poses to stretch out your larger muscle groups and shake off the fatigue, jet lag, and stiffness. When you are traveling on those long legs like an eight-hour train ride or a sixteen-hour flight, your body will eventually start to tighten. This is when it's most important to keep up your yoga practice. Another good one you can do is interlace your fingers behind your back and draw your upper arms toward each other and stretch your chest and shoulders. Try a crescent lunge to lengthen out those hip flexors.
Yoga travel kit: Bring this with you to keep your practice going.
If you don't remember poses while traveling or simply have a hard time keeping any semblance of routine, don't sweat it. Create a simple yoga travel kit. Here's what I recommend no matter how long you're gone:
At the very top of the yoga travel kit list is a yoga mat. Lululemon has a great travel mat made for this occasion exactly, as does Manduka. It is lightweight and portable. Have mat, will practice! Now you don't have an excuse not to roll out and put in a few minutes for your daily practice.
2. Helpful yoga practice and meditation apps.
Another great tool to have that can fit in the palm of your hand is your cellphone. Yes, tech can help you be more mindful. Download a few apps that will support you while you take your practice on the go. Some really popular apps for meditation are Headspace: Guided Meditation and Insight Timer. Let your mind find some clarity and ease with these relaxing apps. If you're craving some movement, try the extremely popular Cody app. The Cody app will link you to great prerecorded classes by some of the most amazing yoga teachers. With just a tap of your app, you can have an affordable and private yoga or meditation class in the comfort of your own room.
Bringing essential oils with you can help ground you into the practice more quickly, and if you use them at home it can be a way to make an unfamiliar space feel a bit more friendly.
I recommend bringing a comfortable tee and yoga pants. If you're like me, you probably travel in them so they won't take up any extra room in your suitcase! Joggers, in particular, are great for travel and yoga practice.
If you are traveling to a place that is unfamiliar, it might be a nice treat for your mind and body to jump into a yoga class. Going online to search for a few studios near your destination ahead of time, as simple as it sounds, can make a huge difference because time is of the essence when traveling! Add this studio itinerary to your yoga kit or look some classes up while you are at your destination. This can be a fun way to get acquainted with your locale or allow you to see a place you have visited before in a new light.
Keeping up with our yoga practice can help build your mindfulness and help us continue building a healthier lifestyle. Just because we are traveling doesn't mean we have to lose or remove the benefits of our yoga practice.
Yoga for health and well-being.
The benefits of yoga are vast as it transforms the physique as well as our insides and our energetic body as well. Physically, the asana movements of yoga strengthen our muscles and bones. It tones and sculpts the body. On the outside, we will eventually get the "yoga butt" and "chaturanga arms," if you will, with practice. Yoga also promotes healthy joint movements. It's easier to see the physical benefits, but yoga for our mental and emotional health is what we don't necessarily see right away. For me, yoga has reduced my temper. I used to walk around scowling. I liked my angry and edgy New York vibe. Regardless of my persona, I was actually unhappy and frequently questioning myself. Yoga takes each of us on a journey inside and outside. From the cardio boost of sun salutations to the long deep breathing of ujjayi breath, yoga is an experience that is meant to be transformative. Maybe your practice is in the morning to charge you for the day ahead. Perhaps you have an evening session to relax after a long and tiresome day. My favorite practice is for beating the midday lull filled with low energy and the burning desire to clock-out of work. Mix-and-match which style works best for you depending on the situation. Whatever it is you're looking for, let it be remedied through a mindful yoga practice.
Best yoga clothes for men.
Yoga class can sometimes feel like walking into a gala of fashionistas, especially in New York City. Seeing the parade of colorful leggings and fitted tops on women, how does one contend?
As a yogi who is searching for comfort and not trying to a make a bold fashion statement, where do you shop? Or even more challenging, where do you begin if you're a man in a sea of clothes designed for women? What is the appropriate yoga attire for men?
It seems like the clothing selection is very limited for men who want to make an equally bold statement or just feel comfortable. As a yoga teacher, I want to look like a yoga teacher. I don't want to walk into a room dressed like a runner or soccer player, which is what can happen if you try to wear women's yoga clothes (been there, done that). My go-to brands for men's yoga clothing are Lululemon and the new heavy-hitter, Outdoor Voices. The clothing by these two brands is great athleisure attire. They design universal styles for practicing yoga, specifically, and also for being presentable enough to take a casual stroll around. Once you have been bitten by the yoga bug, you will start living in your yoga clothes. The modern yoga practitioner wants to be able to practice yoga but look casual enough to grab coffee at a local patisserie. We have to be able to walk around without looking like we just jumped off the treadmill. Brands like Lululemon and Outdoor Voices accomplish this well.
Personally, I typically wear Lululemon's Discipline Pant with a simple tank or relaxed T-shirt. I also enjoy a pant that is tapered around the ankle like the Lululemon Intent Pant. When I practice inversions or arm-balancing postures like handstand and forearm stand, I don't like fabric bunching around my knees. Tapered pants like the Intent Pant prevent that from happening. Men should also be conscious of not wearing pants or shorts that are too snug. Beware the bulge! Advertise your mindfulness, not your personal business. Mindfulness all around!
There are many elements that contribute to a wonderful experience in yoga. The worst thing we can do is fight or judge ourselves. Walk into the class and know that you belong there. Feel comfortable by dressing comfortably and having a little background information about what yoga is and what it can possibly do for you. Yoga cultivates physical strength and flexibility, relaxation, community, socialization, and mindful living. There are other modalities such a tai chi and qigong that build mindfulness. However, yoga's popularity has propelled it to the front of the line because it unlocks something deeper and is easily accessible to all of us. It unlocks mindfulness and skillful action while living among chaos.
Want to see if yoga teacher training is for you? Try our training module: It'll advance your practice and prime you for a training program.