You Know Social Media Can Make You Depressed. Here's What To Do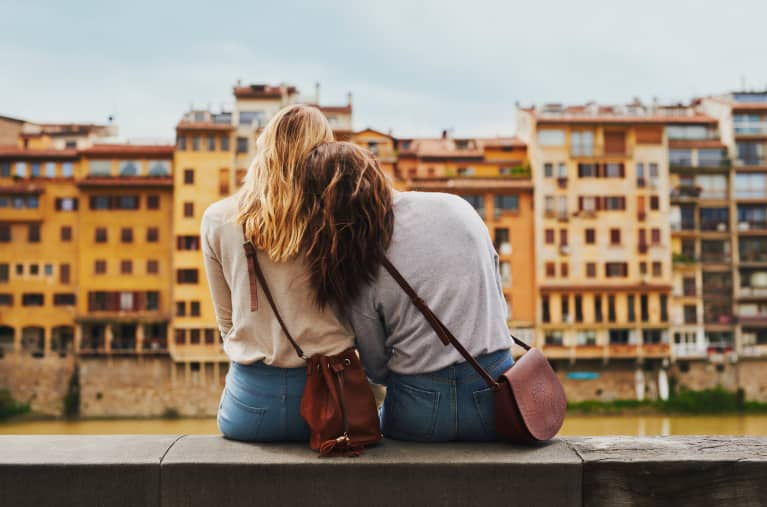 Our editors have independently chosen the products listed on this page. If you purchase something mentioned in this article, we may
earn a small commission
.
Ah, the double-edged sword that is social media. Our culture is insanely lucky to have this network of connection at our fingertips (I got connected with my husband through a mutual friend on Facebook), yet a new phenomenon called "social media depression" has been sneaking in. Have you heard of it?
It sounds farfetched, but social media depression is a real thing that has been studied. Have you ever found yourself scrolling through those seemingly "perfect" posts by friends and others you follow and experienced a sense of decreased self-worth or envy? A study in the Journal of Adolescent Health shows negative experiences on Facebook, in particular, can be linked to an increase in depression among young adults.
So what can we do to combat the negative feelings social media can trigger? I write about this a lot in my new book, The Dr. Sears T5 Wellness Plan, but here are seven good places to start:
1. Beware judging a movie by its highlight reel.
Everyone has a story and a background that they choose to share (or not share) on a social media platform. I know I tend to be authentic on my profiles, but if I'm honest, most of my posts paint a picture that I have it "all together," which isn't the case! Think about it: What percentage of posts really air the "dirty laundry" that is such a big part of life? When those sneaky thoughts of comparison come in, I like to turn off social media, get centered with my feelings, and focus on things in my life that I'm grateful for. One of my daily mantras is "Let me see myself as my higher power sees me."
2. Let go of the shame cycle from past failures.
It's important to remember that we really can change our brains; it just takes some practice. When a negative or self-defeating thought arises, stop and notice it, and then replace it will a more healthful thought. Over time, your brain will rewire itself to be more positive. Remember, this is about progress, not perfection. You'll never rid your mind of negative thoughts altogether.
3. Keep your thoughts where your feet are: in the present moment.
Honor yourself by accepting exactly where you are today, right now. Acceptance fosters self-compassion, serenity, and the gift of contentment. By living in the present moment unconditionally, the "grass is always greener" mindset can be tempered.
4. Reach out for help, and adopt a spiritual practice.
Seek support through a trusted friend and/or spiritual adviser, or have a mantra that you repeat over and over when you find yourself slipping out of acceptance. Remember, you're not completely in charge of your thoughts or immediate response to something you see on social media, but you are responsible for how you handle those thoughts.
5. Find balance with social media use and reactions.
Ah, the dopamine boost I get from the notification chimes that someone "liked" my post! I will be the first one to admit that I have an unhealthy relationship with social media at times. There are so many amazing opportunities to laugh, get valuable information, or connect with a friend who lives far away, but we have to observe ourselves and how it all affects our mental health.
6. Temporarily unplug from all of it.
Turn off your phone one hour before bed and only turn it back on in the morning after a morning meditation or routine. Put your phone away and out of sight when with friends or relatives. This helps to really listen and be present. Try to have three scheduled times during the day that you check emails and social media. This prevents you from mindlessly wasting large amounts of time. (I'm still working on this one!) You can also set aside one day, or even half a day, per week when you don't look at your phone. Imagine the space this creates in your brain!
7. Find balance in the way you communicate.
If you're one of those people who texts a lot, be intentional about picking up the phone or scheduling an in-person catchup. There's nothing inherently wrong with social media or texting, but it's important to find balance in your forms of communication. Happy scrolling and posting (in a balanced way) as you move through 2018!
Missing the fresh air? Here's how to use nature to regain your health.