World Travelers Spill Their Absolute Favorite Vacation Spot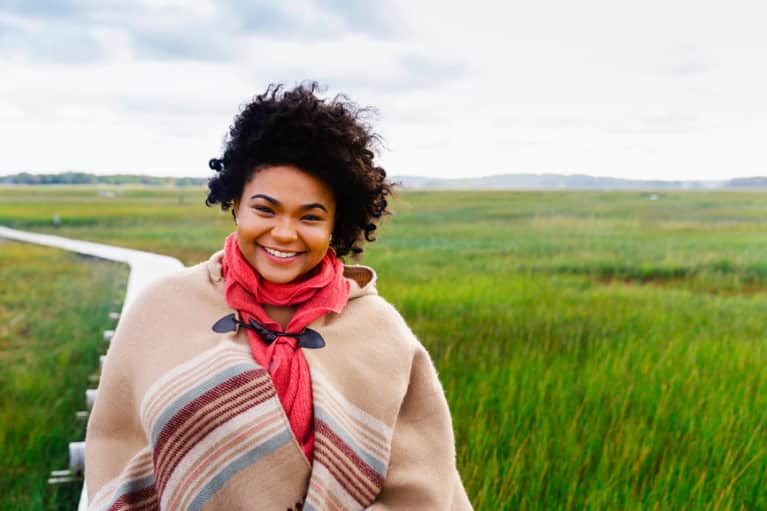 Our editors have independently chosen the products listed on this page. If you purchase something mentioned in this article, we may
earn a small commission
.
Everybody has that one special place. An Instagram photo of its skyline is enough to send you into a frenzy, and you immediately go into storytelling mode every time it comes up in conversation.
These are the dreamy destinations that people who travel for a living find themselves going back to again and again: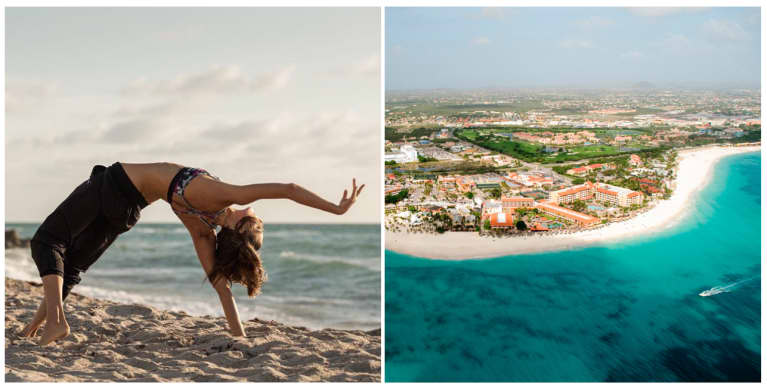 If I could hop a plane right now and let my heart and passport lead me, I'd be jetting off to Aruba! The small Dutch island just north of South America has the most perfect tropical weather and plenty of outdoor activities to take part in in the morning and evening times when the weather is a bit cooler (less sunshine but still in the high 70s to 80s!). Most of all, the people are incredibly friendly, which makes Aruba live up to its nickname "One Happy Island." It's my husband's and my #couplegoal to buy a home here in the next few years. Yes, I love it that much!
—Sara Quiriconi, jet-setting yogi behind Live Free Warrior
Take spiritual scenes and stir in some outdoor adventure, and you have one hell of a combo. From the Inca Trail to the markets to the smiling faces of the locals, Peru has so much soul to offer. Not a place for spectators, it's perfect for travelers looking to explore and adventure.
—Emma Mildon, author of The Soul Searcher's Handbook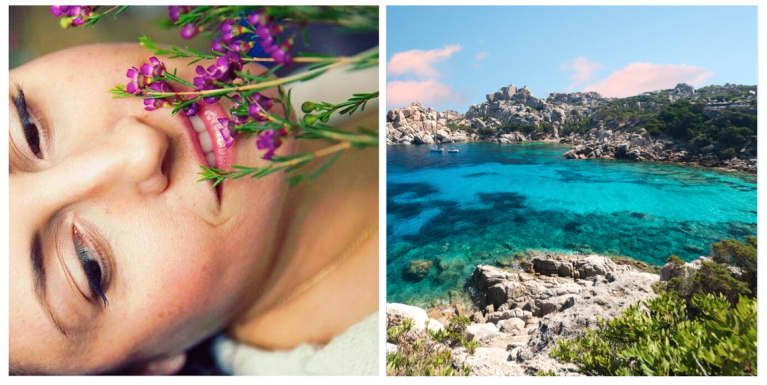 The beach is where my heart is. When I first had the opportunity to explore this island by literally hiking to every beach we could find on the map, I was seduced to the point of no return. It's like questing for treasure with a prize at the end of every road. It's popular to move around by boat; however, exploring by foot was one of my most special adventures to date.
—Victorine Deych, botanical perfumer behind Victorine
Patagonia is one of the most sublime destinations on the planet. If you're looking for an astoundingly beautiful and adventurous journey, you must visit the end of the world! I still have vivid experiences roaming through my mind of those majestic walks through the forest, witnessing ancient glaciers and incredible wildlife. There is a profound ancientness to it that's unparalleled by anything I've seen.
—Adriana Ayales, rain-forest herbalist behind Anima Mundi Herbals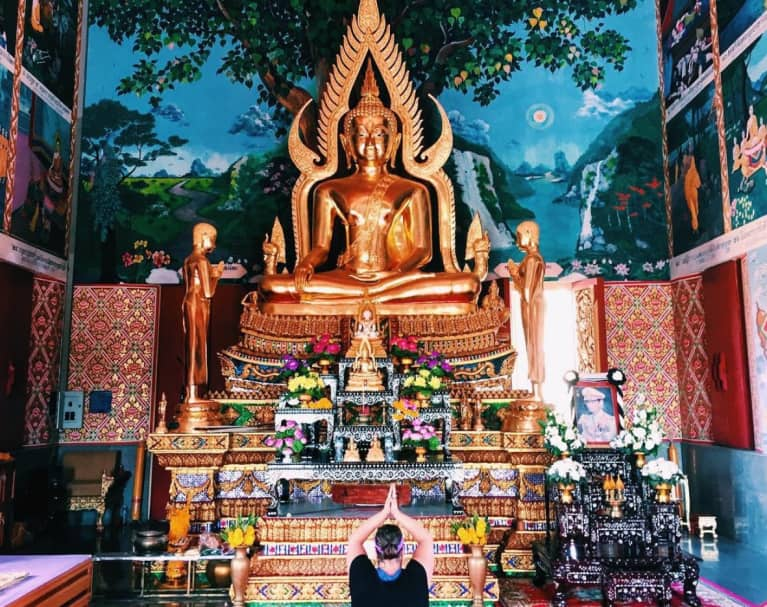 Thailand is often called The Land of Smiles, and for good reason. It is a unique pocket of the planet where community, friendship, and love overtake everything else. The Thai people are wonderful, the food is fantastic, and the breathtaking temples and landscape make for a retreat for the soul. In Thailand you have the opportunity to return to yourself. Just being in the culture makes you more grateful, happy, and present. It is my favorite place to be in the world.
—Shannon Kaiser, digital nomad and author of upcoming book, The Self-Love Experiment
My favorite vacation of all time was in a divinely remote eco-friendly bungalow in Bali called Bali Eco Stay. I'd wake up, do some yoga on the yoga deck, take a dip in a private waterfall, and follow it with a tropical smoothie, gluten-free pancakes filled with freshly made coconut yogurt, and local coffee. The best part? Most of the food is made from ingredients grown in the resort's very own permaculture garden. There was a jackfruit hanging right outside my bungalow!
—Ksenia Avdulova, food blogger behind Breakfast Criminals
Hands down, my favorite trip of all time was to Cartagena, Colombia! The music, culture, people, and food are beyond words. I was there for only 10 days, but I came back with so many Colombian friends who I still talk to today. I will definitely be back there in the near future.
—Jules Hunt, wellness blogger behind Om & the City
I fell in love with South America when I first stepped foot in Rio de Janeiro. Its vibe, culture, and carnival atmosphere were captivating right away. When I visited Cartagena in particular, it had me from the very first moments. Traditional horse carriages gently trot through cobbled streets adorned with beautiful hanging baskets in the brightly lit old town. The locals are friendly, and the squares come alive at night with dancing and live music.
It's no wonder the romantic, passionate city was a favorite for authors, poets, and artists like Hemingway and Gabriel García Márquez. As if one of the most beautiful and vibrant old towns in the world wasn't enough in itself, stunning beaches are a stone's throw away. This place ticks every box for me.
—James Asquith, youngest person to visit every country
I've spent five years of my life traveling the globe, and Iceland was, by far, the most magical place I've ever experienced. It's stunningly beautiful, with bright-green mosses and grasses striking a stunning contrast to the black volcanic rocks, and glacial waterfalls cascading in every direction. You can hike, horseback ride, climb on a glacier—and at the end of the day, there's always a nearby hot spring to soak in ("hot potting" is a beloved national pastime).
—Liz Moody, mbg's senior food editor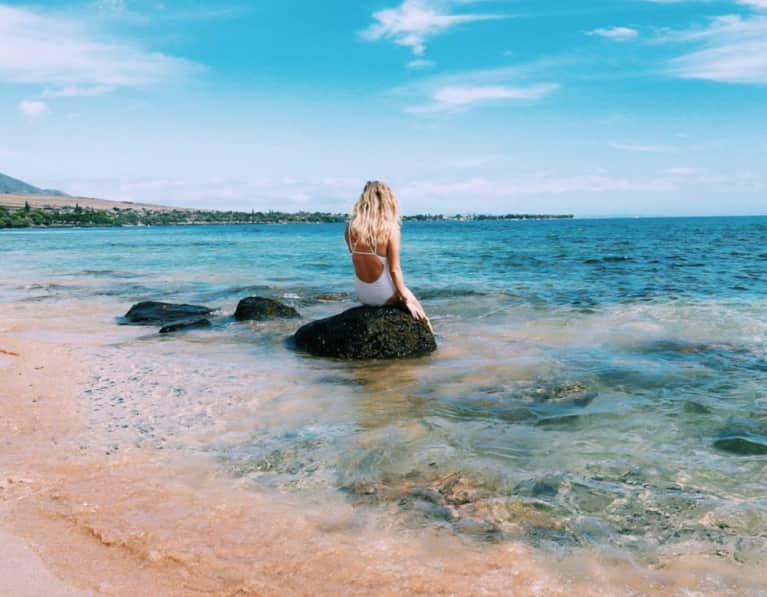 My favorite vacation destination of all time is the island of Maui in Hawaii. I've been going every summer since I was a baby, so it is truly a second home to me. Sometimes it feels more like home than my actual home...probably because I vibe with the laid-back, slower-paced, creatively stimulated lifestyle. I usually try to go to Hawaii to work on big creative projects because it inspires me like no other location does!
—Jordan Younger, wellness blogger behind The Balanced Blonde
Full of colorful saris, fragrant spices, and rich cultural heritage, India is magic and one of my favorite destinations of all time. My first visit to Northern India included being welcomed into a family's home for an extravagant dinner, a privately guided tour of Mehrangarh Fort in Jodhpur led by a Sanskrit scholar, and sitting in silent meditation in Sarnath, where it is said the Buddha gave his first teachings. But it was in Varanasi on the Ganges, where my hand was grazed by a dead body laid to rest in the holy river, that the cycle of life and how small a role we all play in this world became apparent and provided me with a changed-by-travel experience that will forever be like none other.
—Linden Schaffer, founder of Pravassa wellness tours
When I reflect on the week I spent off the grid in Botswana, completely unplugged and immersed in nature, I cannot help but recognize how nature provided me with an immeasurable opportunity to pause, slow down, and be aware. It taught me patience and the gifts bestowed on those who wait. Re-entry after a week of profound beauty and deep connection with nature was not easy. Day-to-day life seemed to pale in comparison to the adventure of sloshing through water holes and plowing down trees all in an effort to get a closer look at nature.
There is a term called "Mal d'Afrique" that many who have visited Africa are lucky enough to have experienced. It is a sense of general malaise one has after returning to day-to-day life at home as there is a deep longing to return to Africa (often referred to as a deep longing to return to the source of life). I have been blessed enough to visit over 70 countries in my life thus far, and must admit that there is no place quite like Botswana and no feeling quite like Mal d'Afrique. It will forever capture your heart.
—Erica Gragg, founder of wellness travel service Escape to Shape
My favorite vacation destination is Europe. Broad, I know. But there are just so many places that are easily accessible to one another. I love to head to the south of France, rent a car and drive from St. Tropez through Cannes, Eze, and Monaco. You can find great deals for hotels in each place, and the local food is typically best at smaller restaurants so you don't have to break your budget.
—Nikki Sharp, health coach
We've got more intel from some of these pro jet-setters. Check out what they never pack here, and read up on their genius travel hacks here.