5 Health-Editor Approved Ways To Make Your Workouts More Fun
mbg Health Contributor
By Gretchen Lidicker, M.S.
mbg Health Contributor
Gretchen Lidicker earned her master's degree in physiology with a focus on alternative medicine from Georgetown University. She is the author of "CBD Oil Everyday Secrets" and "Magnesium Everyday Secrets."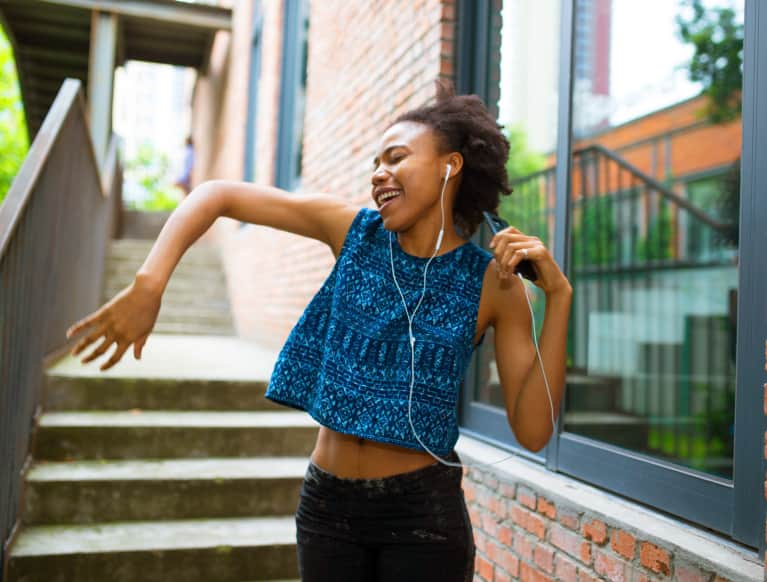 Exercise is always praised as the ultimate stress-reducer; after all, studies have shown that it can be a game changer for mental health, linked to major improvements in both depression and anxiety. But for many of us—as we drag ourselves to the gym on a Thursday afternoon and spend 45 pretty miserable minutes on the stationary bike before we dash to a work event or to dinner because we're starving—we can't help but wonder if our workout brought more stress than good into our day.
Wellness is all about listening to our bodies and honoring our truth, so what if we don't feel better AFTER our workout? Could forcing ourselves to walk to the gym when we are tired, stressed, and overwhelmed actually hurt our health? Could it even contribute to adrenal fatigue, chronic cortisol production, and other hormonal imbalances?
When your workout makes you feel stressed out and overwhelmed.
For starters, the research on this is isn't entirely clear. But what we do know is that exercise is, in fact, a form of stress on the body—and that cardio in particular spikes our cortisol production and lowers T3, which is an important thyroid hormone. We also know that especially strenuous exercise is associated with low libido, mood disturbances, and gastrointestinal distress and that many of our health experts recommend adjusting our lifestyle routines throughout the month for healthier hormone balance, sometimes even recommending that women refrain from any strenuous exercise right before or during menstruation. Other research, however, shows that even if you're being cajoled into exercise (either by yourself, a doctor, or a significant other) you still receive the benefits. So even if you think your workout is stressing you out, you wind up feeling happier and less anxious in the long run.
The different between movement and "a workout."
So what can we take away from this? Unfortunately, it's hard to say for sure—and it definitely depends on the person and their relationship with exercise. For some if might mean that a high-intensity CrossFit class after a particularly stressful day of work isn't the best choice every time. For others it could mean dialing down the cardio to make room for a few barre classes or some weight training that are a little easier on the adrenals. But why not go a step further and rethink the entire concept of a workout? Many of us get so entrenched in our habits that we forget to zoom out and consider the fact that time spent at the gym is really only one way to move our bodies. So here are five activities—no gym, fitness studio, or $$$ required—that are also guaranteed to lower your stress levels.
Studies have shown that walking, especially in a green space, can actually put our brains in a meditative state. So why not get off that treadmill, walk straight outside, head to the nearest park, and never look back. Is there anything stopping you?
Growing your own food is super calming and rewarding, but it can also set the stage for a whole season of physical activity. Research shows that in Blue Zones people get their physical activity in the form of many "nudges" throughout the day. You'll see these people—who often live to be 100 years old—walking, planting, and harvesting, not jogging for an hour on the treadmill.
3. Dance for your health.
Especially when it comes to cardio, it's easy to forget that there are so many activities that give our heart and lungs a great workout. If you suspect that your cardio workout is spiking your cortisol levels, a dance party is the perfect solution. You can sign up for one at a studio or go totally rogue and do it at home; research shows that music and dance constitutes a "pleasure double play" for the brain and can decidedly improve its health. And that sounds good to us.
4. Enlist the help of your BFF.
Spending time with people you love triggers the release of "feel-good" hormones that can help battle chronic stress. So why not combine your best friend and your workout? Even better, make it a standing weekly activity and do something fun afterward to reward yourselves.
5. Find a sport you love.
Contrary to popular belief, sports and games don't have to end after high school. There are so many intramural teams and adult sports teams out there that will give you a great workout. The only question you have to answer now is, "volleyball, kickball, soccer, or tennis?"
So while the answer to the stress-exercise question is still pretty unclear, what is clear is that there's no reason to force yourself to do something you hate. Give yourself permission to break free from what you think you should be doing and embrace one or two of these suggestions. But be careful: You might even start to look forward to your "workout."