4 Unexpected Reasons You're Sore — And What To Do About It
mbg Contributor
By Michelle Cady
mbg Contributor
Michelle Cady is a former finance executive turned wellness writer and coach. She is the founder of FitVista and certified by the Institute for Integrative Nutrition.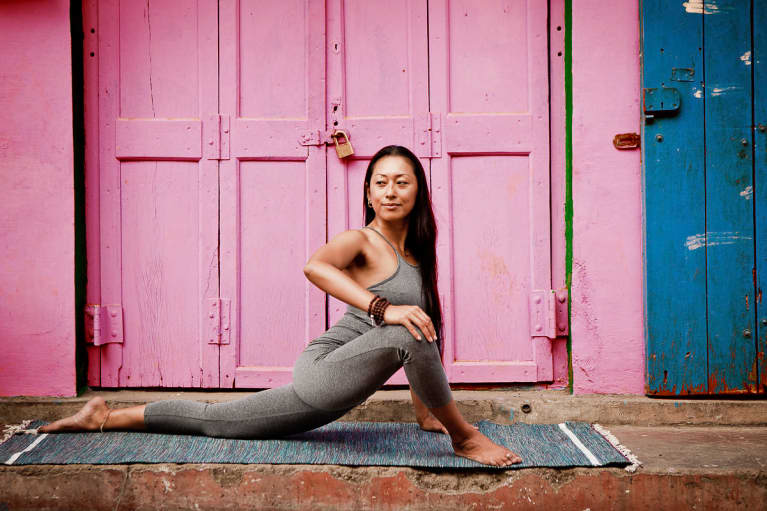 You're stretching after every workout, going to yoga regularly, and taking rest days. But no matter what you do, you're sore—and you can't quite figure out why.
If this sounds familiar, take heart: There are a lot of sneaky reasons you could be dealing with unexpected soreness. Here are four of them:
1. Your muscles and body are dehydrated.
I know, I know: Talking about how much water to drink can be b-o-r-i-n-g, and I bet you're tempted to skip right over this part. But I promise you, getting in the daily habit of drinking enough water is one of the easiest and most beneficial things you can do for your health.
Ask yourself this: How much water am I drinking every day? Throw out the old "eight glasses a day rule"—the new rule of thumb is to drink "half your body weight in ounces" a day, then add 20 ounces if you exercise.
For example, if you weigh 150 pounds, you'll want to drink 150 divided by two, which equals 75 ounces of water per day. Add 20 ounces for your workout, which brings your daily minimum recommended amount of water to 95 ounces per day.
If you're not one to measure, here's an easy way to find out: What color is your urine? Aim for a light straw color. You want your muscles sliding and gliding over each other, not getting "stuck" or stiff because of dehydration. Water removes waste products from working muscles, and when cells lose water, your body speeds up muscle and protein breakdown. Not good. Drink up!
2. You've been sitting too much.
Planes, trains, automobiles, and cubicles. In this day and age, we sit a lot. Add in a summer of weekend travel and seated transportation, and you're clocking a lot of seated hours.
Reverse that trend and tendency toward soreness by building in walking breaks during your workday, standing up to stretch, or even trying a walking meeting with a co-worker. When you're traveling, pick an aisle seat to stand up and stretch, or build in pit stops to step out of your car, use the restrooms, and increase your blood flow.
3. You're not sleeping enough.
Our body enters its prime "rest and repair" state during hours seven, eight, and nine of our sleep cycle. If you're not clocking in enough hours, you're never fully getting into repair mode for your muscles and connective tissue. So, here's a controversial ideal: Maybe you should skip the 6 a.m. workout a few times a week to build in an extra hour or two of sleep. Bonus points for prioritizing a 10-hour night of sleep during the weekend to truly restore.
Many of my clients are Type A, go-go-go types, and telling them they're overtraining is never easy for me. But it's important to ask yourself: Do I have a gut sense that I may be getting too much exercise and not enough rest? If the answer is yes, I beg of you—slow down!
We often think that more is more, but when it comes to smart training, less can actually be more. So diversify your weekly workouts. Stick to two days of training max, two days of HIIT max, and make sure the rest of your movement is comprised of yoga, low-intensity cardio, or long walks and gentle bike rides. You've got this!
Don't know if you're overtraining? Here are 10 obvious signs.