How Exercising On Vacation Made Me Fall In Love With Fitness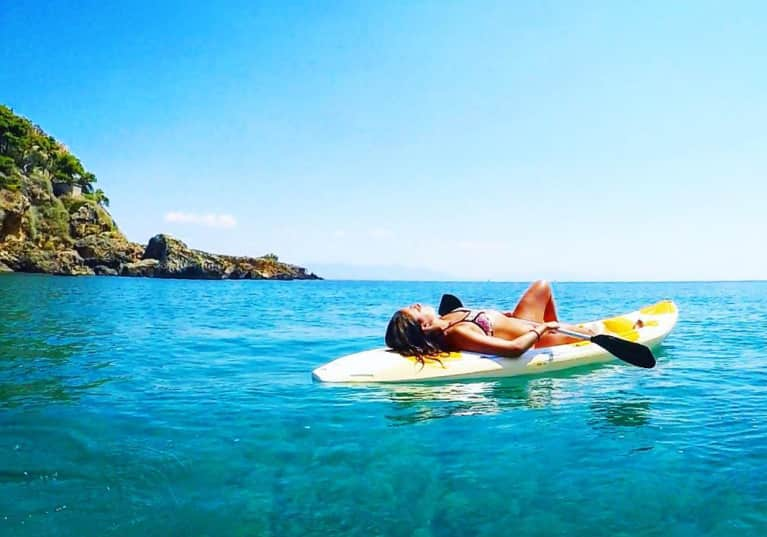 I'm no stranger to the vacation mindset. When I started my first job out of college, I began to view any time off from work as my time—a break from real-life obligation. Although I led an active lifestyle, I found it difficult to work out while traveling. I wanted to dissociate from everything that had become part of the daily slog of my new, grown-up life, which often resulted in my feeling self-conscious, sluggish, and unbalanced on return from my time off. Not really what one hopes for from a vacation, right?
So, when I began to plan an extended trip to Europe this summer, I started to think about not just how I wanted to feel while I was on the trip but how I wanted to feel when I got back. I didn't want to regret long dinners al fresco or indulging in local wine and desserts. I wanted this time to be relaxing but also rejuvenating. I wanted to have the opposite of a vacation hangover: I wanted a vacation afterglow. That's exactly what travel should be.
And then it hit me: We take vacations to temporarily abdicate our responsibilities. We take vacations to get a little taste of the freedom we experienced as kids. And healthy, happy kids eat ice cream when they want, they eat pasta when they want, and they play when they want—which is often. From swimming to tree-climbing to a good ol' foot race, kids move for pleasure—for the unrestrained joy of it. When did we lose that joy? And why? I wanted to know what would happen if I decided to approach exercising on vacation from the mindset of a child, so I promised myself that, during this trip to Europe, I'd do exactly that.
It turns out exercise improves your mood more than that margarita ever could. "The link between exercise and happiness is pretty strong," says Michael Otto, Ph.D., a professor of psychology at Boston University. And we're not just talking about those quick hits of endorphins you get after a good run. Those endorphins decrease anxiety over time as well. It's no wonder kids are so gleeful all the time, huh?
Here's how I made exercise more fun than it had been since I was 8:
One of the best things about travel is that it gives us the space to reflect on—and then actually execute—the desires of our hearts and the needs of our bodies. If you perceive exercise as something to cross off your to-do list, you will resent having to allocate time to it on vacation.
But if, instead, you get back into that childlike mindset, it will become a joy. Maybe you race your partner down the beach to the ocean water and then go for a swim. Maybe you challenge yourself to walk from one landmark to another. Maybe you bike into town for breakfast and see the sights rather than taking a taxi. Whatever sounds like fun to you—do that.
2. I packed clothes for activities I was looking forward to.
Don't begrudgingly pack your "exercise" clothes. Instead, make sure you have leggings you can climb a tree in, a swimsuit to luxuriate in the ocean, and a supportive bra and shoes to make sure you're prepared to see everything you want to see.
It's fun to research the places you'll be going, and knowing what sights and activities you'll be afforded will make you excited to pack whatever will mean you can participate in those activities.
3. I got my travel companion on board (pun intended).
It's a little harder to turn exercise into a game if your travel buddy just wants to drink margs by the pool. I've learned from experience that there are endless benefits (including how fun it is) to be active with a partner.
Before leaving for our trip, my boyfriend and I committed to taking on this little experiment together. Don't get me wrong—there were definitely days that one of us or both of us didn't feel like it, but if you inject a little friendly competition into things, you'll find yourself quickly motivated.
You can find your moments of activity in small bursts throughout the day, but you can also find activities that allow you to see your surroundings in a unique way. You could spend your morning kayaking along a river or go on a long hike. You could even zip line through a cave or a jungle, if you're somewhere that's available. The possibilities are limitless!
5. I held myself to different standards.
At the end of the day, whether you're traveling for pleasure, work, or some combination of both, you won't have a routine—and that's a good thing. You may not feel the same after a morning bike ride to the beach as you do after a SoulCycle class, but there's nothing wrong with that. Giving your body different challenges to adapt to—and adequate time to rest and recharge—is essential to well-rounded fitness.
Traveling should bring out our best selves, after all. It should be a time to reflect, to gain perspective, and come back to your routine feeling energized and relaxed. For me, this mindset shift has made vacations more relaxing, more satisfying, richer, and more varied. And in the moments I'm climbing a tree or racing my boyfriend to a coffee shop, I really do feel like a kid again.
Want more insights on how to level up your life? Check out your love horoscope, then find out why holding on to past relationships is the worst thing you can do for yourself.