The Plant-Based Superfood You Should Be Eating Daily For Glowing Skin
mbg Contributor
By Leah Vanderveldt
mbg Contributor
Leah Vanderveldt is an author living in Brooklyn, New York. She received her bachelor's in communications and media from Fordham University, and is certified in culinary nutrition from the Natural Gourmet Institute. She is the author of two cookbooks: The New Nourishing and The New Porridge.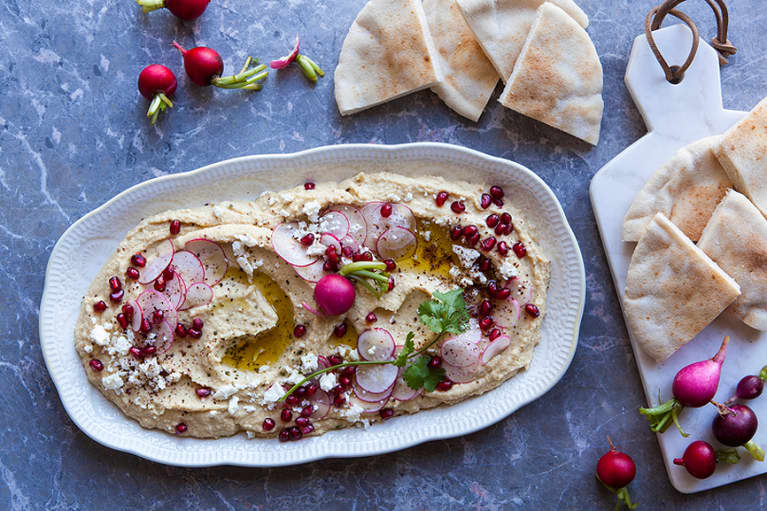 You might already know tahini as an ingredient in hummus, but did you know it's great for everything from promoting better digestion to getting a good dose of plant-based protein to improving skin health and giving you that healthy glow?
Tahini is a paste made from ground sesame seeds (think the sesame seed version of peanut butter) and is full of copper, zinc, iron, calcium, magnesium, B1, selenium, fiber, and protein. It's one of my favorite foods, so naturally it pops up in my new cookbook, The New Nourishing, a lot. One of the reasons I love it is that it's so versatile—it goes with both sweet and savory flavors, adds low-key nutty and bitter flavors, and brings lush, creamy textures to sauces, dips, and spreads. I use it on baked pears and socca pancakes as the base for a creamy maple cinnamon sauce; as a spread for toast with fresh figs and honey; in salad dressings of all kinds (creamy chipotle, herby ranch, and tangy miso-lemon); and in hummus, of course.
How it makes your skin glow.
Tahini is made up of essential fatty acids, those vital healthy fats that can help lower inflammation, promote brain health, and boost nutrient absorption of fat-soluble vitamins like vitamin E, which helps stop free radical damage in its tracks. The zinc in tahini helps repair tissue damage and is a building block of collagen, which keeps our skin strong, supple, and able to bounce back. Tahini's copper content can help reduce inflammation in the body—especially the metabolic and nervous systems and joints, keeping both your skin and your body happy and mobile. Oil from sesame seeds is a natural antibacterial as well, which can encourage healthy skin.
Tahini is a good source of iron, which is often a concern for vegans and vegetarians, as plant-based sources are harder to come by. Iron helps boost immunity and energy levels, and good iron levels can improve the quality of skin, hair, and nails, keeping them strong and healthy.
Pro tip: Pair tahini with lemon or another food high in vitamin C (like broccoli, bell peppers, or strawberries) for optimal iron absorption and skin-glowing benefits.
Digestion, digestion, digestion.
One of the keys to good health—skin or otherwise—is making sure we're regularly getting rid of all the junk that our bodies take in from our environment on the daily. Our digestive health is one of the best indicators of how efficiently we're doing that. Because of tahini's good fiber, essential fatty acid, and mineral content, it can promote better digestion and elimination.
Health-supportive minerals like magnesium help lower high blood pressure and aid in muscle relaxation and peristalsis, or the muscle contractions in your intestines that keep things moving along. Sesame seeds also contain a compound called sesamin, which protects the liver from oxidative damage. When your liver is supported and healthy, it keeps the rest of your elimination systems in check.
Packing in the plant-based protein.
Sesame seeds provide a substantial amount of plant-based protein, too. Having a high-protein content helps keep your metabolism running at an efficient speed and helps promote cell growth, in addition to keeping your energy up. And when your metabolism is strong, so is your digestion.
Good-quality protein (plant-based or otherwise) can help keep your blood sugar and energy levels in check, leaving you feeling more satisfied for longer—essentially, making your meals and snacks really count.
Tahini is a great way to add protein, healthy fat, fiber, and flavor to your diet. By keeping these vital nutrients in balance, you're providing your bod with the stuff it needs to function at its best, which will no doubt show up on your skin.
Psst: This meal prep will make your skin glow too.