Why You Might Want To Use Copper In Your Kitchen During COVID-19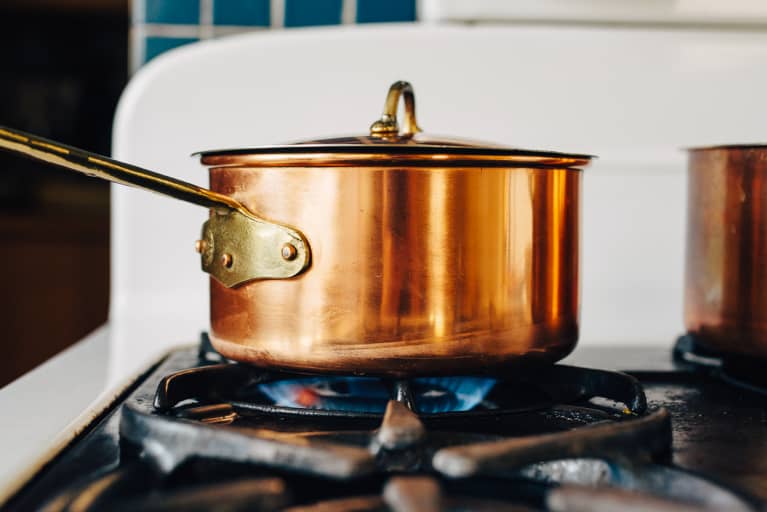 As a coppersmith who makes everything from fur-trade-era kettles to lids for old pans, flasks, cups, and skillets, I have had all kinds of intimate experiences with copper, both in the metal shop, in the oven, and over a stove. My favorite part is how quickly copper responds to temperature changes—especially tin-lined or unlined copper. Plus, serving up a meal in a pretty copper pot never hurts.
When I first started building copper pots and pans in the shop, I had a few pieces of my own–both modern and vintage–but now I have loads more. This is partly because I'm convinced copper collecting is addicting but also because of its antimicrobial properties. These properties might make copper the cookware of choice when it comes to COVID-19. Here's what we know:
Copper, viruses, and bacteria are deeply linked.
Studies have shown that copper can have a significant role in killing bacteria once it touches a virus. While I wouldn't recommend hugging copper pots for hours in order to sterilize the body, it won't hurt to use any copper you own in your kitchen right now. No matter how old or oxidized, the copper pots in your kitchen can react with viruses and begin to kill them, so having such surfaces around food all day can help keep your kitchen antimicrobial. Plus, cooking with copper can be better for the environment, as you'll need less heat to cook! Consider it killing two birds (or shall we say viruses?) with one metal stone.
That said, if you have copper pots and pans at home, you may take the time to give them a polish and put them to work. You can actually polish them with ketchup (yes, really!) if the copper hasn't oxidized to a deep brown yet.
What to look for in copper cookware.
Old or new, copper can be antiviral and antimicrobial (even for respiratory illnesses). So whether you hop online and scour the Internet for online auctions or find an antique that has lasted a few generations, the copper can have those same antimicrobial effects. I'd suggest looking for older pots with copper handles—as newer versions might include more stainless steel. But perhaps the best part of old copper is that you'll be recycling–old copper pans made hundreds of years ago can still be put to use on your modern stove!
For cooking, copper pots and pans are often lined with tin, which means an older piece might need a little attention. If the tin is black or a rather big spot of copper is showing, you might need to send it to a re-tinner to be stripped of old, dark tin and have new tin hand-wiped on the interior. Plus, when you send it in, the outside of the pot will be re-polished until it gleams.
When using tin-lined copper, be sure to always have food in the pan before turning on the heat, and to keep enough food or liquid to cover the bottom of the pan so you don't overheat the tin lining. Never raise the temperature past 425°F.
Wash your tin-lined copper just as you would a cast-iron skillet–by hand with mild soap and no abrasive towels or sponges, followed by hand drying.
Tin-lined copper is so versatile, you can even bake with it. So whether you're self-isolating in quarantine or simply want to invest in some antimicrobial cookware, using copper in your kitchen might help you feel a bit more at ease. Who knew your pots and pans could have so much potential?